---
Samantha Fish & Jesse Dayton
---
Biographie Samantha Fish & Jesse Dayton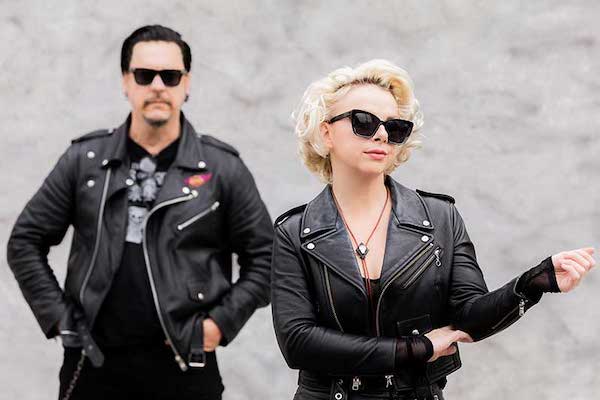 Samantha Fish
recalls her first musical taste as the classic rock of The Rolling Stones and Tom Petty, alongside contemporary artists like Sheryl Crow and The Black Crowes, but after several underage clandestine visits to the Knuckleheads Saloon blues club in her native Kansas City, she followed the thread from modern masters like Zito and Tab Benoit, through fallen '80s heroes like Stevie Ray Vaughan, right back to the pre-war Delta masters. "I fell in love with it," she told Premier Guitar of her growing passion for the form, "and started doing my homework by listening to the old guys like Son House and Skip James."
Whether one leans towards the blues, opts for Americana or ignites some special fervour by playing with a garage band, there's a common bond that suggests a reverence for the roots. Looking back towards an earlier template -- no matter what the genre -- proves the point that appreciating what came before can be a stepping stone for what comes next.
Samantha Fish knows that all too well, and it's been evidenced in the music she's made her entire career. While she's well known as a purveyor of blues, having been lauded by such legends as Buddy Guy, the Royal Southern Brotherhood and Luther Dickinson, her real love is simply raw, scrappy rock and roll. "I grew up on it," she insists. "Working with Luther on my last album further instilled that spirit in me. It made me realize just how much that basic, unfettered sound means to me, and how well it ties into soul music, R&B, country and so many other forms of music that are essential even today."
It's little wonder that when it came time to record her new album, Chills & Fever (released March 17, 2017), Fish set her sights on Detroit, the home of soul, Motown, legendary R&B as well as the much edgier rock-n-roll of Iggy Pop, Jack White, and The White Stripes. It was there that she joined forces with members of the Detroit Cobras, a band whose insurgent ethic has made them darlings of the Midwest punk/blues scene. The two entities -- which included Joe Mazzola on guitar, Steve Nawara on bass, Kenny Tudrick on drums with Bob Mervak on keys, and the New Orleans horn section featuring Mark Levron and Travis Blotsky on trumpet and saxophone -- bonded over a common love of classic soul and rollicking rhythms, so much so that the results testify to a seemingly timeless template. Covering songs from the '60s and '70s -- indelible melodies from the pens of legends like Jackie DeShannon, Jerry Ragavoy, Bert Berns and Allen Toussaint -- along with producer Bobby Harlow (King Tuff, The Gap Dream, White Fang) a member of the Detroit band The Go, which also featured Jack White prior to his stint with the White Stripes. With that as her starting point, Fish and the band then created an album that's best described as a pure slab of rocking rhythm n' blues.
"I listened to a lot of soul music, and I dug deep into people like Otis Redding and Ray Charles," Fish recalls. "I was also influenced by people like North Mississippi's R.L. Burnside and Junior Kimbrough. It's a less restrained style of music than the sound people may be used to hearing from me, it's definitely a different facet of my personality."
The fact is, Fish has never been bound by any expectations whatsoever. Growing up in Kansas City, she switched from drums to guitar at the tender age of 15. She spent much of her time in local watering holes listening to visiting blues bands. Samantha caught the attention of Ruf Records. The label subsequently released her album, Girls with Guitars, which found her co-billed with Cassie Taylor and Dani Wilde. That led to her forming her own trio and recording three more albums, Runaway (2011), Black Wind Howlin' (2013) and Wild Heart (2015), as well as reaping an award for Best Artist Debut at the 2012 Blues Music Awards in Memphis. Along the way she found herself working with other artists as well -- Jimmy Hall, Devon Allman, and Reese Wynans, among them.
Still, nothing she's done before can prepare her faithful fans and followers to the seminal sounds of Chills & Fever. I don't think I ever enjoyed making a record quite as much as I enjoyed making this one," Fish insists. "I love the sound of the brass and the edgier intensity. Channeling timeless artists who sang like their lives depended on it. To me, that's what this music is all about."
Jesse Dayton
"If you open your arms to the world, it's amazing what will come back atcha," drawls East Texas native, singer/songwriter/filmmaker/author Jesse Dayton, who has a bunch more homespun wisdoms where that came from. A veteran of more than 30 years as a musician, Dayton was discovered as a young teenager playing "a toilet dive" in his hometown of Beaumont by legendary club owner Clifford Antone, who booked him into his famed Austin venue, then immediately shifted him over to the honky-tonk Broken Spoke, where the likes of Willie Nelson, George Strait and Ernest Tubb have had residencies.
"When I first got to Austin, everybody else sounded like Stevie Ray Vaughan, but I sounded more like Jerry Reed. I didn't think I was cool, either, because this was before every punk sported that image of Johnny Cash flipping the rod."
Equally steeped in Texas/Louisiana blues, old-school country and punk-rock, Dayton is the music world's best-kept secret, hiding in plain sight as a guitarist for Waylon Jennings, Johnny Cash, Ryan Bingham and L.A. punk pioneers X, as well as touring alongside Social Distortion, the Supersuckers and John Doe.
After releasing 11 studio albums and an EP as a solo artist, Dayton's new album, Mixtape Volume 1, is a series of 10 cover songs he thoroughly makes his own, reinterpreting and revisiting them in a brand-new way. On the first track and single, Jackson Browne's "Redneck Friend", Dayton takes the song to a place where it would be equally at home on the first two Eagles albums or as a Rolling Stones collaboration with Gram Parsons. He transforms Neil Young's "Harvest" into a country plaint complete with pedal steel guitar and hurdy-gurdy piano, while offering a majestic take on Gordon Lightfoot's "If You Could Read My Mind".
Brought up on his older sister's Laurel Canyon folk records, the FM album rock and punk he listened to as a teenager plus the array of country acts who used to tour through Beaumont – including Johnny Cash, Johnny Paycheck, David Allen Coe, Conway Twitty, Hank Jr., and George Jones – Dayton has managed to create a genuine hybrid that takes alt-country and Americana in new, exciting directions.
"The world doesn't need another outlaw country singer covering Waylon Jennings," he says of his stylistic mix. "Everyone where I was growing up had no idea Neil Young wrote Waylon's 'Are You Ready for the Country?' or that George Jones' 'Bartender's Blues' was written by James Taylor, a stoned junkie at the time."
Turned on to the music's possibilities by attending an early Clash/Joe Ely tour, Dayton transforms the U.K. punk icons' "Bankrobber" into a kind of Bo Diddley shuffle, just as The Clash similarly turned Bobby Fuller Four's "I Fought the Law" into a three-chord rave-up. He relocates the roots of ZZ Top's "She's a Heartbreaker" on the Texas / Louisiana border with some sawing Cajun fiddles, while AC/DC's "Whole Lotta Rosie" gets the harp-honking Jimmy Reed treatment. The Cars' new wave ditty, "Just What I Needed", is reimagined as a George Jones honky-tonk lament, while Bruce Springsteen's "State Trooper" combines Johnny Cash gravitas, Jim Morrison's dark bravado and the Boss' own New York punk duo fave Suicide's doom-laden theatricality into a compelling whole.
Although he tours nearly 250 days a year, Dayton keeps the home fires burning in the same Austin house he bought thanks to earning 75% of the publishing royalties from writing songs for the soundtracks of three Rob Zombie horror flicks, including The Devils Rejects and Halloween 2 (performing a cameo as Captain Clegg, a roll he revived nightly as the support act on Zombie's U.S. tour that year).
Dayton's own career path includes such Zelig-like moments as being recruited by iconic producer Huey P. Meaux to record with zydeco star Rockin Dopsey at Houston's famed Sugarhill Studios; recording his debut album, Raisin' Cain, with Doug Sahm, Flaco Jiminez and Johnny Gimble, topping the Americana radio charts. He went on to record with Waylon Jennings, Willie Nelson, Johnny Bush and Glen Campbell.
Dayton has more than 50 songs licensed to film and television, writing and directing what he calls a B-movie Roger Corman monster flick, Zombex, in New Orleans, featuring an eclectic cast including Malcolm McDowell, cult actor Sid Haig, Walking Dead's Lew Temple, Corey Feldman, Slayer's Tom Araya and X's John Doe, who promptly asked him to sit in for Billy Zoom, recovering from cancer treatment, on a 40-city tour. His next project is writing his memoirs and short stories for a book to be published next year, and he just finished playing guitar on Guns N' Roses bassist Duff McKagan's new solo album.
"You have to be honest with yourself about who you are," he says, explaining his longevity as a performer. "In terms of surviving, you have to pay attention to the macro as well as the micro."
Active politically – he's played several benefits for fellow Texan presidential candidate Beto O'Rourke (once a punk-rock guitarist himself) – Dayton had an intense one-on-one with President Bill Clinton after playing his inaugural ball with Lucinda Williams.
"I'm scared to death about what's happening now, so I remain vigilant," he says.
Jesse Dayton has come a long way from the backwaters of his Beaumont hometown, encouraged by his parents to escape the stranglehold the oil industry-dominated region has on the town's inhabitants.