---
Biographie Tortusa / Breistein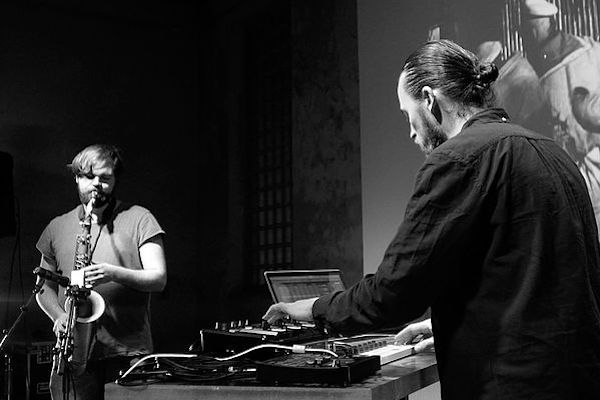 Tortusa/Breistein
is a Norwegian duo consisting of electronic musician Tortusa and saxophonist Inge W. Breistein.
The music has an electronic-experimental sound and refers to genres such as electronica, nordic jazz, ambience and minimalism. Compositions and larger improvised sections blends together through rhythmic repetition, harmonic textures, ambience and strong melodies.
A majority of the sound is recorded live by Bishop and manipulated on the spot, creating a very live and fresh concert. Bishop records Breistein´s saxophone with various software and hardware and transforms the sound into something new.
John Derek Bishop (Tortusa)
John Derek Bishop is a Norwegian-American electronic musician and composer from Stavanger, Norway. He has released three solo albums and his latest album on Jazzland Recordings received good critics from Germany, Canada, Norway and England. The album was nominated for the Spellemann Prize (Norwegian Grammy) in category Elektronika. He frequently performs live, and he has played in Berlin, Oslo, Kristiansand, Bergen and the electronic music festivals NuMusic and Perkapella. A cornerstone in Bishop´s production is the texture and timbre of sound. He searches for sounds that are out of the ordinary and places the listener in different emotional states. For the compositional process, Bishop employed both hardware equipment and software including retro tape recorders, modular synthesizers, samplers and a diverse array of other tools. Bishop´s alias when making ambient experimental music is Tortusa. For several years, Bishop has been composing and performing for modern dance and performance art shows in Norway, England and France. He has made music for short films «Limerence», «Hyperspace» and «Across the dreams». Aside from making music Bishop works with photography. ​
Inge W. Breistein
is a norwegian jazz musician (Saxophone), electronic musician and composer. He performs and composes music in a wider range of genres where jazz , various kinds of electronic music, experimental pop and free-improvisation can be mentioned. He has released albums with bands such as Cirrus and EGG3 . Cirrus album Méli Mélo received critical acclaim both nationally and internationally. Roald Helgheim in Dagsavisen and Ian Patterson in All About Jazz both declared the album one of the year's absolute highlights. In 2014 he wrote a electronic-experimental commissioned piece named Ekstraliv for Maijazz (Stavanger international Jazz festival) In 2017 he writes a commissioned piece togehter with guitarist Svein Rikard Mathisen for Nattjazz (Bergen international Jazz festival).