---
Gérard Poulet & Jean-Claude Vanden Eynden
---
Biographie Gérard Poulet & Jean-Claude Vanden Eynden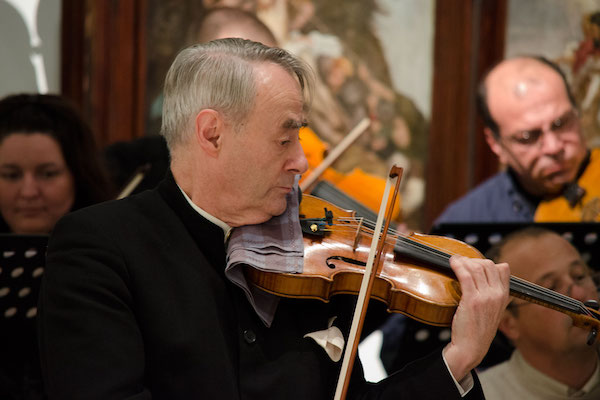 Gerard Poulet
Son of the renowned conductor and violinist Gaston Poulet, Gérard Poulet began learning the violin at five, entered the Paris Conservatoire at eleven under André Asselin and won the violin prize aged twelve. After a prodigious win at the Genoa Paganini Competition in 1956 he took further instruction from Francescatti, Menuhin, Milstein and Szeryng—an impressive pedagogic lineup from which he names Szeryng as his 'musical father'. Like many who enjoyed the guidance of illustrious masters, Poulet followed suit, teaching at the Paris, Vienna and Beijing conservatories and Tokyo University.
Poulet's playing is distinctive and in many ways impressive. His Corelli Trio Sonata (2007, with what sounds like a very large harpsichord!), though not entirely comfortable stylistically, is delivered with an energetic commitment sometimes lacking in so-called period performances. From more recent repertoire, the whimsical Méditation by Franco-Lebanese composer-poet Bechara El-Khoury (1988) proves to be a showcase for Poulet's flexible cantabile tone—drifting effortlessly from honeyed sweetness to heartfelt profundity—and his instinctive sense of rhetoric in conveying the musical narrative. He excels further in Romantic music. Despite his admiration of Szeryng, Poulet's playing does not have Szeryng's tough-minded, rather distant modernism, but an extraordinary warmth and depth which, when combined with a wide vibrato and a refreshingly open attitude to portamento, makes him sound rather old-fashioned—enjoyably so, in fact.
His lively (2009) Mendelssohn F major Sonata has some very warm tones in the first two movements, and an exciting romp through the effervescent finale. Kreisler's famous miniatures Liebeslied and Liebesfreud are delivered with élan and a depth of sound to rival the composer's own (often missing from many readings of Kreisleriana by modern players). Janáček's difficult and tortured Violin Sonata (2009) is given a bittersweet intensity, avoiding any temptation to sugarcoat an uncomfortable musical idiom.
Vieuxtemps's Concerto No. 7 (1997) and Franck's Sonata in A (2001) demonstrate a relaxed relationship with the music that comes only with a fully-assimilated sense of style, including quite a lot of portamento and a vibrato that, were it slightly narrower, would accord with the French sound of the early twentieth century. There is even some interesting piano arpeggiation from Bruno Rigutto, further suggesting an older mode of interpretation.