---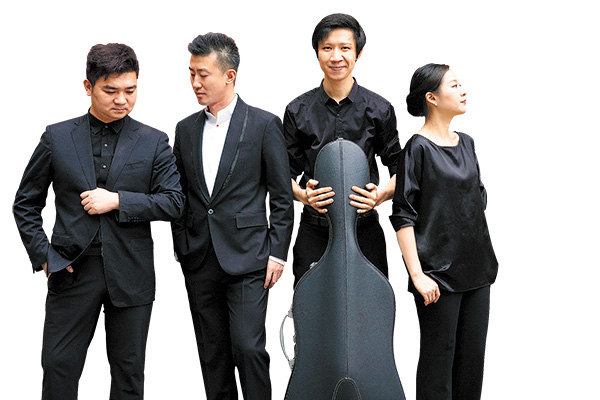 Amber Quartet
Founded in 2005 at the Central Conservatory of Music, the Amber Quartet, who represents the highest level of chamber music in China, has created history of Chinese chamber music for multiple time: the first Chinese chamber ensemble winning the highest award in an international chamber music competition, the first and only Chinese inheritor of the legendary Alban Berg Quartet, the first public-funded Chinese chamber ensemble entering the Instituto International de Música de Cámara at the Escuela Superior de Musica Reina Sofia de Madrid and graduating with full credit, the first and only Chinese chamber ensemble invited by the renowned McGill International String Quartet Academy (MISQA), and the first professional string quartet listed in China National Art Foundation
As the most influential professional Chinese chamber ensemble, the Amber Quartet has received multiple awards, including the highest awards and the best interpretation of modern works in ASIA-PACIFIC Chamber Music Competition, the silver medal in Chinese Golden Bell Music Competition, and the Central Conservatory Chamber Music Competition. After the establishment, the Amber Quartet has had concert appearances internationally, leaving footsteps in concert halls throughout the United States, the United Kingdom, France, Germany, Spain, Denmark, Australia, Canada, Japan, Korea, and China.
The Amber Quartet has also received interviews by numerous medias worldwide, such as the flagship music magazine "The Strad", Xinhua News Agency, China National Radio, Australia ABC Radio, Australia SBS Radio, Spain National Radio, Oberösterreichische Rundschau, Spain Euro-Chinese Times, Beijing News, Guangzhou Daily, Music Times, Club Magazine, etc.
The Amber Quartet has also devoted to academic and research field and they were proved to be capable and visionary. The Amber Quartet has performed over one hundred works of string quartet covering the history of Western music for over four hundred years. Meanwhile, the Amber Quartet pays great attention on promoting Chinese chamber compositions. In recent years, the Amber Quartet has collaborated with composers and musicians in traditional Chinese music and premiered many chamber works that combine Western and Eastern elements. In 2018, the Amber Quartet and Professor Lan Pan in musicology from Central Conservatory of Music co-founded the innovative key research project Deep Integration of Performance and Theory. Based on the high-level musicality and academic achievement, the Amber Quartet was selected in the 2019 Youth Talent Funding Program of China National Art Foundation.
Members of the Amber Quartet have multiple achievements in music education. Fangliang Ning, Yajing Su, Wang Qi, Yichen Yang are formal teachers at Central Conservatory of Music in chamber music and string performance. Starting from 2015 they have taught over forty students who won awards in various chamber and solo competitions. Besides regular teaching, they encouraged and led students in public welfare activities including High-end Music Entering College benefit concert and benefit lectures at NCPA, which received positive social responses. Members of the Amber Quartet have committed themselves to the popularization of classical music through Amber Quartet Concert Plus, an integrated and creative lecture-concert series aiming at fostering mass audience to appreciate classical music.
The Amber Quartet studied under Professor Yun Chen and Professor Bing Yu from Central Conservatory of Music, and Professor Günter Pichler from Alban Berg Quartet in Spain. The Amber Quartet was also coached by a number of world-renowned chamber artists including Gerhard Schulz, Valentin Erben, Michael Tree, Harald Schoneweg, Wolfgang Jahn, Hanxiang Gong, etc.
Members of the Amber Quartet perform on four ancient Italian instruments generously loaned by Hong Kong China Foundation. The renowned French case manufacture BAM has generously sponsored the Amber Quartet with their instrument cases. Starting from 2018, the Amber Quartet has signed with the publisher G. Henle and adopted its free score support service.