---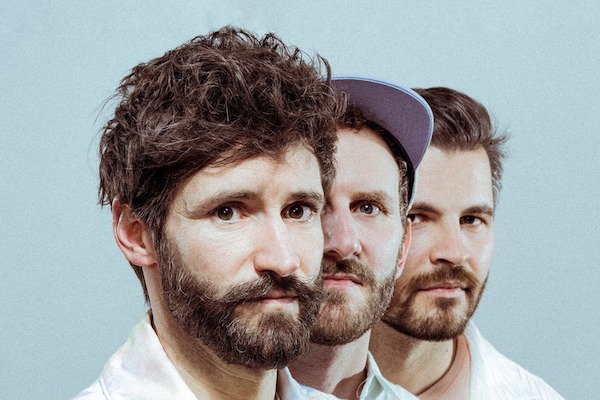 Trio SR9
It has been almost 10 years that the Trio SR9, founded by Paul Changarnier, Nicolas Cousin and Alexandre Esperet in Lyon, has been sharing its passion with audiences around the world. Having achieved their studies at the CNSMD de Lyon with Jean Geoffroy et Henri-Charles Caget, the three percussionists and friends decided to embark on this human and musical adventure.
The Trio was awarded the 1st Prize of the « Percussion Trio 2012 » organised by the International Percussion Competition Luxembourg (and also the public prize, and the « lalux » prize for the best interpretation). In 2012 the Trio won the European Music Ensemble Competition organised by FNAPEC, and received the fellowship of the Banque Populaire Foundation in 2016. The Trio has since then become recognised and widely acclaimed on the musical scene.
Strengthened by these experiences, the Trio SR9 initiated several new projects which all express an open attitude towards a wide range of aesthetics. Spanning various repertoires, the ensemble renews the interpretation of works from our musical heritage for three marimbas (Bach, Mendelssohn, Stravinsky, Ravel, etc.) and collaborates with composers (François Tashdjian, Florent Caron-Darras, Balint Karosi, Daniel Arango-Prada) on the creation of new pieces.
The Trio SR9 is frequent guest on French stages, invited to perform for festivals (Festival de la Chaise-Dieu, Festival Radio France in Montpellier, Festival International de Musique de Besançon, Flâneries Musicales in Reims, Festival "C'est pas classique" in Nice), and appears in prestigious halls such as the Opéra de Lyon, Maison de la Radio, Chapelle de la Trinité in Lyon…
The Trio SR9 regularly tours around the globe. Often invited in the USA (Institute of Contemporary Art / Boston, Lycée Français de New York), it also performs in Oceania (Canberra International Music Festival (AUS), The Piano Christchurch (NZ)), and Europe: Theaterhaus de Stuttgart (ALL), BOZAR de Bruxelles (BE), Bimhuis d'Amsterdam (NL), Muziekgebouw d'Eindhoven (NL), Drumworld Festival de Thorn (NL), etc.
Keen on sharing its experience, the Trio SR9 often holds masterclasses, namely at Boston Conservatory, Juilliard School, New York University, University of Canterbury in Christchurch, but also in French and European conservatories. In 2018, the Trio taught participants at the International Marimba and Percussion Festival in Pleven (Bulgaria).
The Trio SR9 is supported by the French Ministry of Culture (DRAC Auvergne-Rhône-Alpes), the Auvergne-Rhône Alpes Region, the City of Lyon, SPEDIDAM, ADAMI, Bureau Export, Banque Populaire Foundation and Institut Français. It has been member of the FEVIS network since 2020.