---
Album Info
Album Veröffentlichung:
2020
HRA-Veröffentlichung:
29.05.2020
Das Album enthält Albumcover Booklet (PDF)
Gabriel Fauré (1845 - 1924): Ballade in F-Sharp Major, Op. 19:

1

Ballade in F-Sharp Major, Op. 19: Andante cantabile - Lento

02:52

2

Ballade in F-Sharp Major, Op. 19: Allegro moderato - Andante - Un poco più mosso

03:13

3

Ballade in F-Sharp Major, Op. 19: Allegro

02:53

4

Ballade in F-Sharp Major, Op. 19: Andante - Allegro moderato

05:06

Nocturne No. 2 in B Major, Op. 33 No. 2:

5

Nocturne No. 2 in B Major, Op. 33 No. 2: Andantino espressivo

01:20

6

Nocturne No. 2 in B Major, Op. 33 No. 2: Allegro ma non troppo

03:32

7

Nocturne No. 2 in B Major, Op. 33 No. 2: Tempo primo (Andantino espressivo)

01:49

Nocturne No. 13 in B Minor, Op. 119:

8

Nocturne No. 13 in B Minor, Op. 119: Andante

03:55

9

Nocturne No. 13 in B Minor, Op. 119: Allegro

02:35

10

Nocturne No. 13 in B Minor, Op. 119: Primo tempo

02:40

Nocturne No. 6 in D-Flat Major, Op. 63:

11

Nocturne No. 6 in D-Flat Major, Op. 63: Adagio, dolce - Allegretto molto moderato

04:16

12

Nocturne No. 6 in D-Flat Major, Op. 63: Allegro moderato - Tempo primo

03:14

13

Nocturne No. 6 in D-Flat Major, Op. 63: Dolce

02:28

Thème et variations in C-Sharp Minor, Op. 73:

14

Thème et variations in C-Sharp Minor, Op. 73: Thème (Quasi adagio)

01:33

15

Thème et variations in C-Sharp Minor, Op. 73: Variation I (Lo stesso tempo)

00:49

16

Thème et variations in C-Sharp Minor, Op. 73: Variation II (Più mosso, leggiero)

00:54

17

Thème et variations in C-Sharp Minor, Op. 73: Variation III (Un poco più mosso)

00:46

18

Thème et variations in C-Sharp Minor, Op. 73: Variation IV (Lo stesso tempo)

01:23

19

Thème et variations in C-Sharp Minor, Op. 73: Variation V (Un poco più mosso)

00:48

20

Thème et variations in C-Sharp Minor, Op. 73: Variation VI (Molto adagio)

01:38

21

Thème et variations in C-Sharp Minor, Op. 73: Variation VII (Allegretto moderato)

00:51

22

Thème et variations in C-Sharp Minor, Op. 73: Variation VIII (Andante molto moderato)

00:58

23

Thème et variations in C-Sharp Minor, Op. 73: Variation IX (Quasi adagio)

01:39

24

Thème et variations in C-Sharp Minor, Op. 73: Variation X (Allegro vivo)

01:09

25

Thème et variations in C-Sharp Minor, Op. 73: Variation XI (Andante molto moderato espressivo)

02:18

Nocturne No. 4 in E-Flat Major, Op. 36:

26

Nocturne No. 4 in E-Flat Major, Op. 36: Andante molto moderato, dolce

01:45

27

Nocturne No. 4 in E-Flat Major, Op. 36: Tranquillamente

02:47

28

Nocturne No. 4 in E-Flat Major, Op. 36: A tempo

02:54

Total Runtime

01:02:05
Info zu Fauré: Ballade, Thème et variations & 4 Nocturnes
Als Schülerin von Jean-Marc Luisada an der Pariser Musikhochschule vertiefte sich die russische Pianistin Alexandra Matvievskaya sehr spät in Gabriel Faurés Werk, das sie jedoch schnell fesselte. Mit einer unvergleichbaren Intensität bringt sie seine magische Kraft sowie seine harmonische und polyphonische Tiefe zum Ausdruck. Eines der großen Fauré-Aufnahme der letzten zwanzig Jahre.
Alexandra Matvievsakaya, Klavier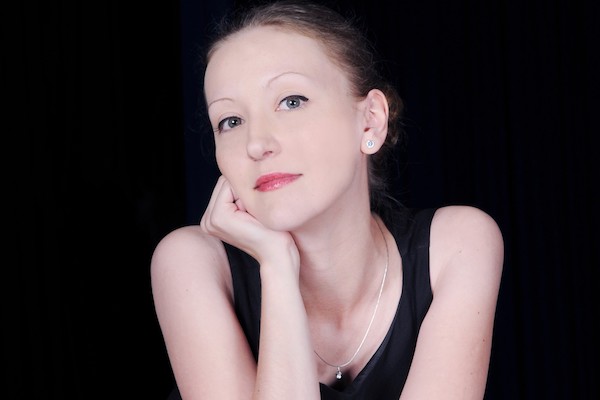 Alexandra Matvievskaya
was born in Perm, Russia. She began playing piano at the age of 4 although her parents were not musicians.
During her studies at the Moscow Conservatory, she often played with cellists and worked as an accompanist in the class of Professor Natalia Shakhovskaya. She met Mstislav Rostropovich and participated in master classes.
She also worked as an assistant to her piano professor at the Conservatory, Yuri Airapetyan.
She was unanimously awarded her Piano Performance diploma from the Ecole Normale de Musique in Paris, in the class of Jean-Marc Luisada, focusing on the traditions of the French piano school, quite different from the Russian..
Today she is continuing her studies at the upper/graduate level, pursuing a Concert Pianist degree, again with Jean-Marc Luisada at the Ecole Normale.
She has given concerts and participated in competitions as a soloist and a chamber musician in Russia, Ukraine, Italy, Spain, Sweden, Croatia, Serbia, China, the United States (of America) and Republic of South Africa.
In December 2012 she won the 2nd prize and the special prize for the best interpretation of a Romantic work at the 6th Claude Bonneton International Piano Competition in Sète (France).


Booklet für Fauré: Ballade, Thème et variations & 4 Nocturnes