---
Album Info
Album Veröffentlichung:
2018
HRA-Veröffentlichung:
13.09.2018
Das Album enthält Albumcover
Dennis Kam

1

String Quartet No. 2: I. —

04:48

2

String Quartet No. 2: II. —

05:33

3

String Quartet No. 2: III. —

04:01

4

Piano Sonata No. 2 "D-Bop"

10:15

5

String Quartet No. 1

09:58

6

Piano Sonata No. 1

12:25

Total Runtime

47:00
Info zu Dennis Kam: Several Times
Several Times is an impressive collection spanning over four decades of the composer's career. Though artistic development is present throughout the larger timeline of the album, each composition demonstrates innovative approaches to time and repetition. These innovations reflect a desire to not only learn and understand time, but master it.
String Quartet No. 1 and String Quartet No. 2 may have been composed 20 years apart from each other, but Dr. Kam's approach to each composition shares a nucleus: repetition. The differences are subtle at first. The former employs a non-tonal, modernist arrangement reminiscent of 1960s post-Webern music, while the latter focuses more on pitch centricities and implied tonal relations. Dr. Kam's cyclical patterns generate a sound distinctly his own.
Similarly, Sonata No. 1 and Sonata No. 2 share a unique approach to time while retaining their identities in pitch orientation. At only eight years apart, the two sonatas sound closely related, yet each carries a unique motion that draws one into the breathtaking piano performance. The arresting compositions compel listeners to work out the intricacies of time and repetition -- if they can.
As timeless as Dr. Kam's compositions are to himself, so too are they to listeners. Whether you consider String Quartet No. 1 from the mid-60s to D-Bop: Sonata No. 2, the compositions characterize the unique style of Dr. Kam from his past to present, and hint at what is to come in the future.
About: Several Times represents three primary compositional aspects that evolved in my music spanning more than four decades: temporal continuity (how time is perceived and experienced), the use of calculated and purposeful redundancy (repetition of pitch, motives, and structural units), and potential for expanded relations (networks) between works. Although 'stylistic' differences exist between these works separated by many years, I believe that approaches to time, repetition, and connectivity can and should be seen as common and prominent aspects affecting musical content, structure, perception, and expression in many of my works since the late 60s.
Two decades apart, String Quartet No. 1 (1966) and String Quartet No. 2 (1986) utilize different pitch and rhythmic resources but have a simplicity due to repetition of internal elements. No. 1 has a clear non-tonal, modernist, and Post- Webern orientation, exploring extended sonic resources of the strings while No. 2, composed for the Composers String Quartet and premiered at Festival Miami at the University of Miami in 1986, focuses on pitch centricities – implying 'tonal' relations due to deliberate and calculated use of repetition, which is also extended to structural units in the organization of the overall form.
Only separated by 8 years, Sonata No. 1 (2002), composed for Amy Tarantino-Trafton and D-Bop: Sonata No. 2a (2010), composed for Mia Vassilev, likewise have different pitch orientations, not to mention rhythmic identity and motion. However, both have in common the potential of created connection to subsequent 'relatives' when other instruments are added. Thus, Sonata No. 1 became a partner in Sonata for Clarinet and Piano when, at the request of Amy Tarantino-Trafton and Dimitri Ashkenazy, the significant clarinet part was added in 2004. It also became a relative to Sonata Ibis when the violin and cello were also added to the clarinet sonata version in 2005.
Pedroia String Quartet
Mia Vassilev, piano
Amy Tarantino-Trafton, piano
Sirius Quartet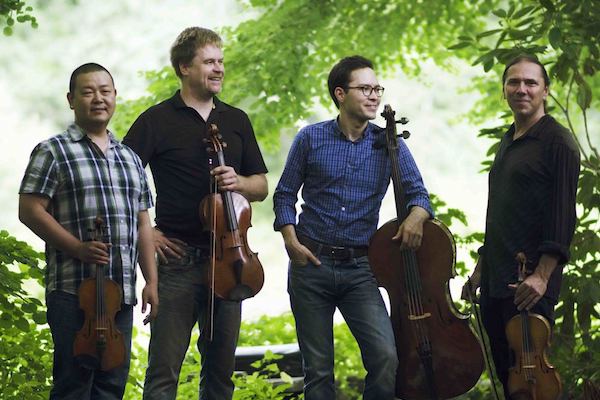 Pedroia String Quartet
With an intense and beautiful blend of freshness and experience, the Pedroia String Quartet is burtsing onto the Boston scene. To the unified and persuasive core of Peter Sulski and Rohan Gregory's ten years of quartet playing together, add the power and fire of first violinist Jae Cosmos Lee, and the consummate beauty and flexibility of cellist Jaques Lee Wood, and you have the Pedroia Quartet.
Sulski's seven years in the London Symphony, Lee's founding of the most exciting new chamber orchestra in the U.S. "A Far Cry", Wood's solo appearances with orchestras in Seoul and Merkin Hall, Gregory's tours to India, Thailand and Brazil with famous world music groups, these comprise the ingredients that make up the complex and versatile playing of the Pedroia.
Having steeped themselves in the knowledge of the Juilliard, Cleveland, Tokyo, Vermeer, and Takacs Quartets the Pedroia members have gone on to play as guests with the Borromeo, Jupiter, Audubon, and Alcan quartets, and members have founded, toured and recorded with both the Arden and QX quartets. Sulski and Gregory, founders and ten year members of QX, held a Clark University residency, recorded on Albany Records and performed in Jordan and Mechanics Halls; to this core of experience add the dynamism of Wood and Lee, and Boston's newest sound is heard: The Pedroia.

Dieses Album enthält kein Booklet