---
Album Info
Album Veröffentlichung:
2019
HRA-Veröffentlichung:
08.03.2019
Das Album enthält Albumcover
Gabriel Dupont (1878 - 1914): Les Heures dolentes:

1

Les Heures dolentes: I. Épigraphe (Lent et grave) - La mort rôde (Très modéré) [Transcribed by Gabriel Dupont]

08:25

2

Les Heures dolentes: XII. Des enfants jouent dans le jardin (Un peu animé) [Transcribed by Gabriel Dupont]

06:12

3

Les Heures dolentes: II. Le soir tombe dans la chambre (Lent et recueilli) [Transcribed by Gabriel Dupont]

04:35

4

Les Heures dolentes: XIII. Nuit blanche - Hallucinations (Lent et sombre) [Transcribed by Gabriel Dupont]

07:16

Jour d'été:

5

Jour d'été: I. Matinée ensoleillée (Allegro giocoso)

05:20

6

Jour d'été: II. Sous-bois (Andante tranquillamente)

06:18

7

Jour d'été: III. Nocturne (Allegro vivo)

05:03

Le chant de la destinée:

8

Le chant de la destinée

14:49

Total Runtime

57:58
Info zu Dupont: Complete Symphonic Works
Wiederentdeckt: Gabriel Dupont (1878-1914) wurde von seinen Zeitgenossen sehr geschätzt, studierte bei Massenet, war dann Schüler von Vierne und Widor und gehört zu den Komponisten, deren zu kurze Karriere sie daran hinderte, ihren Platz in der Musikgeschichte einzunehmen.
Trotz einer Tuberkulose-Attacke im Jahr 1901 gelang es Dupont, sich für den Prix de Rome zu bewerben und dort vor Maurice Ravel einen "ersten zweiten Preis" zu gewinnen. Vor allem seine Klavierwerke, seine Lieder und einige seltene Kammermusikwerke wurden in den letzten Jahren teilweise wiederentdeckt, doch seine symphonische Musik blieb bislang ziemlich unbekannt. Die Kompositionen auf dieser CD sind die erste eingespielte Sammlung seines gesamten Orchesterrepertoires und dokumentieren den Verlauf der wenigen kreativen Jahre: von der 3-stimmigen symphonischen Skizze 'Jour d'été' (Sommertag 1900) über den pointierten 'Chant de la destinée' (Schicksalslied 1908) bis hin zu den orchestrierten Klavierstücken 'Les Heures dolantes' (Schmerzvolle Stunden). Duponts Sprache kombiniert die leidenschaftliche Synthese der französischen Traditionen des späten 19. Jahrhunderts mit seiner Suche nach einer neuen Identität, einem neuen Weg, der sich um die Spuren seiner Zeitgenossen schlängelt und manchmal die Grenze ins deutsche Musik-Territorium überschreitet.
Orchestre Philharmonique Royal de Liege
Patrick Davin, Dirigent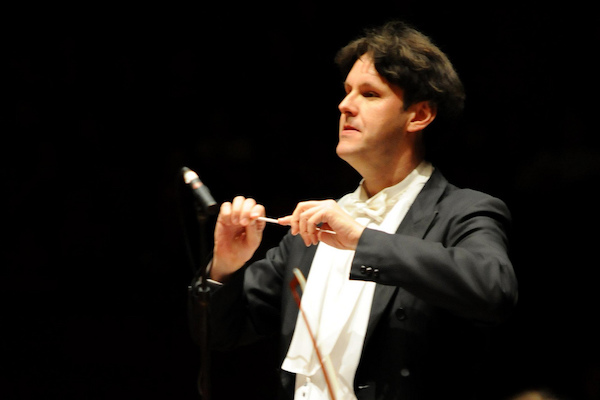 Patrick Davin
Equally at home in contemporary as in classical and romantic repertoires, Patrick Davin has made himself a name both in the symphonic and lyric fields. Being a former student of Pierre Boulez and Peter Eötvös, he has been frequently asked to premiere works by composers such as Philippe Boesmans, Luc Brewaeys, Bruno Mantovani, Jacqueline Fontyn, Charles Chaynes, Vinko Globokar, Murray Schafer, Conlon Nancarrow, Michael Levinas, Henri and Denis Pousseur, Xavier Dayer, James Dillon, Jean-Luc Hervé, Jean-Yves Bosseur, Kris Defoort and Marco Stroppa.
Other career highlights included : his recent debut (october 2018) at deutsche Oper Berlin, where he replaced ad hoc Damnation de Faust (Berlioz) ; Louise (Charpentier) and Damnation de Faust at the Paris Opera House Bastille ; La muette de Portici and Le domino noir, both by Daniel F.E. Auber, at Opéra Comique Paris; the world premieres of Au monde and Pinocchio (Boesmans) both directed by Joël Pommerat at ROH La Monnaie; Le Nozze di Figaro, Pénélope (Fauré) directed by Olivier Py and Dr Atomic (Adams), directed by Lucinda Childs, at the Opera House of Strasbourg.
Upcoming (2018/2019) Patrick Davin will conduct amongst others, the world premiere of Pierre Bartholomée's opera Nous sommes éternels at the Opera House of Metz. Subsequently he will appear in Faust at ROH Liège and in Entführung aus dem Serail at Monte-Carlo's Opera House.
Patrick Davin has held the position of Chief Conductor of the ensembles "L'Itinéraire" (Paris) and "Musiques nouvelles" (Belgium) ; Principal Guest Conductor at the Opera House of Marseille and artistic and musical director of the Symphonic Orchestra of Mulhouse (FR).
Currently, he's holding the position of Principal Guest Conductor at the ROH of Liège. A House he has conducted La Damnation de Faust, Pelléas et Mélisande, La Voix humaine, Il segreto di Susanna, Le Roi d'Ys, Arabella …
Patrick Davin has repeatedly appeared in the Opera Houses of Geneva, Toulouse, Monte-Carlo, Marseille, Lyon to name just a few... At home, the Monnaie Theatre invited him for Boesmans' Reigen, Wintermärchen, Yvonne, Princesse de Bourgogne (Belgian premiere), next to the world premieres of The Woman Who Walked into Doors and The House of the Sleeping Beauties (Kris Defoort), L'Uomo dal fiore in bocca (Luc Brewaeys) and La Dispute (Benoît Mernier).
He has collaborated with stage directors such as : Luc Bondy, Jorge Lavelli, Herbert Wernicke, Christophe Marthaler, Nicolas Joël, Robert Lepage, Andre Engel, Olivier Py, Stephen Langridge, Jürgen Flimm, Philippe Sireuil, Stefano Mazzonis, Nicolas Brieger, Philippe Arlaud, Jean-Louis Grinda, Guy Cassiers, Patrice Caurier and Moshe Leiser to name just a few.
Patrick Davin's operatic repertoire includes the more Zauberflöte, Fledermaus, Carmen, La Traviata, Dialogues des Carmélites, Don Giovanni, Werther ...
Symphonic projects have led to cooperations with Klangforum Wien ; Ensemble Modern, Deutsche Kammerphilharmonie Bremen, the Radio orchestras of Stuttgart and München, Musikfabrik Düsseldorf ; l'Ensemble Intercontemporain, Orchestre de Lyon, Orchestre Philharmonique de Radio France, the Orchestras of Montpellier, the National Orchestras of Toulouse and Lille and the Philharmonic Orchestra of Nice. Next to invitations by the Orchestras of Winterthur and La Suisse-Romande ; Jonde and Teatro Real ; Het Orkest van het Oosten, Gelders orkest and Nieuw Sinfonietta (NL); Orchestre Philharmonique de Liège, Belgian national Orchestra, Royal Flanders Philharmonic and the Philharmonic Orchestra of Luxemburg.


Dieses Album enthält kein Booklet