---
Album Info
Album Veröffentlichung:
2023
HRA-Veröffentlichung:
24.01.2023
Das Album enthält Albumcover
Alfred Schnittke (1934 - 1998): String Quartet No. 3:

1

Schnittke: String Quartet No. 3: I. Andante

06:09

2

Schnittke: String Quartet No. 3: II. Agitato

08:02

3

Schnittke: String Quartet No. 3: III. Pesante

08:09

Igor Stravinsky (1882 - 1971): Three Pieces for String Quartet:

4

Stravinsky: Three Pieces for String Quartet: I.

00:52

5

Stravinsky: Three Pieces for String Quartet: II.

02:05

6

Stravinsky: Three Pieces for String Quartet: III.

03:28

Concertino for String Quartet:

7

Stravinsky: Concertino for String Quartet

06:56

Double Canon for String Quartet:

8

Stravinsky: Double Canon for String Quartet

01:33

Thomas Adès (b. 1971): The Four Quarters:

9

Adès: The Four Quarters: I. Nightfalls

07:16

10

Adès: The Four Quarters: II. Morning Dew

03:01

11

Adès: The Four Quarters: III. Days

03:47

12

Adès: The Four Quarters: IV. The Twenty-fifth Hour

03:36

Orlando Di Lasso (1532 - 1594): Stabat mater dolorosa:

13

Lasso: Stabat mater dolorosa

01:54

Total Runtime

56:48
Info zu Schnittke, Stravinskij, Adès
This album was born from the need to face three key composers of modern and contemporary classical music. Over a period of about a century, these three figures allow us to enter not only their music, but their specific world with its own languages, images and emotional atmospheres.
Schnittke takes up the lesson of the greats of the past, cites their ideas and thematic elements in an indissoluble "homage-obsession" bond, creating a combinatorial game that in the end is only a compositional means to take us into his twisted, distorted, decomposed and recomposed universe. where the popular and the divine, fears, nightmares and redemption are side by side.
Stravinsky with short, disruptive, lightning-fast pieces succeeds in frescoing a clear and evocative world, exploring all the technical and expressive possibilities of the string quartet in an innovative way.
Finally, Adès, today's compositional talent, takes us on a fascinating, virtuosic and extraordinarily colorful journey in the course of a day. Naturalistic touches like dewdrops are counterbalanced by a hypercerebral, self-aware construct. The apogee of the compositional process is the finale, entitled "The twenty-fifth hour", where time unfolds in an unprecedented 25/16, putting the performers to the test, but at the same time managing to create sidereal atmospheres of mercy, where time itself it cancels.
This album is a journey through time, not only because it spans the last century. It is a journey into Ontological Time, oscillating between Κρόνος and καιρός, extricating itself in its purest concept, unfolding the worlds and languages of three great musicians who have offered indisputable masterpieces to the string quartet. Perfect demonstration that this formation remains, through the centuries, an inexhaustible source of compositional stimuli".
Quartetto Mirus:
Federica Vignoni, violin
Massimiliano Canneto, violin
Riccardo Savinelli, viola
Luca Bacelli, cello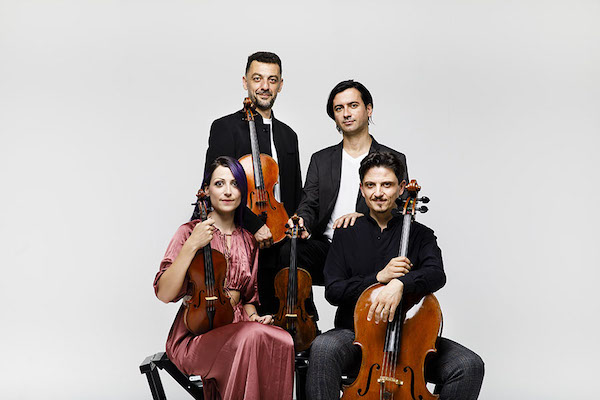 Quartetto Mirus
Formed in 2008, the Mirus Quartet is an internationally established ensemble. The new disc, recorded in March 2021 at the Chiesa della Santissima Annunziata in Pesaro, was born 'from the need to tackle three pivotal composers of modern and contemporary classical music. In a time span of about a century, these three figures allow us to enter not only into their music, but into their specific world with their own languages, images and emotional atmospheres'.
The Ascolta project, the brainchild of Promu's young creatives Alessandro Muller, Enrico Loprevite and Luca Pacetti, was created to overcome a scenario that, in today's times, sees music flattening out into passive listening, low-quality instruments, occasional and superficial enjoyment. A mirror of a society that, as the TV debate format demonstrates, no longer knows how to listen and therefore how to dialogue.
Promu's intention is therefore to create an "art machine" within the art of Sironi, Balla, De Chirico, Donghi, Mafai among many others. And in it to find the emotional and intellectual dimension of impeccable listening to the immaterial beauty of sounds, surrounded by the perfect environment, created in collaboration with artists of great mastery.


Dieses Album enthält kein Booklet