---
Album Info
Album Veröffentlichung:
2022
HRA-Veröffentlichung:
03.02.2023
Das Album enthält Albumcover Booklet (PDF)
Nikolay Myaskovsky (1881 - 1950): Cello Concerto in C Minor, Op. 66:

1

Myaskovsky: Cello Concerto in C Minor, Op. 66: I. Lento ma non troppo. Andante

10:58

2

Myaskovsky: Cello Concerto in C Minor, Op. 66: II. Allegro vivace. Andante semplice e tranquillo

17:17

Cello Sonata No. 1 in D Major, Op. 12:

3

Myaskovsky: Cello Sonata No. 1 in D Major, Op. 12: I. Adagio - II. Andante

06:40

4

Myaskovsky: Cello Sonata No. 1 in D Major, Op. 12: III. Allegro passionato

11:30

Anatoly Lyadov (1855 - 1914): 3 Morceaux, Op. 11 (Excerpts Arr. for Cello & Piano):

5

Lyadov: 3 Morceaux, Op. 11 (Excerpts Arr. for Cello & Piano): No. 1, Prelude

03:03

6

Lyadov: 3 Morceaux, Op. 11 (Excerpts Arr. for Cello & Piano): No. 3, Mazurka

03:00

Nikolai Rimsky-Korsakov (1844 - 1908): Serenade in B-Flat Major, Op. 37:

7

Rimsky-Korsakov: Serenade in B-Flat Major, Op. 37

03:49

Nikolay Myaskovsky: Cello Sonata No. 2 in A Minor, Op. 81:

8

Myaskovsky: Cello Sonata No. 2 in A Minor, Op. 81: I. Allegro moderato

08:10

9

Myaskovsky: Cello Sonata No. 2 in A Minor, Op. 81: II. Andante cantabile

05:54

10

Myaskovsky: Cello Sonata No. 2 in A Minor, Op. 81: III. Allegro con spirito

06:18

Total Runtime

01:16:39
Info zu Myaskovsky, Lyadov & Rimsky-Korsakov: Cello Works
Seit etwa zehn Jahren gibt es ein erfreuliches Wiederaufleben des Interesses an dem bedeutenden russischen Komponisten Nikolai Myaskovsky, dessen Karriere sich von der Spätromantik bis zur frühen Moderne erstreckte. Sein schöpferisches Vermächtnis verdient weitaus größere Aufmerksamkeit, als ihm derzeit zuteil wird: Myaskovskys Musik zeugt von höchstem handwerklichem Können und erkundet einen ganz eigenen Bereich emotionaler und seelischer Erfahrungen.
Sein Cellokonzert op. 66 wurde in den letzten drei Monaten des Jahres 1944 komponiert, und es ist nicht bekannt, was Myaskovsky dazu veranlasste, dieses Werk zu komponieren, da es weder im Auftrag eines Interpreten noch für einen bestimmten Künstler geschrieben wurde. Wahrscheinlich sollte es einen Beitrag zu dem wachsenden Repertoire an Instrumentalkonzerten leisten, das für die aufstrebende Generation junger sowjetischer Virtuosen geschaffen wurde. Das zweisätzige Konzert beginnt mit einem kontemplativen Lento ma non troppo in einer abgewandelten Sonatenform, wobei eine kurze Solokadenz an die Stelle der Durchführung tritt. Die vorherrschende herbstlich-melancholische Stimmung wird durch ein leidenschaftliches zweites Thema in Dur ausgeglichen. Das anschließende Allegro vivace ist als Rondo gestaltet, wobei zwei langsame Episoden das energiegeladene Hauptthema mit seinen lebhaften Triolen ergänzen. Nach einer brillanten Kadenz erreicht der Satz seinen Höhepunkt, wenn das Material des Eröffnungssatzes wieder aufgenommen wird, und mündet dann in eine meditative Coda. Darüber hinaus sind zwei virtuose Cellosonaten von Myaskovsky zu hören. Die übrigen Stücke auf diesem Album stammen von Myaskovskys Lehrern am St. Petersburger Konservatorium - Nikolai Rimsky-Korssakoff, der ihn die Kunst der Orchestrierung lehrte, und Anatoly Lyadoff, bei dem er Harmonie, Kontrapunkt und freie Komposition studierte.
Raphael Wallfisch, Cello
Simon Callaghan, Klavier
Janáček Philharmonie Orchester
Lukasz Borowicz, Dirigent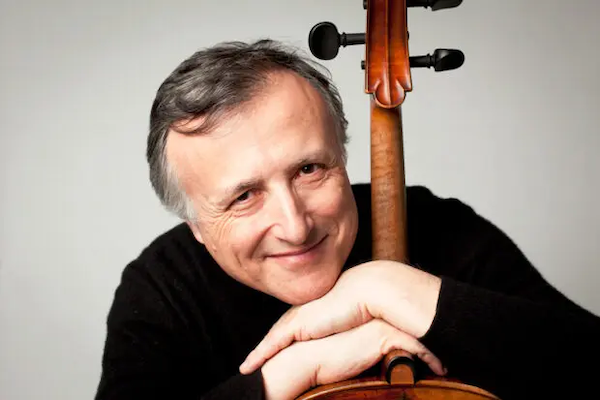 Raphael Wallfisch
is one of the most celebrated cellists performing on the international stage. He was born in London into a family of distinguished musicians, his mother the cellist Anita Lasker-Wallfisch and his father the pianist Peter Wallfisch.
At an early age, Raphael was greatly inspired by hearing Zara Nelsova play, and, guided by a succession of fine teachers including Amaryllis Fleming, Amadeo Baldovino and Derek Simpson, it became apparent that the cello was to be his life's work. While studying with the great Russian cellist Gregor Piatigorsky in California, he was chosen to perform chamber music with Jascha Heifetz in the informal recitals that Piatigorsky held at his home.
At the age of twenty-four he won the Gaspar Cassadó International Cello Competition in Florence. Since then he has enjoyed a world-wide career playing with such orchestras as the London Symphony, London Philharmonic, Philharmonia, BBC Symphony, English Chamber Orchestra, Hallé, City of Birmingham Symphony, Leipzig Gewandhaus, Berlin Symphony, Westdeutscher Rundfunk, Los Angeles Philharmonic, Indianapolis Symphony, Warsaw Philharmonic, Czech Philharmonic and many others.
He is regularly invited to play at major festivals such as the BBC Proms, Edinburgh, Aldeburgh, Spoleto, Prades, Oslo and Schleswig Holstein. He is also frequently invited to be a jury member of international competitions such as the Rostropovich International Competition in Paris, the Schoenfeld in China and the Enescu in Romania.
Teaching is one of Raphael's passions. He is in demand as a teacher all over the world and holds the position of professor of cello in Switzerland at the Zürich Hochschule der Kunst.
Raphael has recorded nearly every major work for his instrument. His extensive discography on EMI, Chandos, Black Box, ASV, Naxos and Nimbus explores both the mainstream concerto repertoire and countless lesser-known works by Dohnanyi, Respighi, Barber, Hindemith and Martinu, as well as Richard Strauss, Dvorak, Kabalevsky and Khachaturian. He has recorded a wide range of British cello concertos, including works by MacMillan, Finzi, Delius, Bax, Bliss, Britten, Moeran and Kenneth Leighton. For the Chandos Walton Edition he was privileged to record the composer's Cello Concerto, originally written for his master, Piatigorsky.
Britain's leading composers have worked closely with Raphael, many having written works especially for him. These include Sir Peter Maxwell Davies, Kenneth Leighton, James MacMillan, John Metcalf, Paul Patterson, Robert Simpson, Robert Saxton, Roger Smalley, Giles Swayne, John Tavener and Adrian Williams.
Alongside his solo career, Raphael has a long-standing and distinguished duo with pianist John York. With a rich history of many international recital tours and numerous recordings, the duo celebrated its 35th anniversary in 2017 and look forward to future collaboration in 2018. Raphael also greatly enjoys touring with his very successful piano trio – Trio Shaham Erez Wallfisch – which he and his colleagues Hagai Shaham (violin) and Arnon Erez (piano) founded in 2009. Four recordings have been released so far, each receiving the highest critical acclaim.
Raphael plays a 1760 Gennaro Gagliano, the 1733 Montagnana "Ex-Romberg" and an exquisite modern cello built for Raphael by Patrick Robin.
He lives in London with his wife, the violinist Elizabeth, and has three children, Benjamin, Simon, and Joanna.
Simon Callaghan
performs internationally as a soloist and chamber musician, in parallel with a highly successful career as a recording artist. A favourite performer at the internationally-renowned Husum Festival of Piano Rarities in Germany, Callaghan's recent sell-out concert was praised by VAN Magazine as a "cleverly curated recital full of discoveries" and by the Frankfurter Allgemeine Zeitung as "technically brilliant". Callaghan has developed a wide following and appears on a regular basis in the UK's major concert halls, and on tours to Asia, North America and Europe. Recital partners have included Sheku Kanneh-Mason, Nicholas Daniel, Adrian Brendel, Feng Ning, Samuel West, Prunella Scales and Timothy West. BBC Young Musician of the Year Finalist Coco Tomita and Callaghan have a successful duo partnership which saw their first record released in 2022 on Orchid Classics. He is also a founding member of the Piatti Ensemble, joining colleagues from the renowned Piatti Quartet to showcase the repertoire for piano quartet with a particular focus on revivifying works that have fallen into obscurity.
Simon Callaghan's distinguished and eclectic discography includes recordings for Hyperion, Nimbus and Lyrita among others. He has a strong profile on BBC Radio3 and on a variety of streaming platforms, his most recent single on Apple Music with Coco Tomita surpassing 1 million streams in the first month of its release. He is a strong social media enthusiast, using it as a form of promotion for classical music in general but seeing it as a particular tool in his advocacy of the rare and unexplored.
Callaghan's broad repertoire encompasses the standard works of the 19th and 20th centuries and increasingly concentrates on much that is rare and unexplored, examples including Bernhard Scholz, Josef Rheinberger and Carl Reinecke. A cornerstone of his work is his commitment to British music, and he has recently begun a series on Lyrita, recording world premieres of British concertos with Martyn Brabbins and the BBC National Orchestra of Wales. Callaghan has also made first recordings of the complete piano music by Rebecca Clarke, George Dyson and William Busch. By the end of 2023, he will also have recorded four albums for Hyperion's celebrated The Romantic Piano Concerto series. His first disc for Hyperion, with the BBC Scottish Symphony Orchestra, formed part of his PhD at the Royal Northern College of Music and was praised by BBC Radio 3's Andrew McGregor: "I have nothing but praise for the performances... impressive pianism".
Callaghan launched a comprehensive Poulenc project for Nimbus Records in 2019 and recorded L'histoire du Babar with actor Miriam Margolyes. The album received five stars from The Independent, reviewer Michael Church: "here, thanks to Harry Potter actor Miriam Margolyes's artistry and Simon Callaghan's excellent pianism, is Poulenc's delightful musical response. And as I listened to this recording, I found the original drawings reappearing in my mind with all their detail intact – extraordinary. It lasts just 30 minutes, but my god does it resonate."
Simon Callaghan's reputation and experience in chamber music led to his appointment as Director of Music at London's celebrated Conway Hall, only the sixth incumbent since the founding of the series in 1887. Callaghan is collaborating with Roger Vignoles, one of the most distinguished piano accompanists of our time, on a new song recital element for the series in 2023/24. He was elected a Steinway Artist in 2012.
Lukasz Borowicz
Music Director and Chief Conductor of the Poznań Philharmonic Orchestra since the 2021/22 season, Chief Guest Conductor of the Cracow Philharmonic since the 2021/22 season. One of the most versatile conductors of his generation, Łukasz Borowicz regularly leads the major European orchestras in the core Germanic repertoire as well as important Russian, Polish, Czech and Hungarian works. He conducts opera and has received numerous prizes for his over 100 recordings. From 2007 to 2015 he was Chief Conductor of the Polish Radio Symphony Orchestra in Warsaw, and from 2006 to 2021 he was Chief Guest Conductor of the Poznań Philharmonic.
In the 21/22 season Borowicz debuts with Chœur de l'Opéra national du Rhin, Orchestre symphonique de Mulhouse, Brandenburger Symphoniker and returns to Prague Symphony Orchestra FOK, L'Opéra Orchestre national Montpellier Occitanie, Prague Philharmonia, Teatr Wielki-Opera Narodowa – The National Opera of Poland, Wrocław Opera, NOSPR (Katowice), Cracow Philharmonic, Rubinstein Philharmonic (Łódź), Polish Baltic Philharmonic (Gdańsk).
In the 20/21 season Borowicz made his debuts with Sinfonieorchester Wuppertal, Orquestra Titular del Teatro Real (Madrid) and returned to Janáček Philharmonic Orchestra (Ostrava), Baltic Philharmonic (Gdańsk), Cracow Philharmonic, Beethoven Academy Orchestra (Cracow), Silesian Philharmonic (Katowice), Pomeranian Philharmonic (Bydgoszcz) and Teatr Wielki – Polish National Opera (Warsaw).
In the 19/20 season Borowicz led a new production of Moniuszko's Halka at the Theater an der Wien and the Teatr Wielki – National Opera of Poland. Throughout February and March, Borowicz led the Poznań Philharmonic on tour throughout Germany and France, including stops at the Kölner Philharmonie and the Théâtre des Champs Elysées.
In the 18/19 season Borowicz made his debuts with Paris Opera (Les Huguenots), Hungarian National Orchestra and Prague Radio Symphony Orchestra, and led a new production of Halka (Vilnius Version) by Stanisław Moniuszko at the Polish National Opera. He performed on tour with the Poznań Philharmonic, and returned to Warsaw Philharmonic, Konzerthausorchester Berlin, Staatsphilharmonie Rheinland-Pfalz, Württembergische Philharmonie Reutlingen, Janáček Philharmonic and Orchestre symphonique et lyrique de Nancy, as well as the orchestras in Katowice, Szczecin, Gdańsk and Łódź. Ongoing recording projects included a multi-disc recording of Anton Bruckner's sacred music with RIAS Kammerchor and Akademie für Alte Musik Berlin for Accentus, as well as a release of Hugo Alfven's five symphonies with the Deutsche Symphonieorchester Berlin on CPO. He also recorded an album of cello concertos by exiled Jewish composers with Raphael Wallfisch and the BBC National Orchestra of Wales. In the 17/18 season he made his debut with the London Philharmonic Orchestra, Gürzenich-Orchester Köln and recorded with Bamberger Symphoniker.
Łukasz Borowicz has appeared as guest conductor with SWR Sinfonieorchester, Düsseldorfer Symphoniker, Hamburger Symphoniker, MDR Sinfonieorchester, Luzerner Symfonieorchester, Orchestre National de Lille, Luxembourg Philharmonic Orchestra, Royal Philharmonic Orchestra, BBC Scottish Symphony Orchestra, Queensland Symphony Orchestra, Trondheim Symphony Orchestra, Los Angeles Philharmonic New Music Group and a number of other orchestras and ensembles, including all the major Polish symphonies. He has led concerts at the Rossini Festival in Pesaro, Schleswig-Holstein Music Festival and Kissinger Sommer Festival, and has an ongoing relationship with the Beethoven Easter Festival in Warsaw, which has seen thirteen rarely played operas recorded and released to date.
Borowicz made his operatic debut at Polish National Opera with Don Giovanni, which has been followed by over 180 performances at the house, including new productions of Orfeo ed Euridice, A Midsummer's Night Dream (Mendelssohn/Ligeti), The Rite of Spring and Romeo and Juliet (Prokofiev). Further operatic credits include premieres of Die Zauberflöte, Rusalka, Dido and Aeneas, Blubeard's Castle (Łódź), Don Giovanni, Eugene Onegin, Halka, King Roger (Kraków), Eugene Onegin (Nantes), King Roger (Bilbao), Don Giovanni (Polish Royal Opera Warsaw).
A prolific recording artist with over 100 albums to his name, Borowicz's recordings have been awarded four Diapason d'Or prizes. Symphonic recordings include the complete violin concertos by Grażyna Bacewicz for Chandos, the complete symphonic works by Andrzej Panufnik for CPO, and several titles for Hyperion. The final installment of the Panufnik cycle was selected as an Editor's Choice by Gramophone magazine, and Borowicz received the ICMA Special Achievement Award in 2015 for his pioneering work on the cycle. In 2018 he received another ICMA award for his recording of Quo Vadis by Feliks Nowowiejski. His collaboration with Piotr Beczała on Deutsche Grammophon's recording Heart's delight – Songs of Richard Tauber was met with wide critical and public praise.
Born in Warsaw in 1977, Łukasz Borowicz graduated from the Frederic Chopin Music Academy, where he studied under Bogusław Madey. He received a doctorate in conducting under Antoni Wit. He has received the Polityka Passport Award (2008), Coryphée of Polish Music Award (2011), Norwid Award (2013) and Tansman Prize honouring an outstanding musical personality (2014).


Booklet für Myaskovsky, Lyadov & Rimsky-Korsakov: Cello Works