---
Album Info
Album Veröffentlichung:
2018
HRA-Veröffentlichung:
12.07.2018
Das Album enthält Albumcover Booklet (PDF)
Entschuldigen Sie bitte!
Sehr geehrter HIGHRESAUDIO Besucher,
leider kann das Album zurzeit aufgrund von Länder- und Lizenzbeschränkungen nicht gekauft werden oder uns liegt der offizielle Veröffentlichungstermin für Ihr Land noch nicht vor. Wir aktualisieren unsere Veröffentlichungstermine ein- bis zweimal die Woche. Bitte schauen Sie ab und zu mal wieder rein.
Wir empfehlen Ihnen das Album auf Ihre Merkliste zu setzen.
Wir bedanken uns für Ihr Verständnis und Ihre Geduld.
Ihr, HIGHRESAUDIO
Johann Michael Bach (1648 - 1694): Ohrdruf:

1

Nun komm der Heiden Heiland

01:25

Johann Sebastian Bach (1685 - 1750):

2

Fantasia in C Major, BWV 570

02:36

3

Vom Himmel hoch, da komm ich her in C Major, BWV 700

03:22

Girolamo Frescobaldi (1583 - 1643):

4

Bergamasca, F12.46

05:26

Johann Christoph Bach (1642 - 1703):

5

Prelude and Fugue in E-Flat Major

05:05

Johann Kuhnau (1660 - 1722):

6

Suonata quarta: Hiskia agonizzante e risanato

07:03

Johann Sebastian Bach:

7

Das alte Jahr vergangen ist, BWV 1091

02:35

8

Ich hab mein Sach Gott heimgestellt, BWV 1113

02:24

Georg Böhm (1661 - 1733):

9

Vater unser im Himmelreich

04:54

Johann Sebastian Bach:

10

Christus, der ist mein Leben, BWV 1112

01:58

11

Fugue on a theme by Tomaso Albinoni in C Major, BWV 946

03:08

12

Fugue in A Major, BWV 949

04:37

13

Wie nach eine Wasserquelle, BWV 1119

02:16

14

Ehre sei dir, Christe, der du leidest Not, BWV 1097

02:20

15

Gott, durch deine Güte, BWV 724: Choral

01:58

16

O Jesu, wie ist dein Gestalt, BWV 1094

03:00

Johann Jakob Froberger (1616 - 1667):

17

Canzona

03:25

Johann Pachelbel (1653 - 1706):

18

An Wasserflüssen Babylon

05:27

Louis Marchand (1669 - 1732):

19

Suite in D minor (Excerpts): Prélude - Sarabande - Chaconne

10:04

Johann Sebastian Bach:

20

Prelude and Fugue in A Minor, BWV 551

05:52

Nicolas de Grigny (1672 - 1703):

21

Point d'orgue sur les grands jeux

03:09

Johann Sebastian Bach (Lüneburg):

22

Prelude and Fugue in D Minor, BWV 549a

05:54

23

Ach Gott, vom Himmel sieh darein, BWV 741

04:30

24

Jesu, meine Freude, BWV 1105

03:10

25

Herr Gott, nun schleuss den Himmel auf, BWV 1092

02:16

26

Werde munter, mein Gemüte, BWV 1118

02:33

27

Machs mit mir, Gott, nach deiner Güt, BWV 957

02:12

28

Herzlich lieb hab ich dich, o Herr, BWV 1115

04:52

29

In Honorem Johann Christoph Bachii Ohrdrufiensis in E Major, BWV 993

07:45

30

Sonata in A Minor, BWV 967

03:48

31

Fugue in A Minor, BWV 947

03:34

32

Prelude and Fugue in A Major, BWV 896

03:32

33

Herr Jesu Christ, du höchstes Gut, BWV 1114

04:34

34

Alle Menschen müssen sterben, BWV 1117

02:40

35

Partite diverse Sopra il Chorale Ach, was soll ich Sünder machenp. di J: S: Bach, BWV 770

14:33

36

Was Gott tut, das ist wohlgetan, BWV 1116

02:36

37

Aus tiefer Not schrei ich zu dir, BWV 1099

04:01

38

Choral Nun lasst uns den Leib begraben BWV 1111

02:59

39

Prelude and Fugue in C Major, BWV 531

07:09

Arnstadt (44.1kHz):

40

Fantasia in C Minor, BWV 1121

03:21

41

Capriccio B sopra la lontananza del fratello dilettissimo in B Major, BWV 992

10:15

42

Prelude and Partita del tuono terzo in F Major, BWV 833: Præludium - Allemande - Courante - Sarabande & double (allegro) - Aria

07:25

43

Suite in A Major, BWV 832: Allemande - Air pour les trompettes - Sarabande - Bourrée - Gigue

06:38

44

Aria variata in A Minor, BWV 989

09:55

45

Prelude and Fugue in G Minor, BWV 535a

06:20

46

Sonata in D Major, BWV 963

10:04

47

Fugue on a theme by Tomaso Albinoni in A Major, BWV 950

05:25

48

Fantasia in G Major, BWV 571

07:43

49

Prelude and Fugue in E Minor, BWV 533

04:37

50

Fantasia (and Imitatio) in B Minor, BWV 563

04:24

51

Fugue in B Minor, BWV 951a (on a theme by Tomaso Albinoni)

06:44

Total Runtime

04:07:33
Info zu J.S. Bach: The Complete Works for Keyboard, Vol. 1
"Geniuses are not born but (self-)made. Bach's youth was a vast field of observation. From the years of apprenticeship in Ohrdruf, where his precocious artistic sensibility was dazzlingly demonstrated, to his first major post as organist at Arnstadt, Bach constantly enriched his musical culture, underpinned by a strong family tradition and driven by iconic respect for the old masters, crucial affinities and unfailing curiosity. As the prelude to a complete recording of a new kind, the eloquence and vigilant intelligence of the admirable Benjamin Alard's playing are the ideal medium to reveal the technical mastery of Bach's early keyboard works and convey the essence of this young composer's musical discourse at a time when he was already measuring himself against the yardstick of predecessors and contemporaries alike.
"Alard is equally accomplished on both the organ and the harpsichord and moves from one to the other with facility…Alard's playing is a delight, clean and sensible, with striking agogic expressive power…This is a project to watch with anticipation." (Gramophone Magazine)
Benjamin Alard, organ, harpsichord
Gerlinde Säman, vocals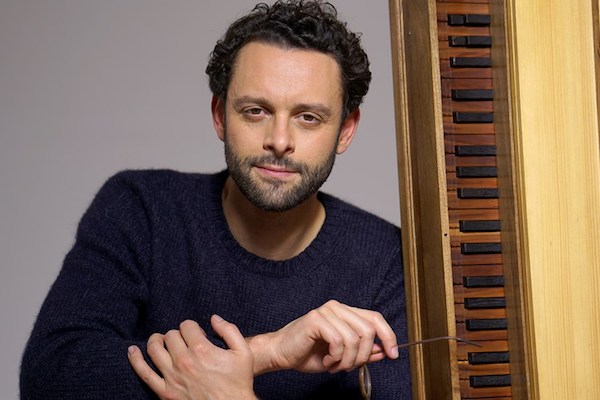 Benjamin Alard
Benjamin's principal passion has always been the music of J.S. Bach and it was for his interpretation of this great composer that he was awarded first prize in the 2004 International Harpsichord Competition in Bruges.
While still quite young he began studying music in his hometown in Dieppe, France. He was soon drawn to the organ and entered the Conservatory of Rouen where he studied with Louis Thiry and François Ménissier.
He was first introduced to the harpsichord by Elizabeth Joyé, with whom he studied in Paris before going on, in 2003, to the Schola Cantorum in Basel to work with Jorg-Andreas Botticher, Jean-Claude Zehnder and Andrea Marcon.
Since 2005 he has been organist of the Bernard-Aubertin organ in the church of Saint-Louis-en-l'Ile where each season he gives concerts about the music of Bach.
Today Benjamin Alard divides his time between performing recitals and chamber music on both the harpsichord and organ. He often performs repertoire for two harpsichords, in duo with the violinist Francois Fernandez and in various formations with the brothers Barthold, Sigiswald and Wieland Kuijken. He is regularly invited to perform as soloist in music series in Europe, Japan and North America.
Since 2005 he has been a member of La Petite Bande, an ensemble founded in 1973 by Gustav Leonhardt and Sigiswald Kuijken, often, in the last few years, conducting the group from the harpsichord.
Benjamin Alard has recorded for the label Hortus and has made several recordings of works by J. S. Bach for Alpha. His recordings have consistently received high praise from the press and have been awarded multiple prizes.
He will now devote himself to the complete works for harpsichord and organ solo of Johann Sebastian Bach for harmonia mundi. The first box will be released in Spring 2018.


Booklet für J.S. Bach: The Complete Works for Keyboard, Vol. 1