---
Album Info
Album Veröffentlichung:
2019
HRA-Veröffentlichung:
27.11.2019
Das Album enthält Albumcover Booklet (PDF)
Anton Bruckner (1824 - 1896): Requiem in D Minor, WAB 39:

1

Requiem in D Minor, WAB 39: I. Introitus. Requiem

04:58

2

Requiem in D Minor, WAB 39: II. Sequentia. Dies irae

06:30

3

Requiem in D Minor, WAB 39: IIIa. Offertorium. Domine

02:23

4

Requiem in D Minor, WAB 39: IIIb. Offertorium. Hostias

01:30

5

Requiem in D Minor, WAB 39: IIIc. Offertorium. Quam olim

02:26

6

Requiem in D Minor, WAB 39: IV. Sanctus

01:32

7

Requiem in D Minor, WAB 39: V. Benedictus

03:44

8

Requiem in D Minor, WAB 39: IVa. Agnus Dei

02:47

9

Requiem in D Minor, WAB 39: IVb. Requiem

01:15

10

Requiem in D Minor, WAB 39: IVc. Cum sanctis

00:48

Anton Bruckner:

11

Libera me, WAB 22

05:04

12

Aequale, WAB 149

01:37

13

Am Grabe, WAB 2

02:57

14

Vor Arneths Grab, WAB 53 (Arr. B.G. Cohrs for 3 Trombones)

02:35

15

Vor Arneths Grab, WAB 53

03:37

16

Aequale, WAB 114

01:45

17

Totenlied No. 1, WAB 47 No. 1

01:04

18

Trösterin Musik, WAB 81b

05:03

19

Totenlied No. 2, WAB 47 No. 2

01:17

20

Libera me, WAB 21

03:03

Total Runtime

55:55
Info zu Bruckner: Works
Am 14. März 1849 vollendete der 24-jährige Anton Bruckner sein erstes großes Vokalwerk. Das einzige Requiem des Komponisten, der später ein Erbauer großer symphonischer »Schlösser am Himmel« werden sollte, entstand noch während seiner Zeit in St. Florian. Einige Verweise auf ältere Vorbilder und ein paar stilistische Unstimmigkeiten in der musikalischen Struktur lassen die Phase der Selbstfindung des jungen Komponisten durchscheinen.
Aber wer genau hinhört, wird bereits hier jene Passagen entdecken, in denen die mystische Aura und Erhabenheit der großen Orchesterpartituren bereits anklingen, sei es im sanft glühenden Klang des »Benedictus«, im intimen Glaubensbekenntnis des »Agnus Dei« oder in der mächtigen und meisterhaft konzipierten Doppelfuge »Quam olim Abrahae«. Es ist »Bruckner auf dem Weg zu Bruckner«. Ziel in Sicht, der Weg vorgezeichnet.
"Die Interpretation zeichnet sich auch durch eine große Ausgewogenheit aus, mit einer vorbildlichen Balance zwischen Solostimmen, Chor und Orchester." (Pizzicato)
Johanna Winkel, Sopran
Sophie Harmsen, Mezzosopran
Michael Feyfar, Tenor
Ludwig Mittelhammer, Bariton
RIAS Kammerchor Berlin
Akademie für Alte Musik Berlin
Lukasz Borowicz, Dirigent
Recorded November 2018 at the Philharmonie Berlin, Chamber Music Hall
A co-production with Deutschlandfunk Kultur and ROC-GmbH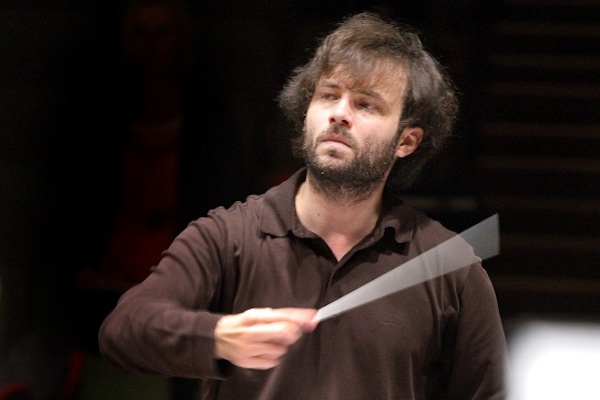 Lukasz Borowicz
Born in Warsaw in 1977, Łukasz Borowicz graduated from the Frederic Chopin Music Academy in Warsaw, where he studied under Bogusław Madey. He received a doctorate in conducting under Antoni Wit. During 2007–2015 he was chief conductor of the Polish Radio Symphony Orchestra. In 2006 he was appointed chief guest conductor of the Poznań Philharmonic Orchestra, a title he retains. He has received the Polityka Passport Award (2008), Coryphée of Polish Music Award (2011), Norwid Award (2013) and Tansman Prize honouring an outstanding musical personality (2014). A prolific recording artist (over 70 albums), his recordings have been awarded two Diapason d'Or Prizes. Borowicz has conducted at the Rossini Festival in Pesaro, at the Schleswig-Holstein Music Festival and Kissinger Sommer Festival. He made his operatic debut with »Don Giovanni« at the Warsaw National Opera in Warsaw followed by over 130 spectacles of operas and ballets including premieres of »Orfeo ed Euridice« and »The Rite of Spring«. Łukasz Borowicz has appeared as a guest conductor with the Royal Philharmonic Orchestra, Konzerthausorchester Berlin, NDR Radiophilharmonie Hannover, MDR Sinfonieorchester Leipzig, SWR Sinfonieorchester Stuttgart, Düsseldorfer Symphoniker, Hamburger Symphoniker, Lucerne Symphony Orchestra and all the major Polish symphony orchestras. During last two seasons he has conducted: BBC SSO Glasgow, RIAS Kammerchor and Akademie für Alte Musik, DSO Berlin, Deutsche Staatsphilharmonie Rheinland-Pfalz, Würtembergische Philharmonie Reutlingen, NWD Philharmonie Herford, Orchestre Symphonique et Lyrique de Nancy, Orchestre National des Pays de Loire, Orchestra della Svizzera Italiana, Philharmonie Zuidnederland, Trondheim SO, Los Angeles Philharmonic New Music Group, Queensland SO among others.
The RIAS Kammerchor (RIAS Chamber Choir)
has an artistic profile which is unmistakeable in its rich diversity and is received with enthusiasm all over the world.
Among professional choirs, the RIAS Kammerchor is a pioneer in the area of historical performance practice. Since its foundation, it has also been exemplary in promoting music of the modern era and the present day. Within the context of the tension between these areas, the choir's interpretations of works from the classical and romantic repertoires have acquired intensive musical speech with clarity of depth. The choir has grown decisively above all in the breadth of its range of stylistic expression under the direction of Hans-Christoph Rademann, who has been chief conductor since 2007. He has been able to build on the foundation provided by the work of his predecessors in this area.
A clear departure from the monumental style of Bach interpretation was already evident in Karl Ristenpart's project to record all the Bach cantatas, a project which unfortunately remained uncompleted. 'Transparency as in chamber music' was Ristenpart's guiding principle. When Uwe Gronostay took over the choir in 1972, he continued to mould its sound with the ideal of a chamber choir in mind, giving it homogenous form with assured intonation and stylistic flexibility. He looked to partners in Europe such as Eric Ericson and his chamber choir for this new direction, introducing fundamental principles of historical performance practice into the choir's work. These were systematically developed by Marcus Creed, who succeeded in creating firm partnerships with specialised orchestras such as Concerto Köln, Freiburger Barockorchester, Akademie für Alte Musik, Orchestre des Champs-Élysées, also establishing an exclusive link for the choir with the harmonia mundi france label in 1995.
Numerous works of new music have not only had their premieres and first performances thanks to the RIAS Kammerchor, but have also been successively anchored in its repertoire and recorded in definitive interpretations. This aspect of the choir's repertoire runs like a thread through its history. The fact that choir music is re-emerging today in a wide variety of styles is also to the credit of the RIAS Kammerchor and its constant commitment to new developments in music.
The RIAS Kammerchor was founded by RIAS (Radio in the American Sector) in Berlin on 15 October 1948. Recordings for the broadcasting station's needs determined the choir's work during its first 25 years under Karl Ristenpart, Herbert Froitzheim and Günther Arndt. With the increasing availability of recorded audio media, the importance of public concerts and guest performances grew. Uwe Gronostay (1972–1986), who was elected honorary conductor by the choir in 2007, was responsible for this new orientation - he set up an individual series of concerts for the choir. His successor Marcus Creed (1987–2001) raised the choir's profile within the tension of the interplay between old and new music. Under his direction, the choir's international popularity increased as did requests for performances.
Daniel Reuss (2003–2006) shifted the focus to classical modernism and strengthened the choir's links with partners both at home and abroad. Since 2007, Hans-Christoph Rademann has been creating new emphases in the development of the choir's sound and repertoire. In December 2010, the British magazine Gramophone chose the RIAS Kammerchor as one of the top ten choirs in the world.
The RIAS Kammerchor is an ensemble of Rundfunk Orchester und Chöre GmbH (roc berlin.) The shareholders are Deutschlandradio, the Federal Republic of Germany, the State of Berlin und the Rundfunk Berlin-Brandenburg broadcasting station.


Booklet für Bruckner: Works