---
Album Info
Album Veröffentlichung:
2022
HRA-Veröffentlichung:
04.03.2022
Das Album enthält Albumcover Booklet (PDF)
Zoltán Kodály (1882 - 1967): Sonata for Solo Cello, Op. 8:

1

Kódaly: Sonata for Solo Cello, Op. 8: I. Allegro maestoso ma Appassionato

08:31

2

Kódaly: Sonata for Solo Cello, Op. 8: II. Adagio

10:45

3

Kódaly: Sonata for Solo Cello, Op. 8: III. Allegro molto Vivace

11:50

Cello Sonata, Op. 4:

4

Kódaly: Cello Sonata, Op. 4: I. Fantasia

08:17

5

Kódaly: Cello Sonata, Op. 4: II. Allegro con Spirito

09:42

Sonatina for Cello & Piano:

6

Kódaly: Sonatina for Cello & Piano

08:37

Duo for Violin & Cello, Op. 7:

7

Kódaly: Duo for Violin & Cello, Op. 7: I. Allegro serioso, non Troppo

07:46

8

Kódaly: Duo for Violin & Cello, Op. 7: II. Adagio - Andante

07:37

9

Kódaly: Duo for Violin & Cello, Op. 7: III. Maestoso e largamente, ma non troppo lento - Presto

07:58

Total Runtime

01:21:03
Info zu Zoltán Kodály: Chamber Music for Cello
Zoltán Kodály war der ungarische Nationalkomponist des 20. Jahrhunderts. Aber er war auch einer der bedeutendsten Komponisten für das Violoncello, dem er die leidenschaftlichen und grandios angelegten Werke dieser Aufnahme widmete.
Die oft gestellte Frage, wer der bedeutendste ungarische Komponist des 20. Jahrhunderts war ‒ Béla Bartók oder Zoltán Kodály ‒, hätten die beiden Freunde und Gesinnungsgenossen vehement abgelehnt. Denn zum einen hatten sie viele gemeinsame Ideen und Ziele wie etwa die Erforschung der ungarischen Volksmusik, die sie vor und nach dem Ersten Weltkrieg mit dem Wachswalzen-Phonographen auf dem Land aufnahmen und archivierten. Die originale Musik der Landbevölkerung, die nichts mit der Vorstellung von Csárdás-Feuer und Puszta-Romantik zu tun hat, machten Bartók und Kodály zur Grundlage ihrer eigenen Handschrift, die sie auf ganz persönliche Art weiterentwickelten. Andererseits verlief die Karriere der beiden Komponisten ganz unterschiedlich. Während Bartók sich der internationalen Moderne anschloss und auf dem Höhepunkt der faschistischen Herrschaft in Ungarn ins amerikanische Exil ging, blieb Kodály auch unter politisch schwierigen Umständen im Lande und widmete sich unbeirrbar seiner großen Aufgabe: der Integration der Musik in den Schulunterricht, um sie zur Basis sozialen Handelns und eines nationalen Bewusstseins zu machen.
Die Werke, die Kodály in diesem Geist in der Zwischenkriegszeit komponierte, gehören heute zum Kanon der Orchester- und Chormusik ‒ man denke an den Psalmus Hungaricus, die Volksoper Háry János oder die Tänze aus Galanta. Daneben gibt es aber auch einen weniger bekannten Kodály, der bis 1918, fast unbeachtet von der internationalen Musikwelt, Kammermusik schrieb, die in Ungarn wegen ihrer Kühnheit stark angefeindet wurde. Das Zentrum dieser Werke war das Violoncello. Seine Spiel- und Ausdrucksvielfalt wurde Kodály von Virtuosen aus der legendären Meisterklasse des Cellisten David Popper in Budapest vermittelt. Aber auch für die Meistercellisten seiner Zeit waren die Sonate op. 4 mit Klavier, das Duo op. 7 für Geige und Cello und vor allem die herausfordernde Solosonate op. 8 Expeditionen in technisches und musikalisches Neuland. Ungewohnte Mehrfachgriffe, halsbrecherische Läufe und abrupte Stimmungswechsel fordern vom Interpreten Höchstleistungen ‒ ganz zu schweigen von der erzählerischen Kraft und Präsenz, die einem in den Monologen und Dialogen abgefordert wird.
Der französische Cellist Marc Coppey, der zuletzt für seine Aufnahme der Cellokonzerte von Dmitri Schostakowitsch für audite international gefeiert wurde, hat für die Neuaufnahme von Kodálys bahnbrechenden Stücken zwei Meister ihres Fachs eingeladen: den ungarischen Geiger Barnabás Kelemen, der nach zahlreichen Preisen mit 27 Jahren Professor an der Franz-Liszt-Akademie in Budapest wurde, und den israelischen Pianisten und Komponisten Matan Porat, einen Schüler von Murray Perahia und Maria João Pires an der New Yorker Juilliard School, der heute weltweit als begehrter Kammermusikpartner und Filmkomponist Erfolge feiert.
Marc Coppey, Cello
Matan Porat, Klavier
Barnabás Kelemen, Violine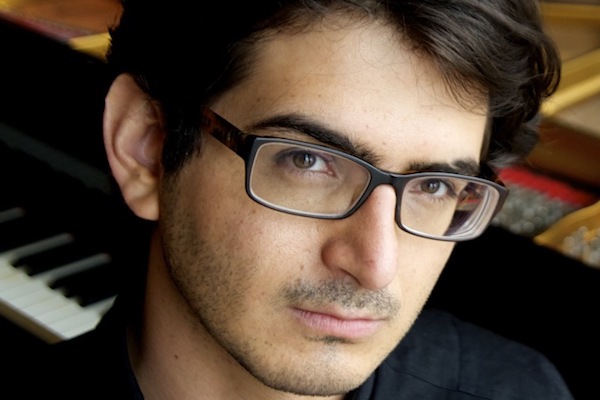 Marc Coppey
is considered to be one of today's leading cellists. He first came to the notice of Sir Yehudi Menuhin in the 1988 Leipzig Bach competition where he won the two most important prizes – first prize and special prize for the best Bach performance. He was 18 at the time. He soon after made his Moscow and Paris debuts performing the Tchaïkovsky Trio with Menuhin and Victoria Postnikova, a collaboration documented on film by the famous film director Bruno Monsaingeon. In 1989 Mstislav Rostropovitch invited Marc to the Evian Festival and from that moment on his solo career quickly developed. He performs regularly as a soloist with leading orchestras in collaboration with numerous distinguished conductors - Eliahu Inbal, Rafael Frühbeck de Burgos, Yan-Pascal Tortelier, Emmanuel Krivine, Alan Gilbert, Christian Arming, Lionel Bringuier, Alain Altinoglu, Michel Plasson, Jean-Claude Casadesus, Theodor Guschlbauer, John Nelson, Raymond Leppard, Erich Bergel, Philippe Entremont, Pascal Rophé, Philippe Bender, Paul McCreesh, Yutaka Sado, Kirill Karabits and Asher Fisch.
Marc Coppey has embraced both Baroque and Contemporary music, along with mainstream Romantic repertoire, from the very begining of his career. A passionate chamber musician, he has extensively explored the cello's repertoire with such renonwed artists as Maria-João Pires, Stephen Kovacevich, Nicholas Angelich, Aleksandar Madzar, Michel Beroff, Kun-Woo Paik, Finghin Collins, Michel Dalberto, Peter Laul, François-Frédéric Guy, Nelson Goerner, Augustin Dumay, Vadim Gluzman, Victoria Mullova, Liana Gourdjia, Valeriy Sokolov, Ilya Gringolts, Alina Pogostkina, Tedi Papavrami, David Grimal, Lawrence Power, Maxim Rysanov, Gérard Caussé, Janos Starker, Marie-Pierre Langlamet, Michel Portal, Romain Guyot, Emmanuel Pahud as well as the Takacs, Tokyo, Prazak, Modigliani, Ebène and Talich Quartets. From 1995 to 2000 he was cellist of the Ysaÿe Quartet, performing in many of the world's most prestigious concert venues.
Marc Coppey appears regularly in the most prestigious concert halls of London, Berlin, Amsterdam, Paris, Brussels, Dublin, Prague, Budapest, Moscow, Saint-Petersburg, Tokyo, New York, Mexico, Sao Paulo, Shanghai and Seoul. He is a regular guest of the festivals of Radio-France Montpellier, Musica Strasbourg, Besançon, La Roque d'Anthéron, Monte-Carlo, the Nantes and Lisbon "Folle Journée", Bach Fest in Leipzig, Stuttgart, Midem, Kaposvar, Campos do Jordao, Kuhmo, Korsholm, West Cork and Prades.
The breadth of Marc Coppey's repertoire is proof of his profound inquisitiveness: he frequently performs the Bach suites and main stream concerto repertoire, but is also dedicated to performing less well-known works. Performing and promoting contemporary music is very important to him and many composers have dedicated works to him, including Auerbach, Bertrand, Christian, Dufourt, Durieux, Fedele, Fénelon, Hurel, Jarrell, Jolas, Krawczyk, Lenot, Leroux, Mantovani, Meïmoun, Monnet, Pauset, Poppe, Pécou, Reverdy, Staud, Tanguy, Verrières. He gave world premières of concertos by Lenot, Tanguy and Monnet, as well as giving French premieres of concertos by Carter, Mantovani and Tüür.
In November 2009 Marc Coppey was chosen to perform Bach in the Place de La Concorde in Paris to celebrate the 20th anniversary of the fall of the Berlin wall. In 2015, the Arte tv channel filmed him live performing the complete Bach Suites in one evening in Lyon.
In March 2015 he premièred ten works for solo cello by some of today's most prominent composers as a tribute to Pierre Boulez on his 90th birthday at the Paris Philharmonie. The programme was recorded and released in January 2017 on the Megadisc label.
Marc Coppey's recordings have received critical acclaim worldwide. They include works by Beethoven, Debussy, Emmanuel, Fauré, Grieg and Strauss, for the Auvidis, Decca, Harmonia Mundi and K617 labels. He has recorded the complete Bach Suites (awarded Télérama's ffff), a CD dedicated to Dohnanyi (awarded "10 de Répertoire"), and an album devoted to the great Russian cello sonatas, accompanied by pianist Peter Laul for the Aeon/Outhere label, as well as the Schubert Quintet with the Prazak Quartet for the Praga label and Martin Matalon's concerto for Accord / Universal. More recently he has recorded Dutilleux cello concerto and the Caplet Epiphanie with the Liège Orchestra under Pascal Rophé's direction which received a BBC Music Magazine *****, a Diapason d'Or and a "Choc" in the Monde de la Musique, followed by recordings of the Brahms Sonatas and Schubert (Arpeggione) with pianist Peter Laul, also for Aeon, and world premières of the concertante works of Théodore Dubois on the Mirare label.
In 2016, his recording of the Haydn and CPE Bach cello concertos with the Zagreb Soloists was released by Audite. His recording of Dvořák's cello concerto for the same label with the Deutsches Symphonie-Orchester Berlin directed by Kirill Karabits has received wide international critical acclaim. In the spring of 2018 Audite will release a Beethoven sonata cycle recorded live in the Saint Petersburg Philharmonic Hall with pianist Peter Laul.
Marc Coppey is also deeply committed to teaching: he is cello professor at the Conservatoire National Supérieur de Paris and gives masterclasses worldwide. He is artistic director of the Musicales de Colmar chamber music festival, and since 2011 musical director of the Zagrebacki solisti (Zagreb Soloists).
He was made Officier des Arts et des Lettres by the French culture ministry in 2014.
Marc Coppey was born in Strasbourg where he studied at the Conseravtory before attending the Paris Conservatoire National Supérieur and the University of Indiana in Bloomington.
He performs on a rare cello by Matteo Goffriller (Venice 1711).
Matan Porat
Hailed by the New York Times for his "magnificent sound and breath of expression", pianist and composer Matan Porat has performed in distinguished venues including the Philharmonie in Berlin, Carnegie Hall, Wigmore Hall, Concertgebouw Amsterdam, Auditorium du Louvre in Paris and Alte Oper in Frankfurt, and with orchestras such as the Chicago Symphony Orchestra, Polish National Radio Symphony Orchestra, Sinfonia Varsovia, RTÉ National Symphony Orchestra, Geneva Camerata, SWR Symphonieorchester, Concerto Budapest, Helsinki Philharmonic and Hong Kong Sinfonietta, working with such conductors as Pierre Boulez, Daniel Barenboim, András Keller, Susanna Mälkki, Ludovic Morlot, François-Xavier Roth and Ilan Volkov.
Known for his unique, narrative-based programming, Porat's varied repertoire ranges from the complete Bach Partitas and Schubert Sonatas to Ives' Concord Sonata and the Ligeti piano concerto. His debut CD for MIRARE, "Variations on a theme by Scarlatti" – a 65-minute program of pieces from Couperin to Boulez– was praised as "a fantastic album that one should hear over and over again" by the Frankfurter Allgemeine Zeitung.
His following CDs, "Lux", a recital of pieces around light, from dawn to nightfall and "Carnaval", a recital around Schumann's Carnaval op. 9, have won 5* in Diapason and Classica magazines.
Matan Porat has participated in many acclaimed festivals including Marlboro, Lockenhaus, Ravinia, Verbier, Hohenems, Rheingau, La Folle Journée, La Roque d'Antheron, Piano aux Jacobins and Musikfest Berlin. Chamber music appearances include performances with the Artemis Quartet, Quatuor Ysaÿe, Cuarteto Casals, Pacifica, Dover, Modigliani, Schumann and Jerusalem Quartets.
His love for the performing arts has led him to collaborate with legendary director Peter Brook, touring with his production of Mozart's Magic Flute for piano solo and 7 singers; with the Ballett am Rhein in the Opernhaus Düsseldorf and with the music theater group Nico and the Navigators in Bozar and Konzerthaus Berlin. Porat also improvises live music for silent films, hailed by The New-Yorker's Alex Ross as "an astounding feat of creative musicianship".
Born in Tel-Aviv, Matan Porat studied with Emanuel Krasovsky, Maria João Pires and Murray Perahia, obtaining his Master's degree from the Juilliard School. His composition teachers were Ruben Seroussi and George Benjamin.
Porat's works have been commissioned and performed by Nicolas Altstaedt, Avi Avital, David Greilsammer, Vladimir Jurowski, Kim Kashkashian, Maria João Pires, Andreas Scholl, Cuarteto Casals and Dover Quartet, as well as Ensemble United Berlin and the Jerusalem Symphony Orchestra. Among his works are two operas, 4 string quartets, a Requiem and a mandolin concerto.
Barnabás Kelemen
has established himself as one of the leading violinists of his generation, appearing regularly as a concerto soloist, recitalist, and chamber musician at many of the world's major musical venues and festivals. He has toured extensively throughout Europe, North and South America, South Africa, Japan and Taiwan.
In addition to having performed with all the major orchestras in Hungary, Barnabás has also performed with the Belgian National Orchestra, Liverpool Philharmonic, Holland's Radio Philharmonic Orchestra, Limburg, Prague, Arnheim, Lahti, Münich, and Saarbrucken Radio symphonies, Turku Philharmonic Orchestra, Flemish Radio Orchestra, Stuttgart Chamber Orchestra, the Salzburg Mozarteum Orchestra and the Indianapolis Symphony Orchestra among others. Festival appearances have included Jerusalem, Lockenhaus, Ittingen, Schleswig-Holsten, Menton, Moritzburg, Colmar, Cambridge, Delft, Capetown, IMS Prussia Cove, Budapest, Prague, Salzburg and Grand Teton...
He has collaborated with conductors such as Lorin Maazel, Sir Neville Marriner, Denis Russel-Davies, Eiji Oue, Robert Spano, Zoltán Kocsis, Michael Stern, Péter Eötvös, Tamás Vásáry and Rumon Gamba. Barnabás has performed at Amsterdam's Concertgebouw, London's Wigmore Hall, and New York's Carnegie Hall where his debut was reviewed as "a dazzling performance" (American Record Guide).
Highlights for next season include solo engagements with the Greenwich Symphony, the North Netherlands Oschestra, the Halle Orchestra, the Kymi Symphony, the Berlin Radio Symphony Orchestra, the Ft. Wayne Philharmonic Orchestra, the Mainz Syimphony, the Hungarian National Symhony Orchestra and the Arnheim Philharmonic Orchestra. He also performs at the Dallas Chamber Music International series, at the Budapest Spring Festival and at the Salzburger Summer Festival in 2008 among others.
In addition to winning the Gold Medal at the 2002 International Violin Competition of Indianapolis and six of the eight special prize and also the loan of the 1683 Ex-Gingold Stradivari violin and Tourte bow for four years. Barnabas has won prizes at many international competitions including Second Prize at the 1997 Szigeti Competition, First Prizes at the 1999 Mozart Competition in Salzburg, the International Piano Trio Competition in Kuhmo, and Third Prize at the 2001 Queen Elisabeth Competition. In 2007 he was awarded Grand Prize at the Central Europien Classical Music Festival.
In recognition of his talent and achievements, Barnabás Kelemen received the 'Rózsavölgyi' the 'Jelenlét' and the 'Franz Liszt' prizes by the Hungarian Government. In 2003 he was awarded Classical Musician of the Year by Gramophone magazine (Hungary) and his recording of the Brahms Sonatas for Violin and Piano (Hungaroton) with pianist Tamás Vásáry won France's Diapaison d'Or. His double CD, The Complete Works for Violin and Piano by Franz Liszt, with pianist Gergely Bogányi, won the International Liszt Society's 2001 Grand Prix du Disque. In 2006 he received the Chevalier Chross Award of the Hungarian State acknowledging his excellent professional work from the President of Hungary. Recently he was nominated as the youngest ever to award with 'Prima Primissima Award' in the category of musician. Barnabás Kelemen was requested to play each of the violin works and the violin solo of the Divertimento for the CD-recording series of Béla Bartók's complete works releasing by Hungaroton.
Barnabás' repertoire spans from early baroque to contemporary music. He performed the Hungarian premieres of the Ligeti and Schnittke Violin Concertos and gave the Hungarian premiere of Gubajdulina's and world premiere of Kurtág's violin pieces.
As a chamber musician, he has appeared with, amongst others, Steven Isserlis, Zoltán Kocsis, Dezső Ránki, Kirill Gerstein, Shai Wosner, José Gallardo, Radovan Vlatkovic, Claudio Bohorquez and performs regularly with Katalin Kokas (violin/viola), Miklós Perényi (cello), Dénes Várjon, Péter Nagy and Gergely Bogányi (piano).
Born in Hungary, Barnabás started his violin studies with noted Hungarian pedagogue Valeria Baranyai at the age of 6. He entered Eszter Perényi's class at the Franz Liszt Music Academy at the age of 11. In 2001 he received his diploma and was also awarded the Sándor Végh Prize by the Sándor Végh Foundation in Budapest. In addition to his primary teachers, Barnabás has participated in master classes with Isaac Stern, Ferenc Rados, György Kurtág, Igor Ozim, Lorand Fenyves, Dénes Zsigmondy, György Pauk, Sergiu Luca and Thomas Zehetmair. Beginning in September 2005, he has began his appointment as Professor of Violin at the Franz Liszt Music Academy in Budapest and teaches regularly as a guest professor at the Bloomington Indiana University. He has released 11 solo recordings and the Complete Works for Violin and Orchestra by Mozart on a double live DVD.
He performs on the 1742 Ex-Dénes Kovács Guarneri del Gesú violin, which he received from the State of Hungary.


Booklet für Zoltán Kodály: Chamber Music for Cello