---
Album Info
Album Veröffentlichung:
2018
HRA-Veröffentlichung:
12.10.2018
Label: Grand Piano
Genre: Classical
Subgenre: Instrumental
Interpret: Duncan Honeybourne
Komponist: Leo Livens, Evangeline Livens, Julius Harrison, Arthur Butterworth, Christopher Headington, John Basil Hugh Longmire (1902 - 1986):, Howard Skempton, Peter Racine Fricker, David Power, Peter Reynolds
Das Album enthält Albumcover Booklet (PDF)
Leo Livens (1896-1990):

1

Moonbeams

01:53

Evangeline Livens (1898-1983):

2

Shadows

03:15

Julius Harrison (1885 - 1963): Severn Country:

3

III. Far Forest

02:17

Constance Warren (1888 - 1948):

4

Idyll in G-Flat Major

02:45

Arthur Butterworth (1923 - 2014): Lakeland Summer Nights, Op. 10:

5

I. Evening

02:09

6

II. Rain

02:30

7

III. Night Sky

05:13

Christopher Headington (1930 - 1996):

8

Italian Dance

01:34

John Basil Hugh Longmire (1902 - 1986):

9

Regent Street

03:27

Howard Skempton (1947 - ):

10

Quavers

02:48

11

Intermezzo for Piano Solo

01:32

Peter Racine Fricker (1920 - 1990): 2 Expressions:

12

2 Expressions: No. 1, —

03:00

13

2 Expressions: No. 2, —

01:59

David Power (1962 - ):

14

8 Miniatures: No. 1, —

00:32

15

8 Miniatures: No. 2, —

01:43

16

8 Miniatures: No. 3, —

00:30

17

8 Miniatures: No. 4, —

01:08

18

8 Miniatures: No. 5, —

00:46

19

8 Miniatures: No. 6, —

00:35

20

8 Miniatures: No. 7, —

00:25

21

8 Miniatures: No. 8, —

02:55

Peter Reynolds (1961 - ):

22

Cippyn for Piano & Electronics: I. —

01:06

23

Cippyn for Piano & Electronics: II. —

01:31

24

Cippyn for Piano & Electronics: III. —

00:52

25

Cippyn for Piano & Electronics: IV. —

01:44

26

Cippyn for Piano & Electronics: V. —

01:05

27

Cippyn for Piano & Electronics: VI. —

01:31

28

Cippyn for Piano & Electronics: VII. —

01:28

Total Runtime

52:13
Info zu A Hundred Years of British Piano Miniatures
The piano pieces here trace a trajectory from the Edwardian poetry of Leo Livens to the overdubbing of Peter Reynolds by way of a century of evocative, descriptive and exciting miniatures. Reflecting pastoral, light and experimental traditions, these previously unrecorded works offer rich variety from neglected composers. Duncan Honeybourne enjoys a colorful and unique career as solo pianist, chamber musician, educator and artistic director. He has appeared at many major concert halls and at leading festivals, and has been a frequent broadcaster at home and abroad. One of his generation's leading exponents of 20th century English piano music, several celebrated contemporary composers have also dedicated major new works to him. An inspiring teacher and educator, he has devised and written several recital programmes blending words and music and has created and directed several series of piano and chamber concerts. Duncan is also sought-after nationwide as a thought-provoking and entertaining lecturer on his experience of living with autism.
Duncan Honeybourne, piano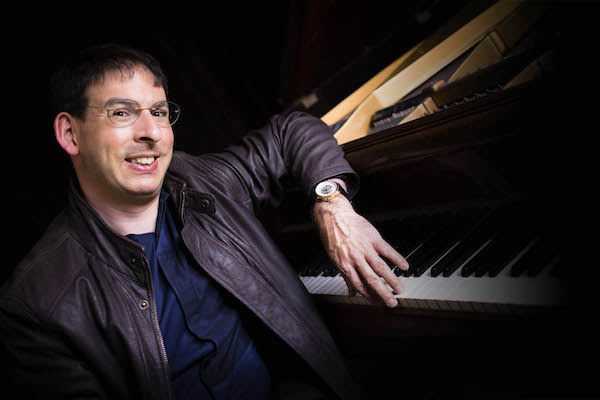 Duncan Honeybourne
Commended by International Piano magazine for the "suave confidence" of his playing, Duncan Honeybourne enjoys a colourful and diverse career as a pianist and in music education.
His debut in 1998 as concerto soloist at Symphony Hall, Birmingham and the National Concert Hall, Dublin, was broadcast on radio and television, and he gave recital debuts in London, Dublin, Paris, and at international festivals in Belgium and Switzerland. Duncan's debut album was described by Gramophone magazine as "a set not to be missed by all lovers of English music", whilst BBC Music
Magazine reported: "There are gorgeous things here. Hard to imagine better performances."
Duncan has toured extensively in the UK, Ireland and Europe as recitalist, concerto soloist and chamber musician, appearing at many major venues and leading festivals. He has been a frequent soloist on radio networks worldwide including BBC Radio 3, Irish, French, Swiss and Finnish Radio, SABC (South Africa), ABC (Australia) and Radio New Zealand. Duncan's many acclaimed recordings reflect his long association with 20th and 21st century British piano and chamber music, and include works dedicated to him by several celebrated composers.
Duncan Honeybourne has written widely on musical topics for journals ranging from Classical Music magazine to The Times. He is a Piano Tutor at the University of Southampton and Sherborne School and gives regular masterclasses and adjudications.


Booklet für A Hundred Years of British Piano Miniatures