---
Album Info
Album Veröffentlichung:
2021
HRA-Veröffentlichung:
27.05.2021
Das Album enthält Albumcover
Entschuldigen Sie bitte!
Sehr geehrter HIGHRESAUDIO Besucher,
leider kann das Album zurzeit aufgrund von Länder- und Lizenzbeschränkungen nicht gekauft werden oder uns liegt der offizielle Veröffentlichungstermin für Ihr Land noch nicht vor. Wir aktualisieren unsere Veröffentlichungstermine ein- bis zweimal die Woche. Bitte schauen Sie ab und zu mal wieder rein.
Wir empfehlen Ihnen das Album auf Ihre Merkliste zu setzen.
Wir bedanken uns für Ihr Verständnis und Ihre Geduld.
Ihr, HIGHRESAUDIO
Robert Ames:

1

Peal

05:00

2

Change Ringing

04:00

3

Tympanum

04:18

4

Dispersion

04:05

5

Cinque

03:32

6

Rounds

13:00

Total Runtime

33:55
Info zu Change Ringing
Der Dirigent, Kurator, Arrangeur, Komponist und Mitbegründer des London Contemporary Orchestra Robert Ames hat bei BMG Imprint Modern Recordings unterschrieben und wird am 28. Mai sein erstes Album "Change Ringing" veröffentlichen.
Robert arbeitete bereits mit u.a. Frank Ocean, Little Simz, Actress, Mica Levi, Jonny Greenwood, Thom Yorke, Jamie XX, Owen Pallett, Olafur Arnalds, Foals, Justice, Jon Hopkins und Sigur Ros, sowie Steve Reich, Terry Riley und Philip Glass zusammen. Er war der jüngste jemals für den Royal Philharmonic Award nominierte Dirigent im Jahr 2019.
Sein Debütalbum hat er selbst produziert und in seinem Studio im Peak District (berühmt für seine ausgedehnten Weiten , Täler und Schluchten) geschrieben und selbst aufgenommen. Auf dem Album sind die London Contemporary Orchestra Lead-Violinistin und Komponistin Galya Bisengalieva und die Harfenistin und Komponistin Nala Sinephro des Künstler Kollektivs Steam Down zu hören.
Mit dem Track "Dispersion" erscheint ein erster Vorgeschmack auf das Album "Change Ringing", ein atemberaubender, scheinbar grenzenlos produktiver Strom klanglichen Bewusstseins, wie geschaffen für einen meditativen mentalen Blick. Er vermischt auf einzigartige Weise elektronische Techniken des 20. Jahrhunderts mit abendländischer Tradition. Er verlangsamte seine Aufnahmen bis ins Zeitlupentempo, notierte diese Versionen und nahm sie daraufhin neu auf. Dadurch formte er vielschichtige Konturen einer geologischen Klanglandschaft und fand einen Königsweg zum Unbewussten.
"Der Großteil des Albums wurde zwischen April und Mai 2020 in meinem kleinen Studio im Peak District geschrieben und aufgenommen", erklärt Robert (der Peak District ist ein berühmtes Hochlandgebiet im Norden Englands, das für seine Panoramen von Tälern und Schluchten bekannt ist, die durch ein Kalksteinplateau geschnitten sind). "Ich habe dabei auf Klänge aus meiner Kindheit zurückgegriffen: Echos von Chören und Orgeln in großen Räumen, ferne Kirchenglocken, große Symphonien, die durch ein altes Autoradio knistern und sich mit dem leisen Brummen und Rumpeln der Autoräder auf der Straße vermischen oder die Kakophonie eines Orchesters, das sich langsam einstimmt.
Ich habe der Versuchung widerstanden, erkennbare Tempi und Taktarten zu verwenden, um ein Gefühl der Zeitlosigkeit zu vermitteln. Mir gefällt die Idee, dass jeder Track so klingt, als würde man sich auf eine unendliche Reise begeben und er dabei doch nur eine Momentaufnahme von etwas viel Längerem ist. Ich begann damit, mehrere Aufnahmen von mir selbst an der Geige und der Bratsche sowie den Gesang übereinander zu schichten. Oft verlangsamte ich diese Aufnahmen so, dass sie nicht mehr zu erkennen waren, schrieb die Partitur dazu und nahm diese neu auf. Diesen Prozess habe ich mehrmals durchlaufen, bis ich etwas hatte, das ich mir gerne anhörte."
In einer Zeit, in der die weltliche Aktivität minimal ist, ist "Change Ringing" ein außergewöhnlicher Flug ins Innere, ein unerreichbares Objekt, in Fluss und Fokus zugleich.
Galya Bisengalieva, Violine
Nala Sinephro, Harfe
London Contemporary Orchestra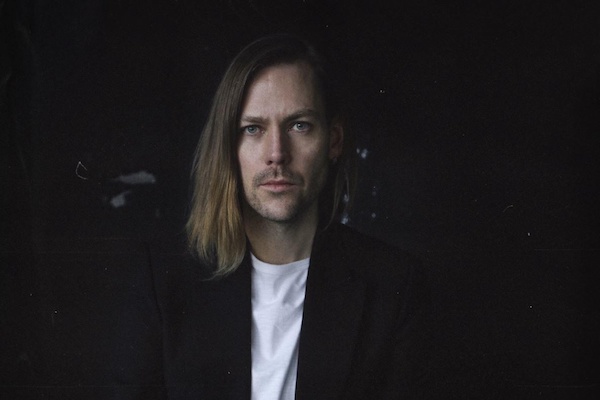 Robert Ames
Conductor, curator, arranger and Co-founder of the London Contemporary Orchestra Robert Ames has signed with Modern Recordings and will release his first album "Change Ringing" on May 28th. Robert Ames has been a key exchange agent between the classical tradition and contemporary music. Co-founding the London Contemporary Orchestra fresh out of the Royal Academy of Music, Robert went on to blaze a trail with his work. He conducted Jonny Greenwood's Oscar Nominated score for the film Phantom Thread, strings for Frank Ocean's Blonde, arranged and conducted shows for Little Simz and Sigur Rós frontman Jónsi, as well as his long standing relationship with composer Actress, producing and writing on on his 2020 album Karma & Desire.
With the LCO he has worked closely with the minimalist geniuses of the 20th century like Steve Reich, Terry Riley and Philip Glass as the orchestra proselytize their worth to a new generation. Just before her passing in 2016, Ames conducted a special version of Pauline Oliveros Rock Piece with rock's from Britain's Suffolk coastline. It's with this deep apprehension and wide practice that Robert turned his focus to writing his debut record; a breathtaking, seemingly infinitely generative stream of sonic consciousness, made for a meditative mental gaze. Robert's unique use of 20th c. electronic techniques and Western tradition annotation saw him slow down recordings, annotate the slow-motion versions, then re-recorded them. This way he formed layers of audio and written music, a geological contouring of the soundscape. This addition of manual information evolution counter-intuitively found a royal road to the unconscious.
"The majority of the album was written and recorded between April – May 2020 in my small studio in the Peak District" explains Robert (the Peak District is a famed upland area in the North of England known for its wide panoramas of valleys and gorges, cut through a limestone plateau). "I naturally found myself drawing on sounds from my childhood. The echoes of choirs and organs in large spaces, distant church bells, large symphonic gestures crackling through an old car stereo, competing with the low hum and rumble of wheels on the road and the cacophony of orchestras slowly tuning up. I resisted the temptation of using discernible tempos and time signatures to give a feeling of timelessness. I like the idea that each track sounds like it's going on a journey that is infinite and what is recorded is just a snapshot of something much longer. I started by layering up multiple recordings of myself on the violin and viola as well as recording vocals. I would often slow down these recordings so they were unrecognisable, notate the recordings as sheet music and re-record the sheet music. I would go through this process several times until I had something that I enjoyed listening to."
The record has features from LCO Lead Violinist and One Little Independent signed composer Galya Bisengalieva as well as the Steam Down affiliated harpist and composer Nala Sinephro. At a time when worldly activity is minimal, Change Ringing is a sublime inner flight, an impossible object, in flux and focus at the same moment.


Dieses Album enthält kein Booklet