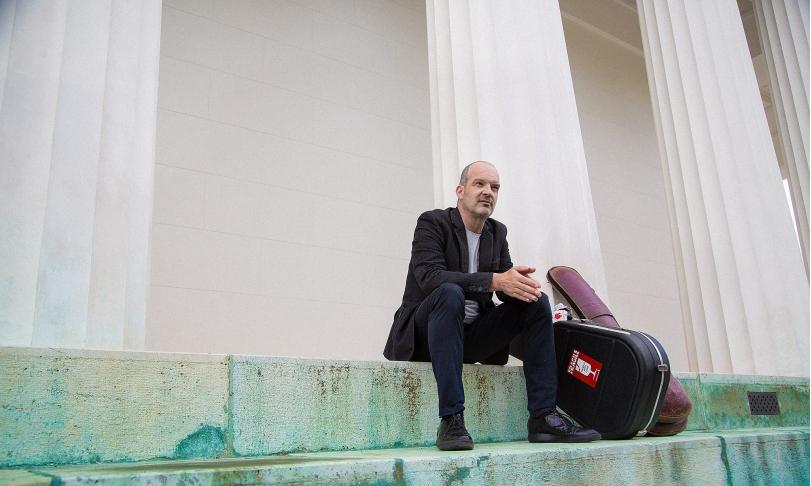 The Austrian Wolfgang Muthspiel has recorded nearly countless albums in the course of his remarkable guitarist career since 1985. Angular Blues is his latest album, which he recorded in trio formation for the ECM label. The fact that this label is always looking for the best possible sound is nothing new and should only be mentioned for the sake of completeness. The comrades-in-arms of Muthspiel are his long-time colleague, drummer Brian Blade and bassist Scott Colley, who has been working with the guitarist since the nineties. The album was recorded in Tokyo at Studio Dede, in the aftermath of several live performances at the in-town Cotton Club. The three musicians deliver a kind of jazz, which is full of refined details, but above all it is a first-class ensemble performance.
Although apparently the spiritus rector on Angular Blues, Wolfgang Muthspiel on Angular Blues as equal among equals subordinates himself perfectly to the ensemble spirit. He acquired this understatement at a young age when he started his successful career as a jazz guitarist in the US jazz scene - after a thorough education at the New England Conservatory and at Berklee College of Music - as the successor of Pat Metheny in Gary Burton's band. A few years later, during which he was able to gain valuable experience at numerous concerts and in recording studios with US jazz greats, Wolfgang Muthspiel returned to his home country, where he has since resided in Vienna and from there has performed in various formations and provided his fan community with studio recordings.
In the pieces "Wondering", "Angular Blues" and "Hüttengriffe" Muthspiel can be heard with his acoustic guitar, while he uses an electric guitar for the remaining pieces. You have to listen very carefully to identify the different guitar types in terms of sound. This however is not really necessary. Rather, it depends on which tunings, which timbres Wolfgang Muthspiel is able to call up from his instruments and how his two trio partners react to them and how the guitarist in turn reacts to them. Elegant and imaginative ideas are juggled back and forth. It quickly becomes clear that one is witnessing a creation of first-class jazz, which always has an inherent magic that captivates. Melodies float by and are subjected to rhythmic breaks that surprise, but are always convincing. In addition to Muthspiel's own compositions, Angular Blues features two evergreens: "Everything I Love" by Cole Porter and "I'll Remember April" by Gene Paul, which are subtly rhythmically alienated and leave room for strong improvisations by guitar and bass. The mix of refreshingly new ideas and sonically appealing execution gives this album a very special kick.
Angular Blues is a great, splendid jazz and certainly this album is suitable for those who are skeptical about this genre of music to get access thereto.
Wolfgang Muthspiel, guitar
Scott Colley, bass
Brian Blade, drums