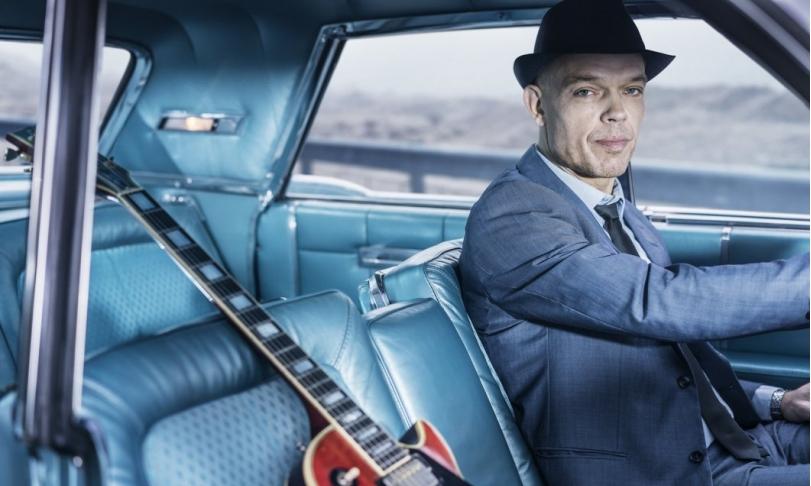 Few musicians and few bands are as diligent when it comes to album releases and public appearances as guitarist, singer and songwriter Thorbjørn Risager, who founded the predecessor of his current band, Septet Thorbjørn Risager Blue7, back in 2002 at a time when his fame was still limited to the Copenhagen blues scene. This changed quickly after the release of his debut album Live in 2004, and in fact Thorbjørn Risager enjoys a vocal material that with its special brittleness and enormous depth is made for singing the blues. An English-language reviewer of one of his albums describes the voice of the Dane very aptly: "Take one part Ray Charles, one part Bob Seger, and one part Joe Cocker and you may have the vocal instrument of Denmark's Thorbjørn Risager."
The powerful-voiced Dane creates his songs in his home environment and immediately tries them out with his guitar. When everything is in tune, he continues in the studio, where the musicians of his eight-piece band are waiting and contribute to the newly created songs. This method of production has proven to be very successful, since at least in the case of Thorbjørn Risager and The Black Tornados it delivers songs with depth as well as songs that get into your legs and invite you to dance. The Blues wouldn't be trusted to do the latter. However, one forgets that the blues is originally set in a milieu where dancing was simply part of listening to music. In one of his numerous interviews Thorbjørn Risager & The Black Tornado comments on this aspect as follows: "Some people think the blues is sad because it is named after the color of melancholy and originated from the music of slaves in the USA. But you should remember that it was also music that people gathered to when they wanted to forget the hardships of everyday life. The blues was played on festive occasions and was basically dance music. And it's a tradition that I'd like to carry on."
Nevertheless, Come On In contains blues-typical melancholic songs next to life-affirming songs, and also songs that refer to the world political situation next to the personal one. Thorbjørn Risager comments on the melancholic side of Come On as follows: "This time I have written some songs about my doubts whether I have done everything right in my life. However, my songwriting is also always about the light at the end of the tunnel. Which means clench your teeth and move on." Matching the respective mood of the songs, his band contributes the typical Risager sound, which on the one hand is dominated by the horn section reminiscent of Blood Sweat & Tears and on the other hand reminds of the origins of the Blues with a minimal band line-up dominated by guitar or piano.
Who would have thought that just from Denmark a blues singer would come who even in the country of the blues, the USA, together with his congenially tuned band would cause a sensation? Come On In proves that we are undoubtedly dealing with a strong album, a strong singer in top form and his no less strong, well-honed band.
Thorbjørn Risager, vocals, guitar
Emil Balsgaard, piano, organ, wurlitzer, synthesizer
Joachim Svensmark, guitar, synthesizer, bg vocal
Kasper Wagner, alto saxophone, tenor saxophone, baritone saxophone
Hans Nybo, tenor saxophone
Peter Kehl, trumpet, flugelhorn, trombone, sousaphone
Søren Bøjgaard, bass, moog bass, synthesizer
Martin Seidelin, drums, percussion