---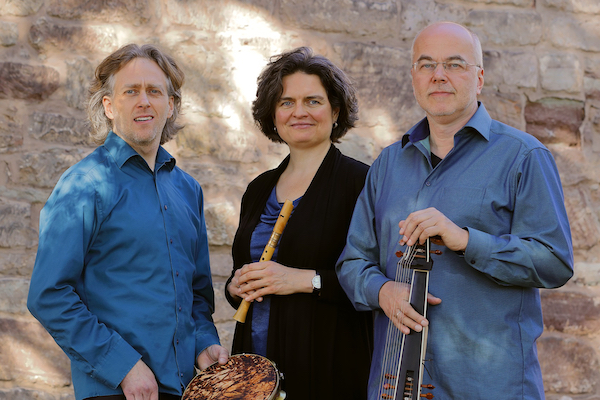 Gentle Spirits
The Purcell title Ye gentle spirits of the air from Henry Purcell's (1659-1695) opera The Fairy Queen inspired the ensemble to call itself Gentle Spirits. The trio is something special on the German music scene: It breaks down the boundary between folk and baroque music and cultivates a non-historical approach to literature in its repertoire and interpretations. The musicians orchestrate and arrange the timeless melodies in a fresh and new way, thus bringing them into today's world. The ensemble ties in with the great baroque composers who were also inspired by folk tunes.
The soft recorder melodies by Elke Hardegen-Düker and the nuanced playing of Andreas Düker on the archlute and baroque guitar are raised to a new level by Job Verweijen. The Dutchman plays per-cussion instruments from different cultural backgrounds, overcoming stylistic and geographical boundaries. His playing shapes the interpretations and brings the music into the here and now.
The ensemble was founded in Göttingen (Germany) and unites musicians from Germany and the Netherlands. The instrumentalists have been performing together for years. At the same time, all mu-sicians pursue remarkable solo careers, which have led them to important classical music festivals throughout Germany and renowned concert series at home and abroad, from early music to excur-sions into jazz and pop.
In the Gentle Spirits ensemble, they combine their experiences and create a completely independent, cosmopolitan and poetic music – beyond all genres.
Elke Hardegen-Düker
After an early education in church music Elke Hardegen-Düker studied recorder with Angela Hug and Winfried Michel. She enhanced her playing skills during courses with Marion Verbruggen and the Am-sterdam Loeki Stardust Quartet. In the Göttingen area she is active as a music teacher in the subjects "early musical education", "recorder" and "piano". With the Corda e Vento duo she has made it her task to perform the diversity of recorder music from the Renaissance to the late Baroque. Originals and adaptations are on an equal footing alongside each other. Performances have taken place at the Göttingen Handel Festival and with the Göttingen Symphony Orchestra.
Andreas Düker
studied classical guitar in Kassel with Wolfgang Lendle and lute with Stephen Stubbs in Bremen. His concert schedule includes participating in various opera performances at home and abroad as well as numerous ensemble and solo concerts. He received an honourable mention as best lutenist at the international Musica Antiqua competition in Bruges in 1996 and has participated in CD and radio productions, the International Handel Festival in Göttingen, the Tage für Alte Musik (Early Music Days) in Kassel and Georgsmarienhütte as well as the Gandersheim Cathedral Music Days and the Bodensee-Festival.
Job Verweijen
has gained experience in many world music rhythm traditions, for example from Cuba, Brazil, West Africa, India and the Middle East. Since he does not feel particularly committed to any one tradition, he combines these different elements with his individual ideas of sound to create his own vocabulary. This led to the development of various, unique multi-percussion set-ups, which he constantly develops further. The Gentle Spirits ensembles uses such a hybrid percussion kit. His search for special sounds culminates in instrument combinations created by himself with mechanics to supplement the sound as well as special productions by renowned instrument makers such as Pete Engelhart and Steve Hubback.