---
Biography Ensemble Scholastica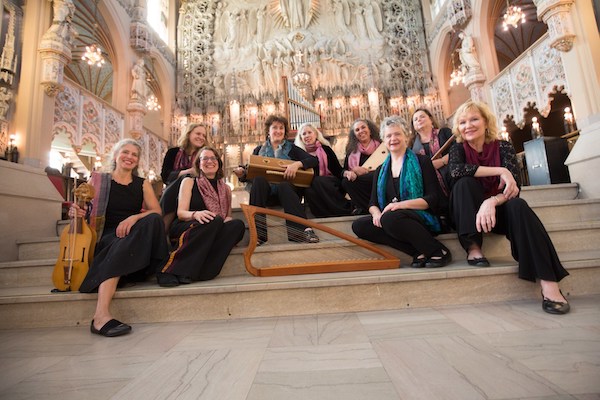 Ensemble Scholastica
Founded in autumn 2008, the female vocal group Ensemble Scholastica gave its first performance in April 2009. The ensemble specializes in the performance of Gregorian chant and medieval polyphony. Our approach is based on the notation of these repertoires in medieval manuscripts. This careful study of the original sources is not simply in the name of "authenticity", but to expose the true beauty of medieval liturgical traditions. The resulting interpretation is a rendering of the surprising rhythmic variety and ornamentation of medieval chant melody, and a capturing of the fluidity and interplay of the melodic lines of medieval polyphony.
The ensemble is named in part for Scholastica, 6th century mother of female European monasticism and sister to St.Benedict (founder of the Benedictine Order), and in part to reference the influential intellectual movement beginning in the 12th century known as Scholasticism. The Scholastics, such as Peter Abelard and Thomas Aquinas, sought to create order out of existing knowledge and the many new forms of knowledge coming into Europe during the period. Their counterparts in the musical world, such as Pérotin the Great and his students, sought to create, from past traditions, a more ordered style of composition. Their musical form of choice was the organum (= organized music).
Ensemble Scholastica is a Montreal-based female vocal ensemble that specializes in the performance of medieval plainchant and polyphony (c. 800-1300 AD). Although we study and sing from medieval manuscripts, we do not strive for "authenticity." Rather, our goal is to share with listeners the beauty and intricacy of medieval music, particularly the medieval liturgical traditions that are at the very root of Western music. We offer our audiences the opportunity to experience the remarkable joy and complexity of medieval spirituality and culture.
In recent years, Ensemble Scholastica has been involved in different projects, including several collaborations with the renowned Baroque ensemble Les Idées heureuses, with the aim of expanding the temporal boundaries of its repertoire. Our upcoming seasons will include liturgical music of New France — a rarely performed repertoire that Scholastica is uniquely well-placed to explore.
The ensemble is made up of talented and dedicated vocalists from Montréal's thriving early music community. Some of our members also play medieval instruments. Leading medievalist Rebecca Bain has been the Director of Ensemble Scholastica since January 2012.
Rebecca Bain
studied at McGill University before heading to Switzerland to study at the Schola Cantorum Basiliensis, where she obtained a Master's degree in medieval music performance. She was co-founder and co-director of two international ensembles for medieval music, Belladonna and the vocal ensemble Zorgina, with which she toured extensively in Europe and North America. Rebecca has sung principle roles in theatre projects with several renowned medieval music ensembles, including Ensemble Sequentia (Germany) and Ensemble Gilles Binchois (France). She has also participated in over a dozen recordings and given many workshops and courses on singing and medieval music.
After 13 years in Europe, Rebecca returned to Canada in 2004. She has participated in projects with such groups as The Toronto Consort, Constantinople and Mandragore, and taught courses on medieval culture at Marianopolis College in Montreal. As well as directing Ensemble Scholastica, she is currently one of the directors of Les Reverdies de Montréal, which hosts the annual "Medieval Music Days."