---
Album info
Album including Album cover Booklet (PDF)
I`m sorry!
Dear HIGHRESAUDIO Visitor,
due to territorial constraints and also different releases dates in each country you currently can`t purchase this album. We are updating our release dates twice a week. So, please feel free to check from time-to-time, if the album is available for your country.
We suggest, that you bookmark the album and use our Short List function.
Thank you for your understanding and patience.
Yours sincerely, HIGHRESAUDIO
Unknown: Celsa secreta in columbe specie:

1

Celsa secreta in columbe specie: Celsa secreta in columbe specie

04:08

Unknown: Alleluia. Adducentur regi virgines:

2

Alleluia. Adducentur regi virgines: Alleluia. Adducentur regi virgines

09:17

Unknown: Sancti baptiste:

3

Sancti baptiste: Sancti baptiste

07:23

Unknown: Dilexisti iustitiam:

4

Dilexisti iustitiam: Dilexisti iustitiam

04:40

Unknown: Velox impulit / Hic leta canit / Vestiunt silve / Mulierum:

5

Velox impulit / Hic leta canit / Vestiunt silve / Mulierum: Velox impulit / Hic leta canit / Vestiunt silve / Mulierum

03:08

Unknown: Cantantibus organis:

6

Cantantibus organis: Cantantibus organis

11:31

Unknown: Quinque prudentes virgines:

7

Quinque prudentes virgines: Quinque prudentes virgines

04:45

Unknown: Ad sit Johannis baptiste:

8

Ad sit Johannis baptiste: Ad sit Johannis baptiste

04:10

Unknown: Dum aurora finem daret:

9

Dum aurora finem daret: Dum aurora finem daret

03:48

Unknown: Benedicamus Domino. Tu lux refulge:

10

Benedicamus Domino. Tu lux refulge: Benedicamus Domino. Tu lux refulge

05:03

Unknown: Claris vocibus (instrumental):

11

Claris vocibus (instrumental): Claris vocibus (instrumental)

03:30

Unknown: Claris vocibus:

12

Claris vocibus: Claris vocibus

05:40

Unknown: Benedicamus Domino. Laudamus Dominum:

13

Benedicamus Domino. Laudamus Dominum: Benedicamus Domino. Laudamus Dominum

05:11

Total Runtime

01:12:14
Info for Ars elaboratio

The work of musicologists and performers during the last few decades has significantly advanced the field of medieval music. There remains however a great deal to discover, and the question of authenticity continues to be a concern. Ensemble Scholastica seeks a new approach to these issues by exploring the medieval art of elaboration.
Today, a musical work is considered a complete composition, the intellectual property of its composer. The concept of ownership with regard to a musical (or any other) idea was however utterly foreign to medieval people. Music and text were adapted to the needs of the moment and performer. While you were not allowed to tamper with the existing liturgy, between the 10th and 12th centuries it became common practice to add to it, musically and/or textually. The development of polyphonic composition, at least until the 13th century, is also a product of this trajectory. Plainchant could now include elaborated passages of 2, 3 or even 4-voice polyphony. Still, not all compositions were notated, some were even improvised, and virtually none of these pre-14th century composers supplied their names for posterity in part because none could claim to have composed the final version of a piece. Of course polyphonic composition was not meant to be done any which way, but was subject to constantly evolving rules. The medieval student of music likely internalized these rules thoroughly and practiced them often. Few if any musicians today however have learned them to the point of being able to practice them in the same manner. In fact, most modern performances of medieval music are of known pieces in their surviving versions. It could be argued however that, rather than limiting ourselves to the extant repertoire, it is equally authentic to learn and apply the medieval art of elaboration.
Ensemble Scholastica first began its experiments with the art of elaboration while preparing its "Birth of Polyphony" program in 2013. For a portion of this program (which we presented to an enthusiastic sold-out audience at the Festival Montréal Baroque/Médiéval), we followed the medieval rules of polyphony and composed several of our own polyphonic versions of surviving monophonic pieces. Since then, we've continued to learn other medieval elaboration techniques, and the result is an entire program of newly composed monophonic and polyphonic elaborations on medieval liturgical songs. Ultimately, our goal is to provide more insight into the world of medieval music by shaking up the normal rules of current historically-informed medieval music performance practice. On a more philosophical level, this project is also designed to invoke reflection with regard to our attitudes towards authorship, intellectual property, the space between performer and composer, and the relationship between historical and modern performance.
Ensemble Scholastica
Rebecca Bain, direction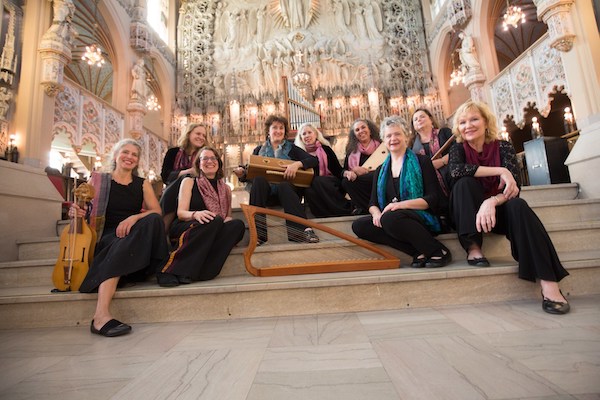 Ensemble Scholastica
Founded in autumn 2008, the female vocal group Ensemble Scholastica gave its first performance in April 2009. The ensemble specializes in the performance of Gregorian chant and medieval polyphony. Our approach is based on the notation of these repertoires in medieval manuscripts. This careful study of the original sources is not simply in the name of "authenticity", but to expose the true beauty of medieval liturgical traditions. The resulting interpretation is a rendering of the surprising rhythmic variety and ornamentation of medieval chant melody, and a capturing of the fluidity and interplay of the melodic lines of medieval polyphony.
The ensemble is named in part for Scholastica, 6th century mother of female European monasticism and sister to St.Benedict (founder of the Benedictine Order), and in part to reference the influential intellectual movement beginning in the 12th century known as Scholasticism. The Scholastics, such as Peter Abelard and Thomas Aquinas, sought to create order out of existing knowledge and the many new forms of knowledge coming into Europe during the period. Their counterparts in the musical world, such as Pérotin the Great and his students, sought to create, from past traditions, a more ordered style of composition. Their musical form of choice was the organum (= organized music).
Ensemble Scholastica is a Montreal-based female vocal ensemble that specializes in the performance of medieval plainchant and polyphony (c. 800-1300 AD). Although we study and sing from medieval manuscripts, we do not strive for "authenticity." Rather, our goal is to share with listeners the beauty and intricacy of medieval music, particularly the medieval liturgical traditions that are at the very root of Western music. We offer our audiences the opportunity to experience the remarkable joy and complexity of medieval spirituality and culture.
In recent years, Ensemble Scholastica has been involved in different projects, including several collaborations with the renowned Baroque ensemble Les Idées heureuses, with the aim of expanding the temporal boundaries of its repertoire. Our upcoming seasons will include liturgical music of New France — a rarely performed repertoire that Scholastica is uniquely well-placed to explore.
The ensemble is made up of talented and dedicated vocalists from Montréal's thriving early music community. Some of our members also play medieval instruments. Leading medievalist Rebecca Bain has been the Director of Ensemble Scholastica since January 2012.
Rebecca Bain
studied at McGill University before heading to Switzerland to study at the Schola Cantorum Basiliensis, where she obtained a Master's degree in medieval music performance. She was co-founder and co-director of two international ensembles for medieval music, Belladonna and the vocal ensemble Zorgina, with which she toured extensively in Europe and North America. Rebecca has sung principle roles in theatre projects with several renowned medieval music ensembles, including Ensemble Sequentia (Germany) and Ensemble Gilles Binchois (France). She has also participated in over a dozen recordings and given many workshops and courses on singing and medieval music.
After 13 years in Europe, Rebecca returned to Canada in 2004. She has participated in projects with such groups as The Toronto Consort, Constantinople and Mandragore, and taught courses on medieval culture at Marianopolis College in Montreal. As well as directing Ensemble Scholastica, she is currently one of the directors of Les Reverdies de Montréal, which hosts the annual "Medieval Music Days."

Booklet for Ars elaboratio