---
Johannes Pramsohler & Philippe Grisvard
---
Biography Johannes Pramsohler & Philippe Grisvard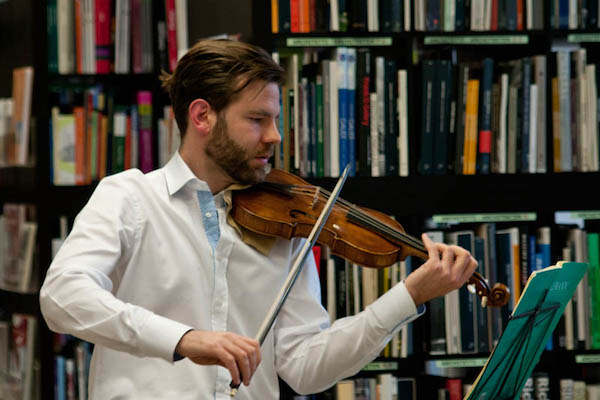 Johannes Pramsohler
Born in South Tyrol and now living in Paris, baroque violinist Johannes Pramsohler has in recent years become one of the most versatile representatives of his profession.
As artistic director and first violin of the Ensemble Diderot, which he founded in 2009, he brings to life unknown repertoire with great precision and a keen sense for significant rarities. The ensemble's debut recording of chamber music from the Dresden court of August the Strong received international acclaim.
As concertmaster, Johannes has collaborated with The King's Consort, Le Concert d'Astrée, the European Union Baroque Orchestra, the International Baroque Players, and as a guest of the Berlin Philharmonic with its early music ensemble Concerto Melante. As soloist, Johannes recently performed under Iván Fischer with the Budapest Festival Orchestra and with the Taiwan Baroque Orchestra. Recitals with chamber music partners such as Philippe Grisvard (harpsichord) and Jadran Duncumb (lute) take him to Europe's concert halls on a regular basis.
His first solo CD, of world premiere recordings of violin concertos from Dresden, was nominated for the International Classical Music Award. A desire for artistic independence even in the recording studio led Johannes to found his own CD label in 2013. The first recording released by Audax Records, of works by Corelli, Telemann, Handel, Leclair, and Albicastro, was nominated for the Preis der deutschen Schallplattenkritik (German Record Critics' Award). Audax Records has since released four more CDs to great critical acclaim.
Johannes studied with such renowned teachers as Georg Egger, Jack Glickman, and Rachel Podger. His collaboration with Reinhard Goebel continues to the present day, and is an important source of inspiration for his work. He was a prizewinner at the Magdeburg International Telemann Competition. Since 2008, Johannes has had the honour of owning Reinhard Goebel's violin, a P. G. Rogeri made in 1713.
Philippe Grisvard
was born in Nancy in 1980. There he studied piano and oboe before entering the harpsichord class of Anne-Catherine Bücher. In 1999 he got into the Schola Cantorum Basiliensis, where he studied harpsichord and basso continuo with Jesper Christensen, and pianoforte with Edoardo Torbianelli. From 2002 he's called to join La Cetra Barockorchester Basel where he has played under the direction of René Jacobs, Jordi Savall, Konrad Junghänel. After getting his diploma he becomes the harpsichordist of the ensemble Harmonie Universelle, leaded by Florian Deuter; with this group he plays as continuist and soliste threw Europe and US and does recordings for eloquentia - Telemann and Fasch quartets and quintets, Pachelbel's works for strings, and some Vivaldi's youth violin concertos in world première.
Now Philippe lives in Paris and also plays with Le Poème Harmonique, Le Concert d'Astrée and The Chamber Orchestra of Europe, La Fenice, Le Cercle de l'Harmonie, Les Paladins.