---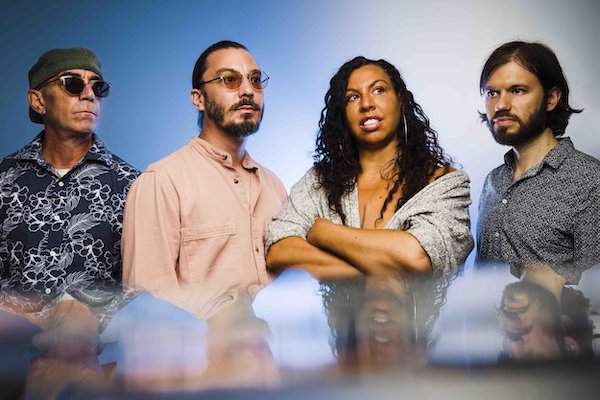 Dr. Bruno Heinen
is a London based contemporary improvising pianist, composer and educator.
He is professor of piano and composition at Trinity Laban Conservatoire of Music.
Coming from three generations of classical musicians, Bruno started playing piano at the age of four. He started composing pieces early on, and was introduced to the world of jazz through the music of Bill Evans by his uncle (jazz pianist Johannes Heinen) in his late teens. His compositional voice has been informed by his love of composers from Duke Ellington to Béla Bártok and from Wayne Shorter to György Ligeti.
Bruno has worked with artists such as Shabaka Hutchings, Eska, Julian Siegel, Jean Toussaint, Julian Arguelles, Denys Baptiste, Reem Kelani, Rachael Cohen, Larry Bartley, Tony Kofi, and Heidi Vogel amongst others.
Bruno has performed in venues and festivals including the South Bank Centre, The Barbican, Kings Place, the Vortex Jazz Club, the Shanghai World Music Festival, the London Jazz Festival, the Cork Jazz Festival and the Rest Is Noise Festival. He has had his music played on BBC radio 3, Jazz LineUp, Late Junction, BBC6 Music, BBC Scotland, in Italy, Germany, Austria, Canada, and the USA, as well as giving live broadcasts and interviews for the BBC and Rai 3 Italy.
In 2019 he was awarded an AHRC-funded practice-based PhD at the RNCM with the title 'Counterpoint in jazz piano with specific relation to the solo work of Fred Hersch'.
As part of his research, he received funding to travel to NYC to interview and work with Hersch in 2016.
As a composer, Bruno has written for groups ranging from two piano's and percussion (for a project with Pete Saberton), to classical string ensemble (for a commission in 2017 from the Camerata Alma Viva). In 2009, Bruno was nominated for the Paul Hamlyn Composers Award.
He recently held the piano chair for two performances of Bernstein's Wonderful Town at the Barbican Centre with the London Symphony Orchestra, conducted by Sir Simon Rattle. The performances were recorded and released on 'LSO Live'.
Bruno has a longstanding musical partnership with the outstanding Palestinian singer, composer and broadcaster Reem Kelani. Together they have played internationally in concert halls, festivals and live broadcasts.
Heidi Vogel
a singer from London, initially started making her professional debut touring with Cirque du Soleil, she became a frequent face in the London and LA jazz & soul scene where she became involved with The Cinematic Orchestra as their lead singer and has toured extensively with the band for over 5 years. This platform established her extraordinarily rich and complex vocal timbre and built her reputation outside of her home city of London, UK. By 2007, Vogel had toured all over the USA, Australia, South Africa, Canada and Europe and ended the year with a sold out concert at The Royal Albert Hall and a stunning performance live on the Jimmy Kimmel TV show.
She then went on to perform the main stage at The Big Chill Festival UK in 2010, and the following year graced the stage as support for Erykah Badu at Dubai's Chill Out Festival amongst numerous other appearances at North Sea Jazz Festival, Coachella, Gilles Peterson Worldwide and Blue Note Jazz Festival. With every performance, Heidi has been steadily exceeding her rich vocal abilities whilst gaining influential critics' approval as a soloist.
Heidi Vogel's 'Turn Up The Quiet' album followed on from her many successes as front-woman of the critically acclaimed Cinematic Orchestra (Ninja Tune). The album is her deeply moving debut and made up of her interpretations of songs by great composers including Antonio Carlos Jobim, Vinicius de Moraes and Joe Henderson. Heidi is accompanied throughout the album by the very talented guitarist Josue Ferreira as well as guests musicians including vocalist Cleveland Watkiss, pianist Austin Peralta and Ivo Neame. The album also features remixes from The Cinematic Orchestra, IG Culture and Emanative.
Andrea Di Biase
Double bass player and composer Andrea Di Biase studied Classical Double Bass at Conservatory of Milan. Then he enrolled at the Jazz Post-Graduate Course at Guildhall School of Music in London, where he graduated with distinction. He had the opportunity to study with many world-class musicians such as Scott Colley, Drew Gress, John Taylor and Rufus Reid.
In the UK he has played concerts with outstanding musicians like Stan Sultzman, Norma Winstone, Pete Saberton and Asaf Sirkis. Together with pianist Liam Noble, Andrea played in the trio of the legendary trumpet player and composer Kenny Wheeler.
He played in major festivals such the London Jazz Festival, The Hague Jazz Festival and was invited at the 2011 Meeting of IASJ (International Association of Schools of Jazz) in Sao Paolo, Brazil in which occasion he played with the jazz giant Dave Liebman. He is leader of the Oltremare quartet with the renowned pianist Antonio Zambrini, the british alto sax player Mike Chillingworth and drummer Jon Scott. With that band he recorded his first album Uncommon Nonsense as a composer which has been released in 2011 by the renowned british label Babel. He also recently released the Dialogues Trio new album Twinkle Twinkle by pianist Bruno Heinen, featuring Julian Siegel on sax. Andrea has given workshops at the Conservatory of Milan as well as the Guildhall School of Music in London and has recorded live radio programmes for BBC radio 3. He is funding member of Dugong, a forward looking band featuring up-and-coming Italian musicians Michele Caiati and Nicolò Ricci.
Andrea has just released the latest album of his new project Escape Hatch Roots of Unity featuring the saxophonone giant Julian Arguelles.
Gene Calderazzo
is an American jazz drummer, born in New York who currently residing in the United Kingdom, where he is a visiting tutor at the Birmingham Conservatoire, the Royal Academy of Music, Trinity and the Guildhall. He also drums for the band Partisans for over 20 years, with Julian Siegel (saxes), Phil Robson (guitar), and Thad Kelly (bass).
He has played with Steve Lacy, Steve Grossman, Eddie Henderson, The NDR, Mike Gibbs, Bheki Mseleku, UMO, Sting, Radiohead, James Moody, Phil Woods, Benny Golson, Ulf Wakenius, Gary Husband, Wayne Krantz, Michael Janisch, Bobby Watson, Eddie Gomez, Evan Parker, Randy Brecker and brother Joey Calderazzo among others.
He began his early studies at the Berkley College of music, Boston, (1979-81) alongside classmates Branford Marsalis, Wallace Roney, Jeff Watts and Marvin 'Smitty' Smith. He then gained a scholarship to attend the Long Island University in Brooklyn, New York. Here he performed with Joe Henderson, Mike Brecker, Lionel Hampton and Reggie Workman. Since 1995, when gene made the UK his home base, he has become one of the most in-demand drummers on the European scene today . The year 2000-01 brought tours with Steve Grossman, James Moody, Eddie Henderson, Joey Calderazzo, Bobby Watson, Partisans, Philip Catherine/Ming Doky, Phil Woods, Martin Taylor/ Eddie Gomez and Randy Brecker. In 2000-01 Gene recorded with Gordon Beck 'November Song', the new Gary Husband Trio 'From the Heart' (Jazzizit records), The Dave Green Trio 'Time Will Tell' (Jazz House), Guy Barker featuring Sting "What Love is', and appeared with Guy 's band in the film 'The Talented Mr Ripley'.