---
Marie Nadeau-Tremblay & Les Barocudas
---
Biography Marie Nadeau-Tremblay & Les Barocudas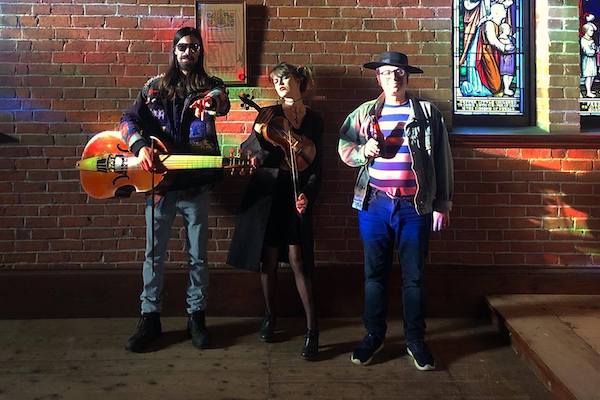 Les Barocudas
Marie, Nathan, and Ryan formed Les Barocudas while studying at McGill University. Eager to combine wit and creativity with their highcaliber performance skills, they bring a signature freshness to the Baroque repertoire— presented in sold-out concert halls as well as online in the form of music videos. Stay tuned: this young group will continue to surprise you.
Marie Nadeau-Tremblay
During the final session of her undergraduate degree in violin performance at McGill University, Marie Nadeau- Tremblay decided to try her hand at the Baroque. She joined the university's Baroque orchestra and fell head over heels in love! Transported by the beauty of this music— and finding resonance with its mode of expression— she decided to plunge headfirst into the Baroque world. After obtaining a Licentiate Degree, she pursued further studies under the tutelage of Hank Knox, Lena Weman, and Olivier Brault, receiving a Master's Degree in Early Music Performance. After being awarded numerous prizes and scholarships at McGill — including the prestigious Mary McLaughlin prize, which she won four years in a row — Marie Nadeau-Tremblay received an Early Music America grant in 2017. More recently, in 2019, she swept the honor roll of the Concours de musique ancienne Mathieu Duguay with an unprecedented four awards: First Prize, the People's Choice Award, the Festival Montréal Baroque Prize, and the Été musical de Barachois Prize.
Ryan Gallagher
is a multi-facetted musician, equally at home playing the viola da gamba and the Baroque cello; making sweet sounds on the bouzouki on the terrasse of a Greek taverna; or, as a heavy metal bass player, channeling a thunderous Thor. Mr. Gallagher continues to showcase his versatility with Les Barocudas: by turns contributing a second melodic voice to complement the violin; at times reinforcing, supporting, or otherwise enriching the harmonic textures of the harpsichord accompaniment. Building on his past performance experience, Ryan's eclectic role within the ensemble has helped him develop a distinctive voice that allows refinement, delicacy, and great precision to coalesce with an instinctive expressivity. After winning a Graduate Excellence Fellowship, Ryan Gallagher completed his Doctorate in Early Music at McGill University in the spring of 2019. The subject of his doctoral thesis was the bass violin— the ancestor of the modern cello — detailing its history, modes of construction and playing technique.
Nathan Mondry
After completing a Bachelor's Degree in Piano Performance at the University of Michigan, Nathan Mondry obtained both a Master's Degree in Harpsichord Performance and an Artist Diploma at McGill University, followed by a Master's Degree in Historical Improvisation at the Schola Cantorum Basiliensis in Switzerland. He has performed in venues across North American and Europe. Nathan is the recipient of numerous prizes, including a Special Prize at the First International Competition for Basso Continuo and Partimento Realization at Katowice (2019), a First Prize (with Arnie Tanimoto) at the Bach-Abel Competition (2018), and a prize for composition at the International Competition for Composition in Pordenone (2019). Nathan Mondry is highly sought after as a rising improvisation specialist covering a range of styles from as early as the 15th and 16th centuries to the present day. As an improviser, he collaborates with various groups including La Cetra Barockorchester Basel (2018). Furthermore, he has been commissioned to compose original works for various musicians and organizations including the Projet Myrelingues of the Association Ephémère classique in France, as well as bassoonist Andrew Burn in Basel, Switzerland.