---
Benny Benack III & Steven Feifke Big Band
---
Biography Benny Benack III & Steven Feifke Big Band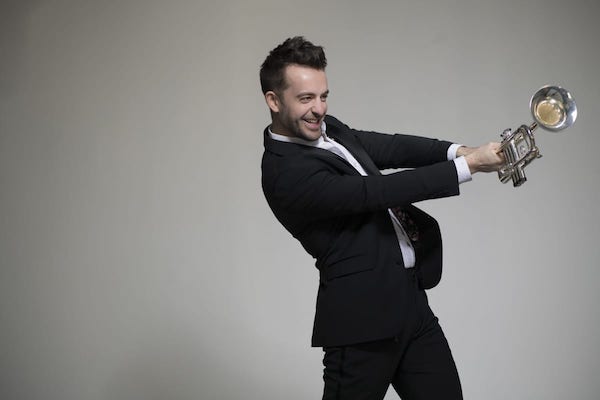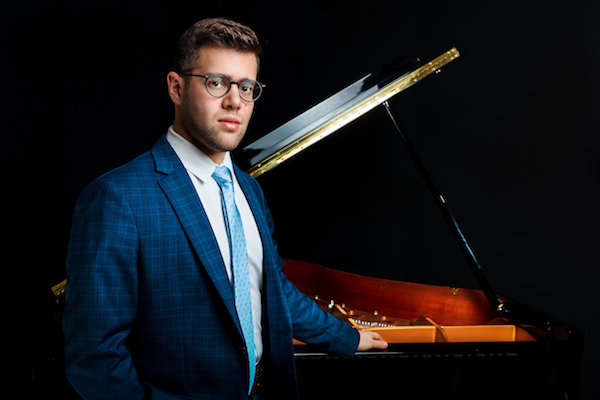 Benny Benack III
At the age of 27, Pittsburgh-born, New York-based Jazz trumpeter & singer Benny Benack III has quickly established himself as one of the most versatile and virtuosic voices of his generation. Hailed by the New York Times as "a charismatic young trumpeter who maintains an earnest sideline as a singer", Benack has a knack for delighting audiences with panache, in the spirit of classic crooners like Sinatra & Mel Tormé, with a nod to legendary trumpet showmen Louis Armstrong & Dizzy Gillespie.
Equally comfortable in both Jazz and Pop settings, Benack has worked with some of the greatest acts in music today, touring domestically as a trumpet soloist with Josh Groban, Ben Folds, fashion icon Isaac Mizrahi, as well as European engagements with Jazz Bass extraordinaire Christian McBride. He recently headlined Birdland Jazz Club alongside Cabaret legend Ann Hampton-Callaway, in tribute to "Louis & Ella". Benny's been a guest artist with the Pittsburgh Symphony Pops Orchestra, the Columbus Jazz Orchestra, the Minsk Philharmonic Orchestra, featured both as a vocalist and trumpeter with each ensemble.
In the Fall of 2017, Benack released his debut album "One of a Kind" to critical acclaim, noting he "reels off songs that come alive with his lustrous trumpet and golden bari-tenor vocalastics" - World Music Report. On the heels of his album's worldwide success, Benack maintains an active touring schedule internationally, most recently bringing his band to Shanghai on behalf of Jazz @ Lincoln Center, helping to open their new flagship club there. When at home in NYC, he can be found in residency both at Mezzrow Jazz Club in the West Village, and at the iconic Carlyle Hotel, performing in Bemelmen's Bar with his trio, where Benack showcases yet another talent by accompanying his own vocals on the piano as well.
Steven Feifke
born June 21st 1991, is an American pianist, composer, and orchestrator. An avid and lifelong academic, Feifke's writing spans many genres and mediums. In 2014, he was commissioned by the 23Arts Initiative to write an arrangement of George Gershwin's 1924 "Rhapsody In Blue" for jazz big band and concert pianist soloist. His big band music has recently been featured by the Malmo Band in Switzerland, and soon his orchestral music will be debuted in August 2019 Next Generation festival in Florence, Italy. Feifke has also written original works for television and film media, and his music can be heard on the hit Netflix TV show "Comedians in Cars Getting Coffee," produced by comedian Jerry Seinfeld.
Feifke has been featured as a pianist on a number of records including "Falling Forward" by Ulysses Owens Jr, "Onward" by Chad Lefkowitz-Brown, and "First Things First" by Andrew Gould. His compositions and arrangements are regularly performed by a number of ensembles around the United States, and his original works will soon be heard on his large-ensemble follow up to his first solo album, "Peace In Time" (2015).
Feifke leads several of his own projects of various sizes: a jazz orchestra, a septet, a trio, and a five piece ensemble called "The Songs of Winter Band." He also co-leads an art music project with vocalist Martina DaSilva, called "With Strings." Feifke has been named a semifinalist in the Thelonious Monk International Piano Competition (2011 and 2018), and has performed internationally since 2011. He lives in New York City where he writes out of his home studio, and when he is not touring he can frequently be heard performing at local venues like Smalls Jazz Club, The Django, Mezzrow, the Blue Note, and Dizzy's Club at Jazz at Lincoln Center.
In 2018, Feifke was the recipient of the Arts Mid-Hudson "Pro's Meet Pupil's" grant for his curriculum designed to teach students jazz history through performance. This grant is a part of an ongoing collaboration with The Catskills Jazz Factory. In addition to his grant work, Feifke has also been solo artist in residence at Northern Illionois University, and given masterclasses at Williams College in Western MA, and the Yale Undergraduate Jazz Collective in New Haven, CT.
Feifke holds a BM in Jazz Studies and a minor in Economics from New York University (2013) and a MM in Jazz Composition from Manhattan School of Music in Jazz Composition (2018). During his time in school, Feifke studied with and learned from two luminaries of composition and orchestration: Gil Goldstein and Jim McNeely.