---
Album info
Album including Album cover
1

Rubicon

06:10

2

Hig

07:24

3

Broken Blue

08:41

4

Once upon a Summertime

10:21

5

Bipolar

09:30

6

Ding Dong

07:37

7

Blue Flower

11:14

8

Portrait in Yellow

09:54

Total Runtime

01:10:51
Info for Broken Blue

The Spiral Trio is made up of Greek musicians Spyros Manesis (piano), Arionas Gyftakis (double bass) and Anastasis Gouliaris (drums), all three of whom have contributed to the composition and improvisation of the unique and colourful music on "Broken Blue".
These three musicians are unequivocal about their approach to modern jazz on this album, embodying an approach to improvisation characterised by abstraction, lack of figuration, asymmetry, and constant and intense interaction between the soloist and the accompanying musicians. Together they seek an increasing sense of freedom in their approach to melody, harmony, rhythm, phrasing and form, resulting in an album that is an exploration of different episodes, different possibilities or versions of such an approach. Each episode is an original composition, written to tell a unique story, to create a distinct musical place.
"Broken Blue" is the fruit of a long creative journey: the distillation of the Trio's collaborative processes. The pieces included on "Broken Blue" reflect experiences they have shared as a group during the last four years. The music is pure and dense, changing in personality and mood, yet consistently adventurous. The sound of the album is often bright, full of dialogue and playfulness; at other times sombre, with darker overtones. There are moments ranging from nostalgia to effervescence to sweetness. Throughout, the music reflects the inner worlds of each musician and the way this interacts with the other members of the Trio, creating a spontaneous and compelling listening experience.
Spyros Manesis, piano
Arionas Gyftakis, double bass
Anastasis Gouliaris, drums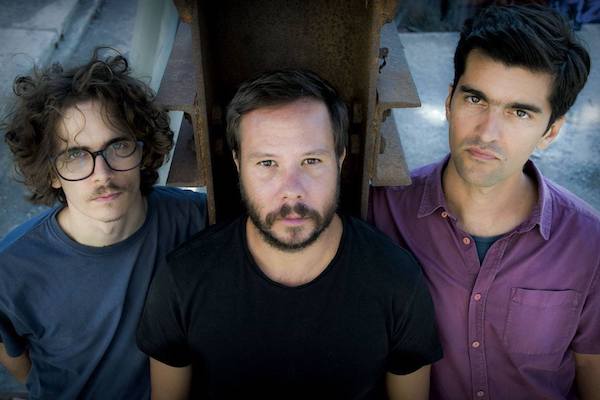 Spiral TRIO
The three greek musicians met in 2012. From the very first moment a unique chemistry between them was shown, which, eversince has been developed with their live performances in places of Athens and festivals throughout Greece. Today the trio is considered one of the most important Greek jazz formations. It is a modern piano trio with many influences from the dominant figures of modern piano trio formation, still though with clear references to the tradition of jazz playing. The constant interplay as well as the high level of their musical and improvisation skills bring to the music elements of surprise, variety in the creation of musical images and imagination in the narration. The repertory includes original compositions of the members of the trio as well as jazz standards that are used as a starting point to lead to different music spaces.
On 2015 Spiral Trio (then as Manesis / Gyftakis / Gouliaris Trio) was awarded the First Prize at "Apollon", the 1st Greek jazz competition.

This album contains no booklet.