---
Album info
Album including Album cover Booklet (PDF)
I`m sorry!
Dear HIGHRESAUDIO Visitor,
due to territorial constraints and also different releases dates in each country you currently can`t purchase this album. We are updating our release dates twice a week. So, please feel free to check from time-to-time, if the album is available for your country.
We suggest, that you bookmark the album and use our Short List function.
Thank you for your understanding and patience.
Yours sincerely, HIGHRESAUDIO
Franz Schubert (1797 - 1828): Der Wanderer, D. 489:

1

Schubert: Der Wanderer, D. 489

05:15

Totengräbers Heimweh, D. 842:

2

Schubert: Totengräbers Heimweh, D. 842

06:51

Der Tod und das Mädchen, D. 531:

3

Schubert: Der Tod und das Mädchen, D. 531

02:56

Wehmut, D. 772:

4

Schubert: Wehmut, D. 772

03:04

Schwanengesang, D. 957:

5

Schubert: Schwanengesang, D. 957: No. 1, Liebesbotschaft (Ziemlilch langsam)

02:46

6

Schubert: Schwanengesang, D. 957: No. 2, Kriegers Ahnung (Nicht zu langsam)

04:58

7

Schubert: Schwanengesang, D. 957: No. 3, Frühlingssehnsucht (Geschwind)

03:35

8

Schubert: Schwanengesang, D. 957: No. 4, Ständchen (Mässig)

04:20

9

Schubert: Schwanengesang, D. 957: No. 5, Aufenthalt (Nicht zu geschwind, doch kräftig)

03:18

10

Schubert: Schwanengesang, D. 957: No. 6, In der Ferne (Ziemlich langsam)

05:50

11

Schubert: Schwanengesang, D. 957: No. 7, Abschied (Mässig geschwind)

04:45

12

Schubert: Schwanengesang, D. 957: No. 10, Das Fischermädchen (Etwas geschwind)

02:17

13

Schubert: Schwanengesang, D. 957: No. 12, Am Meer (Sehr langsam)

04:41

14

Schubert: Schwanengesang, D. 957: No. 11, Die Stadt (Mässig geschwind)

02:50

15

Schubert: Schwanengesang, D. 957: No. 13, Der Doppelgänger (Sehr langsam)

04:17

16

Schubert: Schwanengesang, D. 957: No. 9, Ihr Bild (Langsam)

03:01

17

Schubert: Schwanengesang, D. 957: No. 8, Der Atlas (Etwas geschwind)

02:28

18

Schubert: Schwanengesang, D. 957: No. 15, Die Taubenpost (Ziemlich langsam), D. 965a

03:45

Total Runtime

01:10:57
Info for Schubert: Schwanengesang

The first group of songs on texts by Ludwig Rellstab starts out in a relatively carefree, rapturous tone: a mood of spring is in the air. In Frühlingssehnsucht, "swelling desire" is colorfully illustrated by images of nature such as the silvery gurgling brook – an evocation of splendid vitality. But clouds soon darken the horizon: the brook becomes a raging torrent of negative emotions. Euphoria gives way to disappointment. The rapturous attitude is curbed: we hear of farewell, with a clear touch of bitterness. In the next group of settings of texts by Heinrich Heine, the story returns to its onset: now less rapturous, somewhat more aloof, and with even more bitterness at the end.
We have chosen to order these songs in a meaningful succession that begins with the awakening of love and soon reaches its prompt demise. Is this about love, or only lust? Why does everything feel so unsatisfactory and painful in the end? Are the fisher maidens of this world too clueless to sense that the poet has some truly admirable qualities? Otherwise, why does it always end in defeat? "My heart is entirely like the sea: there are storms, there is ebb and flow, but in the depths, you can find many beautiful pearls." Does this passage hold the key?
With cheerful frankness, he who longs for fulfillment starts out by admitting he has a tendency toward capriciousness and seduction. He feels helplessly pulled to and fro by his emotions as if they were ocean tides. Pressing his suit, he longs to win the fisher maiden's trust – but she would have to dive very far down to find a beautiful pearl.
By the time we have reached the next song, the two are staring at one another in sheer incomprehension. Tears flow silently, and separation is already underway. "And oh, I cannot believe I have lost you," we hear in the second-to-last song. He who searches and never reaches his destination, never achieving redemption or a homecoming, ultimately suffers under his own nature. The "world of sorrows" he must bear is nothing else than his own unfulfilled yearning: a yearning to be loved, and to love. The album closes with Die Taubenpost, which stands for itself, yet also allegorically summarizes what all these songs have in common: yearning.
Andreas Bauer Kanabas, bass
Daniel Heide, piano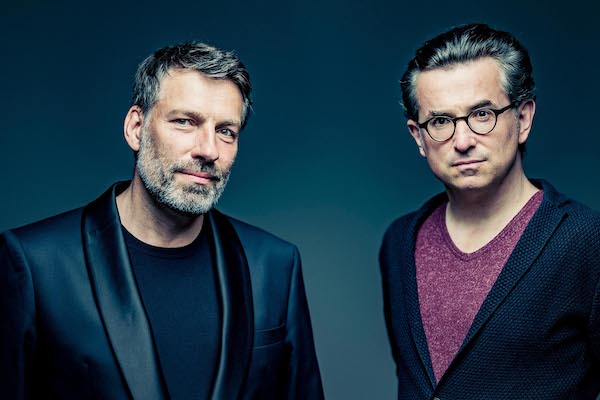 Andreas Bauer Kanabas
sings major operatic bass roles in eight different languages.
His repertoire includes Verdi roles such as Philippe II (in Italian and French), Zaccaria, Fiesco, De Silva, and Padre Guardiano, as well as lyric Wagner roles such as König Marke, König Heinrich, Landgrave Hermann, Veit Pogner, and Daland. He sings Mephisto in Gounod's Faust, the title role in Bluebeard's Castle, Vodnik (Rusalka), Gremin (Eugene Onegin), Ibn Hakia and King René (Iolanta), Claggart (Billy Budd), Escamillo (Carmen), as well as Mozart roles including Sarastro, Osmin and Commendatore.
Andreas Bauer Kanabas sings on international stages such as the Vienna State Opera, the Royal Opera House at Covent Garden in London, Opéra Bastille de Paris, the Bolshoi Theatre in Moscow, Teatro Real Madrid, Seattle Opera, New National Theater in Tokyo, Teatro Municipal Santiago de Chile, Opéra de Lyon, Théatre du Capitole de Toulouse, the Latvian National Opera Riga, Semperoper Dresden, and Munich State Opera, as well as at the Berlin State Opera, the Deutsche Oper Berlin, and the Komische Oper Berlin. He has been an ensemble member of Frankfurt Opera since 2013.
In the year before Covid-19, he had a series of thoroughly successful debuts in Antwerpen, Gent, Moscow, Quebec and London.
Future engagements will bring him back to various opera houses in Europe and Japan. In 2021, the label Ohems Classics released his widely praised Aria CD Love and Despair.
Andreas Bauer Kanabas studied with Prof. Eugen Rabine in Weimar, later with Paolo Barbacini in Reggio Emilia, Robert Lloyd in London, and Robert Gonnella in Toulouse. As an art song interpreter, he works in close collaboration with pianist Daniel Heide.
Daniel Heide
Born in Weimar, pianist Daniel Heide is one of the most sought-after vocal accompanists and chamber musicians of his generation. He performs in recital series and festivals all over Europe as well as in Asia: for instance, in the Konzerthäuser in Vienna, Berlin and Dortmund, the London Wigmore Hall, the Schubertiade in Schwarzenberg and Hohenems (Austria), the Heidelberg Spring Festival, and the Oxford Lieder Festival.
In addition to his ongoing collaboration with vocalists including Andrè Schuen, Christoph Prégardien, Simone Kermes, Ingeborg Danz, Britta Schwarz, Roman Trekel, and Tobias Berndt, he has also accompanied lieder recitals with renowned singers such as Regula Mühlemann, Fatma Said, Benjamin Appl, Sheva Tehoval, Dietrich Henschel, Dorottya Lang, Patrick Grahl, Katharina Konradi, Hanno Müller-Brachmann, Luca Pisaroni, Konstantin Krimmel and Johannes Weisser.
He also loves sharing the stage with actors and narrators including Christian Brückner, Udo Samel, Thomas Thieme, and Hanns Zischler in the genre of melodrama. Daniel Heide had a close collaboration with the late German-Greek mezzo-soprano Stella Doufexis. Their CD Poèmes with songs by Claude Debussy was awarded the German Record Critics' Prize. As a chamber music partner in duo sonata recitals he has concertized with outstanding soloists including Sabine Meyer, Tabea Zimmermann, Antje Weithaas, Wolfgang Emanuel Schmidt, Jens Peter Maintz, and Danjulo Ishizaka.
Daniel Heide is the founder and artistic director of the vocal recital series Der lyrische Salon. Held in Ettersburg Castle near Weimar, the series has existed since 2011 and is one of the few – anywhere in the world – that is devoted exclusively to artsong. In that context he has collaborated with a great number of celebrated soloists of the lied genre in more than 75 recitals.
For the CAvi-music label he has recorded several CDs with baritone Andrè Schuen (songs by Robert Schumann, Hugo Wolf, Frank Martin and Wanderer, a Schubert album), as well as with Roman Trekel (Loewe ballads), Stella Doufexis (Hamlet Echoes), Konstantin Krimmel (Liszt songs), and the album Liebe with soprano Katharina Konradi.

Booklet for Schubert: Schwanengesang