---
Album info
Album including Album cover
Johann Sebastian Bach (1685 - 1750): St John Passion, BWV 245:

1

Bach: St John Passion, BWV 245: Herr, unser Herrscher

07:59

2

Bach: St John Passion, BWV 245: Jesus ging mit seinen Jüngern (Evangelist, Jesus)

02:31

3

Bach: St John Passion, BWV 245: O große Lieb

00:47

4

Bach: St John Passion, BWV 245: Auf dass das Wort erfüllet würde (Evangelist, Jesus)

01:15

5

Bach: St John Passion, BWV 245: Dein Will gescheh, Herr Gott, zugleich

00:46

6

Bach: St John Passion, BWV 245: Die Schar aber und der Oberhauptmann (Evangelist)

00:45

7

Bach: St John Passion, BWV 245: Von den Stricken einer Sünden (Alt)

04:14

8

Bach: St John Passion, BWV 245: Simon Petrus aber folgete Jesu nach (Evangelist)

00:13

9

Bach: St John Passion, BWV 245: Ich folge dir gleichfalls mit freudigen Schritten (Sopran)

03:35

10

Bach: St John Passion, BWV 245: Derselbige Jünger war dem Hohenpriester bekannt (Evangelist, Magd, Petrus, Diener, Jesus)

03:23

11

Bach: St John Passion, BWV 245: Wer hat dich so geschlagen

01:27

12

Bach: St John Passion, BWV 245: Und Hannas sandte ihn gebunden (Evangelist, Petrus, Diener)

02:18

13

Bach: St John Passion, BWV 245: Ach, mein Sinn, wo willt du endlich hin (Tenor)

02:29

14

Bach: St John Passion, BWV 245: Petrus, der nicht denkt zurück

01:09

15

Bach: St John Passion, BWV 245: Christus, der uns selig macht

00:59

16

Bach: St John Passion, BWV 245: Da führeten sie Jesum (Evangelist, Pilatus, Jesus)

04:31

17

Bach: St John Passion, BWV 245: Ach, großer König, groß zu allen Zeiten

01:15

18

Bach: St John Passion, BWV 245: Da sprach Pilatus zu ihm (Evangelist, Pilatus, Jesus)

02:11

19

Bach: St John Passion, BWV 245: Betrachte, meine Seel (Bass)

02:27

20

Bach: St John Passion, BWV 245: Erwäge, wie sein blutgefärbter Rücken (Tenor)

08:58

21

Bach: St John Passion, BWV 245: Und die Kriegsknechte flochten eine Krone (Evangelist, Pilatus, Jesus)

06:03

22

Bach: St John Passion, BWV 245: Durch dein Gefängnis, Gottes Sohn

00:46

23

Bach: St John Passion, BWV 245: Die Jüden aber schrieen und sprachen (Evangelist, Pilatus)

04:19

24

Bach: St John Passion, BWV 245: Eilt, ihr angefochtnen Seelen (Bass)

03:41

25

Bach: St John Passion, BWV 245: Allda kreuzigten sie Ihn (Evangelist, Pilatus)

02:15

26

Bach: St John Passion, BWV 245: In meines Herzens Grunde

00:55

27

Bach: St John Passion, BWV 245: Die Kriegsknechte aber (Evangelist, Jesus)

04:16

28

Bach: St John Passion, BWV 245: Er nahm alles wohl in acht

00:57

29

Bach: St John Passion, BWV 245: Und von Stund an nahm sie der Jünger zu sich (Evangelist, Jesus)

01:40

30

Bach: St John Passion, BWV 245: Es ist vollbracht! (Alt)

04:44

31

Bach: St John Passion, BWV 245: Und neiget das Haupt und verschied. (Evangelist)

00:32

32

Bach: St John Passion, BWV 245: Mein Teurer Heiland, laß dich fragen (Bass)

04:50

33

Bach: St John Passion, BWV 245: Und siehe da, der Vorhang im Tempel zerriß (Evangelist)

00:31

34

Bach: St John Passion, BWV 245: Mein Herz, in dem die ganze Welt (Tenor)

00:56

35

Bach: St John Passion, BWV 245: Zerfließe, mein Herz, in Fluten der Zähren (Sopran)

06:38

36

Bach: St John Passion, BWV 245: Die Jüden aber, dieweil es der Rüsttag war (Evangelist)

02:33

37

Bach: St John Passion, BWV 245: O Hilf, Christe, Gottes Sohn

00:57

38

Bach: St John Passion, BWV 245: Darnach bat Pilatum Joseph von Arimathia (Evangelist)

02:23

39

Bach: St John Passion, BWV 245: Ruht wohl, ihr heiligen Gebeine

06:45

40

Bach: St John Passion, BWV 245: Ach Herr, laß dein lieb Engelein

02:03

Total Runtime

01:50:56
Info for Bach: St John Passion

Bach's St John Passion is like an eternal cry into the void, carrying the essence of western, protestant answers to the fundamental questions in Life, in music. Our wrongdoings on Earth contrasted with higher moral principles. Nowhere else does it crystallise into music more profoundly and more beautifully than in this immortal manifestation of Bach's genius.
Ludwig Hoelscher was a pupil of Lamping, Klengel and Becker and received the Mendelssohn Prize at the age of 22 as the best student at the Musikhochschule. At the age of 29 he was given a professorship at the Hochschule für Musik, Berlin, then at the Mozarteum in Salzburg, where he also participated in the international summer courses. Since 1954 Hoelscher has led a master class at the Hochschule für Musik in Stuttgart. He is a jury member at the international competitions in Moscow and Florence. As a soloist he has played under the most renowned conductors, including Böhm, Cluytens, Furtwängler, Haitink, Karajan, Keilberth, Knappertsbusch, Kempe, Leitner, Münchinger, Rieger and Stokowski. In the context of such concerts he played the premieres of cello concertos by Bialas, Fortner, Genzmer, Henze, Höller, Krenek, Pfitzner, Sutermeister and Zilcher, among others. Hoelscher performed many cello sonatas. Several works by Hindemith were performed for the first time in Germany under his direction. For many years he toured Europe, Asia, Africa and America. Between the years 1931 and 1940 Hoelscher was a member of the Elly-Ney-Trio and Strub-Quartet. After 1945 he formed a trio with Walter Gieseking and Gerhard Taschner. Professor Ludwig Hoelscher is an honorary member of many music societies (including the Verein Beethovenhaus Bonn), a leading member of the Academic Council of the Humboldt Society, and a co-founder of the Bachwoche Ansbach and the Tutzinger Musiktage. He was awarded an honorary professorship by the University of Tokyo, as well as the Grand Cross of Merit of the Order of Merit of the Federal Republic of Germany in 1972. On the occasion of his 60th birthday in 1967, his adopted hometown of Tutzing made him an honorary citizen of the municipality.
Concerto Copenhagen
Lars Ulrik Mortensen, direction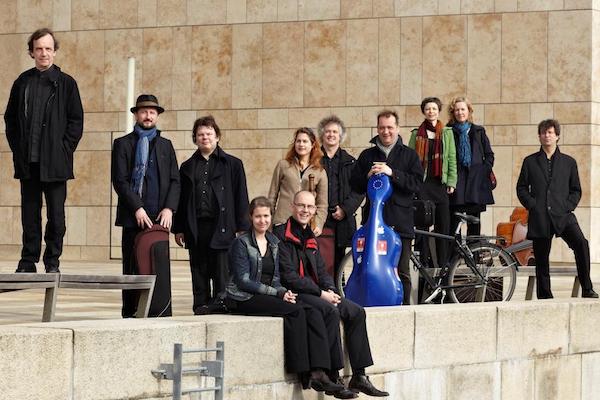 Concerto Copenhagen
played its first concert in 1991 and has since developed into Scandinavia's leading early music ensemble, joining the league of the world's most exciting and innovative Baroque orchestras. Original interpretations and a strong ability to communicate with the audience are among Concerto Copenhagen's hallmarks – making old music vital, relevant and contemporary.
In 1999 the internationally acclaimed harpsichordist and chamber musician, Lars Ulrik Mortensen, became the ensemble's chief artistic director, and was awarded the coveted Léonie Sonning Music Prize in 2007.
Scandinavian origins: The collaboration between Concerto Copenhagen and Lars Ulrik Mortensen has led to an exciting artistic and musical journey, appreciated and praised by audiences and critics worldwide, and combining a repertoire of well-known European music with less familiar works of Scandinavian origin.
Over the years Concerto Copenhagen has collaborated with many internationally renowned artists in the Early Music scene, including Emma Kirkby, Andreas Scholl, Anne Sofie von Otter, Sonia Prina, Vivica Genaux, Andrew Manze, Andrew Lawrence-King, Reinhard Goebel, Ronald Brautigam, Jordi Savall, and Alfredo Bernardini, the orchestra's principal guest conductor. Beginning in 2015 the Danish composer Karl Aage Rasmussen will be composer-in-residence and accompany the orchestra on an adventurous expedition into the world of contemporary music.
International attention: Concerto Copenhagen's CD recordings for CPO, Deutsche Grammophon and BIS, as well as DVD productions for Harmonia Mundi and Decca have attracted worldwide attention and won several international awards. This has led to invitations from many of Europe's leading concert venues and festivals, as well as extensive tours to the USA, Japan, Brazil, Mexico and Australia. International reviews reflect the experience of a cosmopolitan orchestra at the highest level.
Concerto Copenhagen's collaboration with Italian opera director Deda Cristina Colonna has led to highly successful opera productions in the orchestra's hometown Copenhagen. In 2016 Concerto Copenhagen will celebrate its 25th anniversary with a wide range of projects and events.

This album contains no booklet.