---
Album info
Album including Album cover Booklet (PDF)
Francis Poulenc (1899 - 1963): La voix humaine, FP 171:

1

Poulenc: La voix humaine, FP 171: No. 1, Introduction

00:55

2

Poulenc: La voix humaine, FP 171: No. 2, Allô, allô…

01:00

3

Poulenc: La voix humaine, FP 171: No. 3, Allô ! C'est toi ?

01:07

4

Poulenc: La voix humaine, FP 171: No. 4, Hier soir, je me suis couchée tout de suite

01:55

5

Poulenc: La voix humaine, FP 171: No. 5, Allô, chéri… si on coupe, redemande-moi tout de suite

01:10

6

Poulenc: La voix humaine, FP 171: No. 6, Quelle comédie ?

01:22

7

Poulenc: La voix humaine, FP 171: No. 7, Souviens-toi du dimanche de Versailles

01:45

8

Poulenc: La voix humaine, FP 171: No. 8, Demain ? Je ne savais pas que c'était si rapide

00:54

9

Poulenc: La voix humaine, FP 171: No. 9, Allô… et comme ça

01:44

10

Poulenc: La voix humaine, FP 171: No. 10, "Oh ! Non, mon chéri, surtout ne me regarde pas"

02:48

11

Poulenc: La voix humaine, FP 171: No. 11, Allô, allô, mademoiselle

02:24

12

Poulenc: La voix humaine, FP 171: No. 12, Allô ! Ah ! Chéri, c'est toi…

04:08

13

Poulenc: La voix humaine, FP 171: No. 13, Hier soir, j'ai voulu prendre un comprimé

02:05

14

Poulenc: La voix humaine, FP 171: No. 14, Il était quatre heures du matin

01:54

15

Poulenc: La voix humaine, FP 171: No. 15, Allô ! J'entends de la musique…

01:07

16

Poulenc: La voix humaine, FP 171: No. 16, Pardonne-moi, je sais que cette scène est intolérable

00:52

17

Poulenc: La voix humaine, FP 171: No. 17, Avant-hier soir ? J'ai dormi

04:21

18

Poulenc: La voix humaine, FP 171: No. 18, Allô, allô, madame, retirez-vous

02:44

19

Poulenc: La voix humaine, FP 171: No. 19, Sois tranquille. On ne se suicide pas deux fois

01:51

20

Poulenc: La voix humaine, FP 171: No. 20, Allô !... Allô !... Mon Dieu, faites ce qu'il redemande

03:57

21

Poulenc: La voix humaine, FP 171: No. 21, "Alors, voilà… J'allais dire machinalement : à tout de suite"

02:06

Sinfonietta, FP 141:

22

Poulenc: Sinfonietta, FP 141: I. Allegro con fuoco

09:13

23

Poulenc: Sinfonietta, FP 141: II. Molto vivace

05:49

24

Poulenc: Sinfonietta, FP 141: III. Andante cantabile

06:46

25

Poulenc: Sinfonietta, FP 141: IV. Très vite et très gai

06:38

Total Runtime

01:10:35
Info for Poulenc: La voix humaine

Véronique Gens's version of La Voix humaine has been eagerly awaited! This 'lyric tragedy in one act' might have been written for her, so ideally suited are her feeling for language and her dramatic intensity to Poulenc's monologue on a text by Jean Cocteau, composed in 1958. This is a far cry from the 'light' Poulenc of the 1920s. Cocteau paid him the highest compliment: 'Dear Francis, you have fixed, once and for all, the way to speak my text.'
Véronique Gens confesses that she had always wanted to perform and record this piece; now she has achieved her ambition, in close partnership with the Orchestre National de Lille under its music director Alexandre Bloch. Also featured on the album is the Sinfonietta : this is in fact a genuine symphony, but, as Nicolas Southon writes, 'there is no denying that the work – commissioned by the BBC in 1947 – has a freshness and a freedom of tone that justify its title'.
Veronique Gens, soprano
Orchestre National de Lille
Alexandre Bloch, direction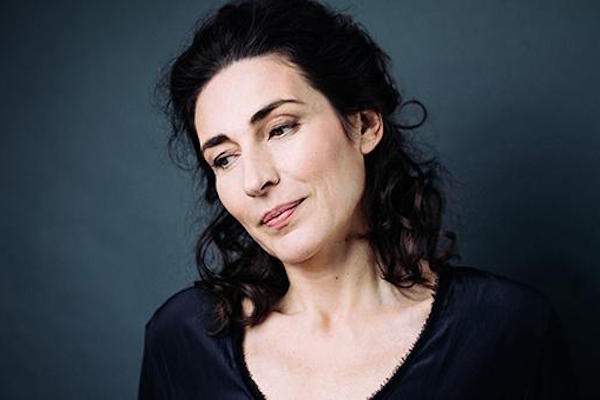 Véronique Gens
After having dominated the Baroque scene for more than a decade, Véronique Gens went on to establish a solid international reputation and is now considered one of the finest interpreters of Mozart and the French repertory.
One of the flagship roles of her career, Donna Elvira in the production of Don Giovanni by Peter Brook and Claudio Abbado at the Festival d'Aix-en-Provence, brought her worldwide recognition. Her repertory comprises the leading Mozart roles (Countess, Vitellia, Fiordiligi etc.) and the great roles of tragédie lyrique (including Iphigénie en Tauride, Iphigénie en Aulide and Alceste) but also heroines of a later period such as Alice Ford (Falstaff), Eva (Die Meistersinger von Nürnberg), Madame Lidoine (Dialogues des Carmélites) and Missia (La Veuve joyeuse). Véronique Gens also gives numerous concerts and recitals in a wide-ranging repertory all over the world, notably in Paris, Dresden, Berlin, Beijing, Vienna, Prague, London, Tanglewood, Stockholm, Moscow, Geneva and Edinburgh.
She has performed on the world's foremost operatic stages, among them the Opéra National de Paris, the Royal Opera House Covent Garden, the Vienna Staatsoper, the Bayerische Staatsoper in Munich, La Monnaie in Brussels, the Liceu in Barcelona, the Teatro Real in Madrid, De Nederlandse Opera in Amsterdam and the Aixen-Provence, Salzburg and Glyndebourne festivals.
In 1999, she was voted Vocal Artist of the Year at the Victoires de la Musique Classique. Her many recordings (more than eighty CDs and DVDs) have received several international prizes: most recently, her album of French mélodies, Néère won a Gramophone Award in 2016, while Visions obtained an International Classical Music Award and an International Opera Award in 2018. Also La Reyne de Chypre by Halévy obtained a Gramophone Award in 2019, in the Opera category.
Véronique Gens is a Chevalier de la Légion d'Honneur and Chevalier des Arts et des Lettres.

Booklet for Poulenc: La voix humaine