---
Album info
Album including Album cover
Ralph Vaughan Williams (1872 - 1958): Household Music:

1

Williams: Household Music: I. Crug-Y-Bar (Fantasia)

04:56

2

Williams: Household Music: II. St Denio (Scherzo)

03:35

3

Williams: Household Music: III. Aberystwyth (Variations)

08:50

Ina Boyle (1889 - 1967): String Quartet in E Minor:

4

Boyle: String Quartet in E Minor: I. Allegro moderato

07:25

5

Boyle: String Quartet in E Minor: II. Adagio

08:34

6

Boyle: String Quartet in E Minor: III. Allegro molto

03:46

John Ireland (1879 - 1962): The Holy Boy:

7

Ireland: The Holy Boy

03:15

Ernest John Moeran (1894 - 1950): String Quartet No. 2 in E-Flat:

8

Moeran: String Quartet No. 2 in E-Flat: I. Allegro moderato ma ben animato

08:28

9

Moeran: String Quartet No. 2 in E-Flat: II. Lento

09:30

Total Runtime

58:19
Info for Boyle, Vaughan Williams, Moeran & Ireland

Until recently, Rubicon were unaware of the rich output of Irish composer Ina Boyle, who was never quite forgotten because she was the only woman composer to be published in the Carnegie Collection of British music with her atmospheric orchestral rhapsody, The Magic Harp of 1919.
Boyle spent her life living at the substantial family home at Bushey Park, near Enniskerry, Co Wicklow, and she only left it for brief visits to London, including lessons with Vaughan Williams.
At the end of the First World War, she produced a brief choral elegy, Soldiers at Peace, which was widely sung at the time although rejected by the Carnegie Committee (revived in Hampstead in 2018).
The Magic Harp dates from 1919, and a programmatic symphony, In the Wicklow Hills, the mid-1920s. During the 1930s she produced a notable violin concerto (in memory of her mother), a Second Symphony, an Overture for orchestra and several stage works including the ballet Virgilian Suite, The Dance of Death (a masque for dancing after Holbein) and the mimed drama, The Vision of Er. A third symphony followed, setting Edith Sitwell for contralto and orchestra.
In 1934 she completed her String Quartet in E minor. Boyle's Quartet is in three movements and has a distinctive slightly Spartan character. This is the world premiere commercial release of this work.
E.J. Moeran's E flat quartet was found among his papers after his premature death. It was thought that the work was an early composition, but this is not borne out by the music, and it is now thought that the sectional second movement dates from the post war 1940s as there is a distinct feeling of the folk songs he collected in County Kerry and published in 1948.
A fascinating recital from the Piatti Quartet is completed with the Welsh Hymn Tunes arrangements by Vaughan Williams, and John Ireland's The Holy Boy in his arrangement.
Piatti Quartet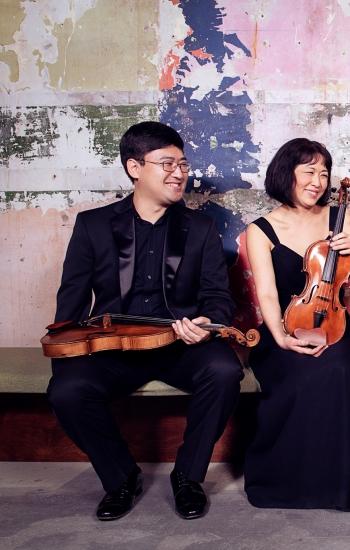 Piatti Quartet
The distinguished Piatti Quartet are widely renowned for their 'acute sensitivity' and their 'lyrical warmth.' Since their prizewinning performances at the 2015 Wigmore Hall String Quartet Competition, they have performed all over the world and made international broadcasts from many countries.
The Piattis are famed for their diverse programming and for passionate interpretations across the spectrum of quartet writing, tailoring their performances with the violinists regularly swapping parts to bring out extra nuances and colours in every work.
Since their inception they have always had projects in the recording studio with critically acclaimed releases through Linn, Somm, Champs Hill, Hyperion, Delphian, and NMC record labels. Their wide ranging discography and repertoire is thanks to their enthusiasm and curiosity in collaborating with a broad range of artists including some of the most recognisable names in classical music such as Nicky Spence, Julius Drake, Michael Collins, Barry Douglas, Janina Fialkowska, Melvyn Tan, Ian Bostridge, Katherine Broderick, Adam Walker, Simon Callaghan and the Belcea Quartet.
Contemporary music has been ever present in their repertoire and leaving a legacy to the quartet genre through commissions is one of the quartet's central tenets. Major commissions and dedications have stemmed from Mark-Anthony Turnage, Emily Howard, Charlotte Harding, and Joseph Phibbs whilst they have premiered a huge number of new works over the years. The Concertgebouw Amsterdam, Flagey Radio Hall Brussels, Wigmore Hall London, and the Aldeburgh Festival are some of the high profile occasions where new music has been presented and recordings of Turnage's quartets 1-4 and Gavin Higgins' chamber music has also been extensively lauded by critics.
Historical research into quartet music that has been undiscovered or deserves to be better known has led to the premiere recording of Ina Boyle's (Ireland) SQ in E minor, and performances of lesser known quartet gems by Ralph Vaughan Williams, E.J. Moeran, Rachmaninov, Ireland, Haas, Ulmann, and Durosoir.
The quartet's name is dedicated to Alfredo Piatti, a 19th Century virtuoso cellist who was a professor at the Royal Academy of Music (the alma mater of the founder's of the quartet) and also a major exponent of chamber music and contemporary music of his time.

This album contains no booklet.