---
Album info
Album including Album cover Booklet (PDF)
Johannes Brahms (1833 - 1897): Piano Quartet in G Minor, Op. 25:

1

Piano Quartet in G Minor, Op. 25: I. Allegro

13:32

2

Piano Quartet in G Minor, Op. 25: II. Intermezzo. Allegro (ma non troppo)

07:24

3

Piano Quartet in G Minor, Op. 25: III. Andante con moto

09:23

4

Piano Quartet in G Minor, Op. 25: IV. Rondo alla Zingarese. Presto

08:29

Friedrich Gernsheim (1839 - 1916): Piano Quartet in C Minor, Op. 20:

5

Piano Quartet in C Minor, Op. 20: I. Allegro molto moderato

09:44

6

Piano Quartet in C Minor, Op. 20: II. Adagio cantabile

07:10

7

Piano Quartet in C Minor, Op. 20: III. Rondo. Allegro

05:58

Total Runtime

01:01:40
Info for Brahms & Gernsheim: Piano Quartets

In the year of social distancing, the Mariani Piano Quartet dedicates itself to a today almost forgotten friendship and embarks with Audax Records upon a voyage of discovery in which the piano quartets of Johannes Brahms are juxtaposed with those by Friedrich Gernsheim. Gernsheim, a child prodigy trained at the renowned Leipzig Conservatory, occupied after a sojourn of several years in Paris, where he experienced the scandal-ridden Tannhauser performances, and became acquainted with Rossini, Saint-Saens, and Lalo important positions in Saarbrucken, Berlin, Cologne, and Rotterdam. Mahler and Strauss held him in high regard and conducted his music. However, after his death his musical legacy fall victim to the anti-Semitic climate in Europe. On the first album of a three-part series, the Mariani Piano Quartet presents Gernsheims sensuously indulging C-Minor Quartet alongside the perhaps best-known work of the genre: the Piano Quartet in G Minor, op. 25, by Brahms with its unbridled energy and symphonic radiance. An intoxicating journey through time into the Romantic period in a captivating interpretation.
Mariani Klavierquartett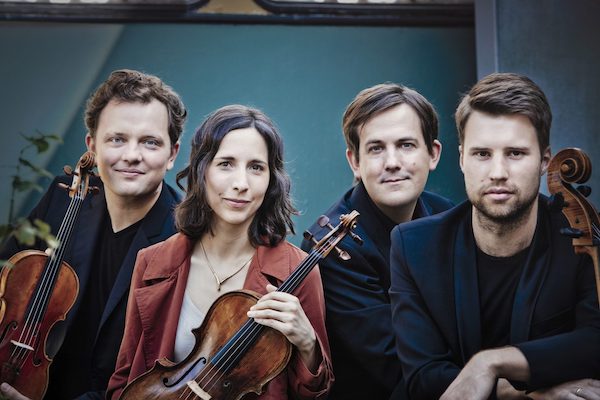 Mariani Klavierquartett
The four members of the Mariani Piano Quartet were still studying in Berlin when they first made each other's acquaintance as chamber recitalists, and their first joint concert at the Hagnau Classical Music Fes- tival on Lake Constance persuaded them to continue to perform together . The Mariani Piano Quartet finally came into existence in the wake of an intensive period of working together at various chamber music festivals in the autumn and winter of 2009.
The Mariani Piano Quartet first came to the attention of a wider audience at the German Music Competition in the spring of 2011. Their first CD, Phantasy, featuring works by Bridge, Martin and Schumann, followed two years later.
The press praised the performers' "spirit and passion", their "vitality and delight in their playing" and their "urgent intensity", adding that they had poured their "lifeblood into literally every note" and concluding that "although they are still young, they already perform with masterly maturity". Among the venues and festivals where the Mariani Piano Quartet has already been invited to appear are the Ludwigsburg Castle Festival, the Schleswig-Holstein Music Festival, the Mecklenburg-Vorpommern Festival, the Luxembourg Philharmonie, Leipzig and the Beethovenhaus in Bonn, while their debut recital at the Berlin Philharmonie was broadcast live by the arts channel Deutschlandradio Kultur. Further recordings were made in connection with their concerts for North German Radio NDR and South-West Radio SWR.

Booklet for Brahms & Gernsheim: Piano Quartets