---
Album info
Album including Album cover
I`m sorry!
Dear HIGHRESAUDIO Visitor,
due to territorial constraints and also different releases dates in each country you currently can`t purchase this album. We are updating our release dates twice a week. So, please feel free to check from time-to-time, if the album is available for your country.
We suggest, that you bookmark the album and use our Short List function.
Thank you for your understanding and patience.
Yours sincerely, HIGHRESAUDIO
1

Down River

00:57

2

Landmarks

08:23

3

State Lines

01:04

4

Ark.La.Tex.

11:37

5

Shenandoah

01:52

6

He Died Fighting

05:40

7

Friends Call Her Dot

04:07

8

Farewell Bluebird

13:22

9

Bonnie Be Good

04:01

10

Embers

02:22

Total Runtime

53:25
Info for Landmarks

Landmarks, the fourth recording by Brian Blade & The Fellowship Band, marks their return to Blue Note Records, released in cooperation with the Shreveport, Louisiana based label, Mid-City Records. Brian chose to record seven of the ten compositions in his hometown of Shreveport at Blade Studios which was opened in 2011 by Brian's older brother, the drummer and producer Brady Blade, Jr. Shreveport is an inland port city situated 40 miles south of Arkansas, 20 miles east of Texas, and 100 miles north of the Gulf Coast and its location makes it a sonic catchment basin for various Afro-diasporic strains—gospel, rhythm-and-blues, the blues as such and various iterations of jazz—and vernacular folk idioms that developed indigenously in the surrounding territories.
As on each prior Fellowship Band release, Blade and pianist Jon Cowherd refract these impressions into their own musical poetry, with an ear to the individualistic styles of Myron Walden (alto saxophone, bass clarinet), Melvin Butler (soprano and tenor saxophone) and Chris Thomas (bass). For the recording of Landmarks, Marvin Sewell and Jeff Parker are on guitars. Excepting the guitarists, The Fellowship Band has remained a unit since their eponymous 1998 debut and its 2000 follow-up, Perceptual, both on Blue Note. You can hear it in the cohesion and exploratory spirit of their collective and individual interpretations, orchestrated and propelled by the leader's in-the-moment beats and textures.
Blade has previously referenced formative Shreveport experiences in compositions like "Red River Revel" and "Stoner Hill." But his recent homecoming seems to have engendered a new burst of creativity.
"The word 'landmark' seemed to have an arrow attached to it," says Blade. "The idea is that we're here right now, and we're passing signs along the way that mark where we are. I like the journey aspect of Landmarks, the trip that the songs seem to comprise. There's a lot of through-composition, some short, poetic things, then some long, epic landscapes that we travel. I try to write what I have discovered and realized with as much clarity as possible, while thinking of the band. When we play it, all this rhythm, melody and harmony becomes alive, and other ideas reveal themselves."
The journey begins with Cowherd's brief melodic improvisation on Mellotron of his composition "Down River," preparing the stage for the hymn-like title track, "Landmarks", which Cowherd also composed; his ascendant solo—following stately turns by Chris Thomas on bass and Melvin Butler on soprano saxophone—sets the tone for things to follow.
"Jon is one of the main reasons why I started to compose," Blade says, noting that their relationship dates to 1988, when both attended Loyola University in New Orleans. "After we met, we'd play duo all the time, improvising, playing songs we knew and Jon's original music. For example, he wrote 'Perceptual,' the title of our second album, in '91 or '92. We performed it on his senior recital. Jon was initially a french horn major, and he writes with a tonal connection to the horn, with wind and spirit and flow. He writes from a place inside, a place of memory, imagination and dreams, which we share."
A kindred spirit of more recent acquaintance, guitarist Marvin Sewell, enters on "State Lines," a brief improvisation on the melody of "Ark.La.Tex.," a spirited depiction of the three states in Shreveport's orbit. Walden's searing alto solo and Butler's placid melodicism are highlights. "Then we're on the river of 'Shenandoah,'" Blade says, referring to the "older than the hills" folk song, individualized here by Cowherd's lyric pump organ.
The stomping drumbeats on "He Died Fighting" impart anthemic Native American vibrations—intensified by Walden's soulful alto solo. "It's a portrait of several heroes: Martin Luther King, Nelson Mandela and my maternal grandfather, Levi Gardner—soldiers who fought to make justice something real. That fight continues through others, through things they set in motion."
Walden's melodic proclivities come forth in his bass clarinet reading of "Friends Call Her Dot," Blade's portrait of his mother, Dorothy, a former kindergarten teacher. Chicago native Marvin Sewell's phrasing and command of blues expression emerges in his fierce climactic guitar slide solo on "Farewell Bluebird," named for a café that Blade frequented during his New Orleans years.
The journey winds down with "Bonnie Be Good," dedicated to Blade's second niece, featuring the emotive tremolo guitar of Jeff Parker and Melvin Butler on tenor. The recording concludes with "Embers," Blade's portrayal of a night-time view of Portland, Oregon, from the hills that overlook it—"this glinting of light, smoldering, as though someone had raked the city over the coals."
The image reminds us that Blade is as comfortable composing word-songs and propelling and entexturing the flow for masters of that art like Joni Mitchell, Daniel Lanois, Emmylou Harris and Bob Dylan, as personalizing the complex codes of jazz drumming with the likes of Kenny Garrett, Ellis Marsalis, Joshua Redman, Bill Frisell, Chick Corea, Herbie Hancock, and, for the last 13 years, Wayne Shorter's extraordinary quartet.
"Wayne has been an enormous blessing in my life," says Blade, who performed on Shorter's recent Blue Note recording Without A Net and numerous 80th birthday events during 2013. "I've learned from him that we start from nothing, what he calls 'zero gravity,' and must be faithful to the idea of being fearless, taking a chance together to walk out on the wire."
Brian Blade, drums
The Fellowship Band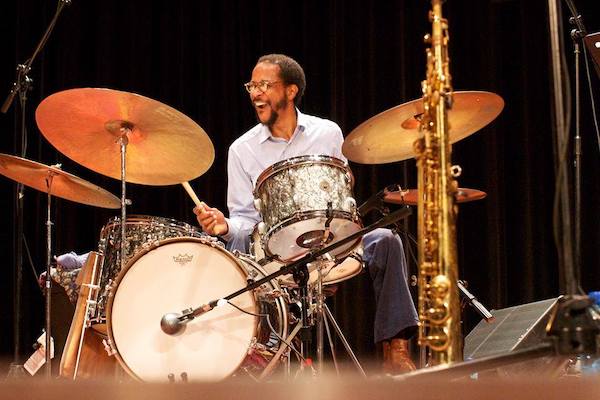 Brian Blade
A native of Shreveport, Louisiana, Brian Blade established himself as a versatile, accomplished drummer early in his career, appearing on albums by the likes of Joshua Redman, Kenny Garrett, and Bob Dylan. Blade released his first album, Brian Blade Fellowship, at the age of 27 in 1998 and followed two years later with Perceptual, both on Blue Note. Always an in-demand sideman and collaborator, Blade continued to find work with a varied bevy of artists, including Joni Mitchell, Bill Frisell, and Wayne Shorter. Ten years after releasing his first album as the Brian Blade Fellowship, Blade returned with Season of Changes in 2008, this time on Verve. A year later he released the solo Americana, singer/songwriter effort Mama Rosa for the label.
At the beginning of 2014, the BBF band re-signed with Blue Note in a cooperative deal with the Shreveport, Louisiana-based Mid-City Records. Their fourth album together, Landmarks, was issued in April of 2014. The quintet was augmented by guitarists Marvin Sewell and Jeff Parker. (Stephen Thomas Erlewine, AMG)

This album contains no booklet.