---
1

Sanctuary 1

02:43

2

Absent Friend

04:59

3

Dusty Pinballs

04:41

4

Aspiration

02:26

5

Dhoggs (My Dog Doesn't Respect Me)

03:36

6

The Departure

08:14

7

Dusty Pinballs Return

04:55

8

Bug Fixes

05:26

9

Curveball

04:25

10

Three Pineapples, One Pomegranate

02:59

11

Galaxy No. 7

02:38

12

Guardian Angels

02:22

13

Sanctuary 2

02:56

Gitbox in Concert:

14

Gitbox in Concert: Curveball

01:30

15

Gitbox in Concert: Galaxy No. 7

01:41

16

Gitbox in Concert: Three Pineapples, One Pomegranate

05:32

17

Gitbox in Concert: Dusty Pinballs Return

04:40

18

Gitbox in Concert: Aspiration

02:35

19

Gitbox in Concert: Absent Friend

05:21

20

Gitbox in Concert: A Terrible Flaw

03:23

21

Gitbox in Concert: Threnody for Francisco Mendez

06:38

22

Gitbox in Concert: Guardian Angels

08:11

23

Gitbox in Concert: Bug Fixes

05:45

24

Gitbox in Concert: The Good, the Bad and the Ugly

03:12

Total Runtime

01:40:48
Info for Curveball

This year, 2021, is Rattle's 30th anniversary as an advocate for New Zealand art-music, and it gives us enormous pleasure to mark the occasion with a new album from Gitbox, the band that kicked things off for the label three decades ago with their much-loved and widely acclaimed Pesky Digits, Rattle's very first release back in 1991. As curveballs go, we couldn't have asked for a nicer one. The group's music is as unique and vibrant as ever, just as Rattle's enthusiasm for artists who follow their own compass is not only undiminished but even more determined as we move into our fourth decade.
Gitbox is comprised of ten acoustic guitarists who usually perform left to right in this order: Russell Hughes, Joanne Melbourne, Tomislav Skulic, Rob Mita, Sonia Wilson, Bodie Hermans, Peter Kirkbride, Sam Loveridge, Kim Halliday and Nigel Gavin
Time, as we live through it, seems linear. But sometimes we can feel it as circular.
Thirty years ago, the Rattle label launched itself with the album Pesky Digits by the Auckland guitar ensemble, Gitbox Rebellion. Under the assured stewardship of helmsman Steve Garden, Rattle has since taken listeners on journeys through classical, jazz, sonic experimentalism, improvised music, the evocative sounds of taonga puoro . . . And it has recorded artists as unique as the percussion group From Scratch and now, again, Gitbox.
Curveball – an appropriate title for a Gitbox and Rattle album – is the group's third for the label following Pesky Digits and Touch Wood in '94. As always, Gitbox subverts expectations but also deliver their beautifully realised, sometimes algebraic, melodies with a lively vigour or an elegant stateliness.
From the pristine opening chimes of the ethereal Sanctuary where the glistening notes hang in still air and the urgently repeated figure which opens Absent Friend through the sub-tropical balm of the charming Dhoggs (My Dog Doesn't Respect Me) to the concert chamber concentration and aural dynamics of the title track and beyond, the first disc of studio recordings is a constant revelation. And a reminder of how sophisticated and seasoned these players are.
Four of the group's original members – Nigel Gavin, Kim Halliday, Bodie Hermans and Russell Hughes – are still here, advancing this distinctive project into its fourth decade. The bonus is hearing the ensemble in concert on the second disc where they essay some Curveball material but also other pieces, among them a variation on Threnody for Francisco Mendez from their debut album, a nod to the completion of that circle of time here. And they close with Ennio Morricone's dramatic theme to The Good, the Bad and the Ugly. The perfect encore for their rebellious, pesky digits.
Gitbox occupies a singular place in New Zealand music in that it draws from diverse sources. The listener's mind can be taken towards contemporary classical music; allusions to Spanish, Middle Eastern or North African styles; the freedom of jazz, entrancement of minimalism or the economy of pop . . . Yet, out of that exotic and evocative melange of styles and influences, what emerges is -- and has always been -- distinctively Gitbox.
Finally, the cover art is by Graeme Gash (also a guitarist, formerly of Waves) whose distinctive work graced the group's previous albums. Further evidence of how linear time comes full circle with Curveball.
Gitbox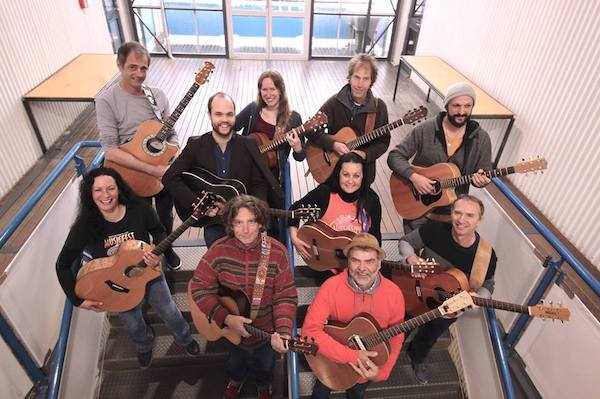 Gitbox
The group's name hints at conflicting elements in its membership and ethos. Betraying the jazz/blues heritage of many of the participants, Gitbox is a Pidgin expression for the steel-string acoustic guitar.
In order to defy the bounds of rock convention, Gitbox members worked to acquire a full array of musical weapons - many of the techniques more often associated with classical or jazz music, and sometimes devices more regional: Latin or African.
While this can result in an eclecticism in the range of performance material offered, there is nonetheless a consistency in approach - something which can now be identified as specifically Gitbox.

This album contains no booklet.