---
Album info
Album including Album cover
I`m sorry!
Dear HIGHRESAUDIO Visitor,
due to territorial constraints and also different releases dates in each country you currently can`t purchase this album. We are updating our release dates twice a week. So, please feel free to check from time-to-time, if the album is available for your country.
We suggest, that you bookmark the album and use our Short List function.
Thank you for your understanding and patience.
Yours sincerely, HIGHRESAUDIO
1

Be Where You Are

01:42

2

Mogaetsho

05:32

3

Move On

04:22

4

State of the Nation (feat. Damani Nkosi)

05:22

5

Tiya Mowa

04:35

6

Ke Nako (feat. Sereetsi and the Natives)

04:39

7

Picturesque

05:21

8

Spirit People (feat. Amaeshi Ikechi)

01:47

9

Victims of Circumstance

04:14

10

Amogelang

01:24

11

Ho Tla Loka (feat. Yonela Mnana)

05:09

12

Resonance of Truth

05:19

13

You Are Home

05:36

14

Medu (feat. Sthembiso Bhengu)

05:28

Total Runtime

01:00:30
Info for Radio Sechaba

Already a multi award-winning and established artist, with a growing global reputation, Bokani Dyer's newest record provides an intimate view into South Africa's multifaceted people - and an opportunity for global connection through music.
Titled Radio Sechaba, the album continues Dyer's creative journey of making rich and immersive music which places him amongst the new wave of South African jazz artists, including the likes of Siya Makuzeni and Nduduzo Makhathini. Throughout the 15-tracks, Dyer's multi-faceted influences permeate the set of original songs, resulting in a rewarding listening experience..
"This is the first album of mine that is really drawing on all my influences and putting them into one thing," says Dyer of the music on Radio Sechaba. "So from song to song you get different types of sounds and music and different approaches, and there is some quiet stuff and there is some loud stuff too."
This array of influences takes the jazz music that Dyer has built his career on and extends it into new areas – already gestured to by his work with Sakhile Moleshe, as part of the groove-based Soul Housing Project, and his abiding interest in the sonic possibilities of electronic music. "When I was recording the album, I didn't block my inspirations," Dyer explains. "So the music on it draws on African music, American music and, really, whatever sounds great to me."
Alongside this, Dyer has thought deeply about what he wants the music of Radio Sechaba to say. "The name of the project is Radio Sechaba and Sechaba means nation," says the pianist, songwriter and producer. "It is something I have been thinking a great deal about - how I can use my music to reflect the current moment in South Africa and where we're at, as a people."
In particular, Dyer honed in on the related topics of nation building and unity. "This is pretty much the central theme of the project. Radio Sechaba is about what this nation – South Africa - is and thinking about a soundtrack that could go along with that theme." This is no ordinary topic for the artist: Dyer was born in 1986 in Gaborone, Botswana, where many artists from South Africa, including his father, musician Steve Dyer, were living in exile. It was, he says, "an exciting musical time when I was born into a community in exile from apartheid".
So it's no coincidence that Dyer – who moved back to South Africa as a child in 1993 – gives his nation-building album a name that echoes that of Radio Freedom, the voice in exile of the African National Congress. For around three decades, from 1963 when it was created, Radio Freedom provided inspiration to those in the movement against apartheid and was an important ongoing link between exiles and those resisting within the country.
Consistently thoughtful about the role music can play in connecting, Dyer's nation-building narrative finds expression in tracks like the reverential "Ho Tla Loka", "Mogaetsho" (in which he addresses the big theme of betrayal) and the moving and powerful "State of the Nation".
Radio Sechaba might be built around the bigger project of nation building but it also contains a number of songs that focus on the value of individual introspectiveness. There's a call for presence on "Move On" ("Just breathe and let it go/stuck in past and future all we've got is present/Just breathe and let it go") and a West-African influence instrumentally - call for self-liberation on "Resonance of Truth" ("Where do we go to find some serenity/Stop looking out too far/Try listening within").
Radio Sechaba also features "Ke Nako" – which is the opening track on the critically acclaimed Johannesburg scene jazz compilation, Indaba Is which was released in early 2021 on Gilles Peterson's Brownswood label. Meaning 'Now's the Time', the track was included in a 2022 live concert at the Claude Lévi-Strauss theater as part of the Sons d'hiver festival in France. That show placed Dyer's piano playing centrestage and it's a gift that has been described by acclaimed South African trumpeter Feya Faku as nothing short of "beautiful". "His sense of rhythm, his articulation on acoustic piano addresses the piano," says Faku who has included Dyer in his Feya Faku Quintet shows.
Radio Sechaba is interspersed with short musical interludes - like "Amogelang" and "Spirit People" - that serve as sonic signposts to our collective past, present and future. The album sounds a hopeful note with "You are Home", a gorgeous, layered piece that recalls West African blues in its eloquent call to all of us: "Know your truth/Let it guide you/From the unknown/It will lead you home".
Bokani Dyer, piano, keyboards Alder Du Toit, guitar Shane Cooper, guitar Steve Dyer, saxophone Linda Sikhakhane, saxophone Sthembiso Bhengu, trumpet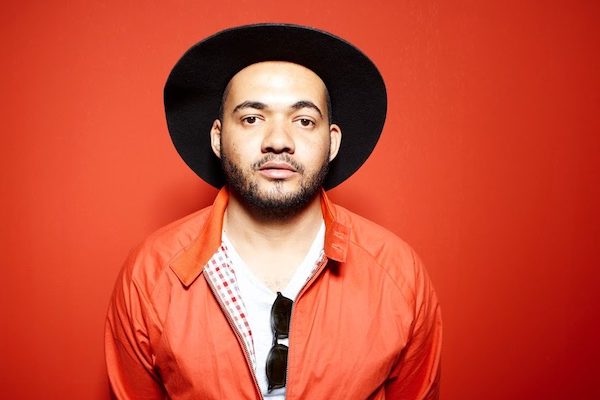 Bokani Dyer
Born in 1986 in Gaborone, Botswana, where many artists from South Africa, including his father, musician Steve Dyer, were living in exile during apartheid, Bokani Dyer moved back to SA as a child in 1990. He grew up mainly in Johannesburg before moving to study jazz at the prestigious University of Cape Town, where he graduated with distinction. In 2009 Dyer was runner up in the SAMRO (SA Music Rights Organisation) Overseas Scholarship Competition and spent 3 weeks in New York, where he was tutored by Jason Moran. In 2014, he was invited to perform at the opening of the London Jazz Festival, as well as in a tribute to South African supergroup, The Blue Notes, led by Shabaka Hutchings.
In 2015, the Bokani Dyer Swiss Quintet reunited for a 10-show tour of South Africa and Mozambique, opening the Standard Bank National Youth Jazz Festival and then going on to perform packed shows in King William's Town, Johannesburg, Maputo and Cape Town. The tour also served as to launch Dyer's third album, World Music. Following on the success of the SA tour, the BDSQ toured Switzerland in October 2015, performing in Basel, Zurich, Bern, Wintethur and Interlaken. In November, Dyer travelled to the UK to collaborate with harmonica player, Adam Glasser, playing various venues around London and keeping the spirit of South African jazz alive. In April 2016, The Bokani Dyer Trio was selected for and performed at the annual Jazzahead showcase in Bremen, Germany. Other notable activities for 2016 included: a collaboration with SA theatre director Mkhululi Mabija on his production My Daughter/ Son, producing saxophonist Sisonke Xonti's debut album Iyonde, and performing as a soloist at the launch of the SA/Russia Cultural Seasons in Moscow and St Petersburg. Dyer curated a regular slot at The Orbit Jazz Club, the Jazzafrika Legacy Sessions, dedicated to transcribing and performing the works of SA jazz composers from the last decades.
He was also honoured to accept an invitation from legendary South African trumpeter Feya Faku to join his Quintet.
Complementing his career as a jazz artist, Dyer has also explored various other genres and is particularly interested in electronic music. In 2007, Dyer and longtime collaborator vocalist/composer, Sakhile Moleshe (ex Goldfish) founded groove outfit, Soul Housing Project (formerly Plan Be). The band continues to be active in different configurations – the full 7-piece band, 5-piece band and then the 2-piece electronic duo, which most recently performed at the Lighthouse Festival in Croatia (May 2016) and as the opening show of the Standard Bank National Youth Jazz Festival in Grahamstown, South Africa (July 2016).
Dyer has recorded five albums under his own name. His debut album, Mirrors, was released in 2010, and provides a strong indication of the style and artistic trajectory he continues to pursue. Emancipate the Story (2011), was recorded during his time as Standard Bank Young Artist of the Year, as part of the award, and continued his musical journey, exploring the tradition and furthering the contemporary landscape of SA jazz through his compositions.
World Music (2015), was received with much respect and acclaim from both the SA and international music worlds, and nominated for Best Jazz Album at the 2016 South African Music Awards. The album features top local musicians Buddy Wells (tenor saxophone), Justin Bellairs (alto saxophone), Robin Fassie-Kock (trumpet), Shane Cooper (bass), John Hassan (percussion), Lee-Anne Fortuin (vocals) and Sakhile Moleshe (vocals). His trio album 'Neo Native' won the SAMA award for best jazz album in 2019. His most recent release was an album responding to the lockdown experience, produced and recorded in 2020 by himself called 'Kelenosi'.
He composed the Original score for "Catching Feelings" a film directed by top SA comedian Kagiso Lediga.
In February 2017, he performed at the Safaricom Jazz Festival in Nairobi, Kenya. He, alongside his father Steve Dyer, co-directed the re-launch of an exciting collaboration project with artists from various Southern African countries. "Mahube" which debuted at the Harare International Festival of the Arts in May 2017.
His trio was invited to perform at the Musiques en ete festival in Geneva, Switzerland in July 2017. In 2018, he was invited to perform at Festival Metis in Paris, France. In 2019, the trio was invited to take part in the prestigious 'Piano Trio Festival' hosted by the legendary Ronnie Scott's jazz club in London, UK.

This album contains no booklet.