---
Album info
Album including Album cover Booklet (PDF)
Franz Schubert (1797 - 1828): Winterreise, D. 911:

1

Winterreise, D. 911: I. Gute Nacht

05:52

2

Winterreise, D. 911: II. Erstarrung

03:44

3

Winterreise, D. 911: III. Der Lindenbaum

04:04

4

Winterreise, D. 911: IV. Wasserflut

04:17

5

Winterreise, D. 911: V. Auf dem Flusse

02:38

6

Winterreise, D. 911: VI. Rast

02:59

7

Winterreise, D. 911: VII. Frühlingstraum

04:28

8

Winterreise, D. 911: VIII. Der Greise Kopf

02:16

9

Winterreise, D. 911: IX. Die Krähe

03:36

10

Winterreise, D. 911: X. Letzte Hoffnung

01:57

11

Winterreise, D. 911: XI. Der Wegweiser

04:15

12

Winterreise, D. 911: XII. Das Wirtshaus

03:58

13

Winterreise, D. 911: XIII. Der Leiermann

03:46

Total Runtime

47:50
Info for Schubert: Eine Winterreise - un voyage d'hiver

13 melodies from Schubert's masterpiece fly away into the dreamlike world of singer Noëmi Waysfeld and pianist Guillaume de Chassy
Noëmi Waysfeld, vocals
Guillaume de Chassy, piano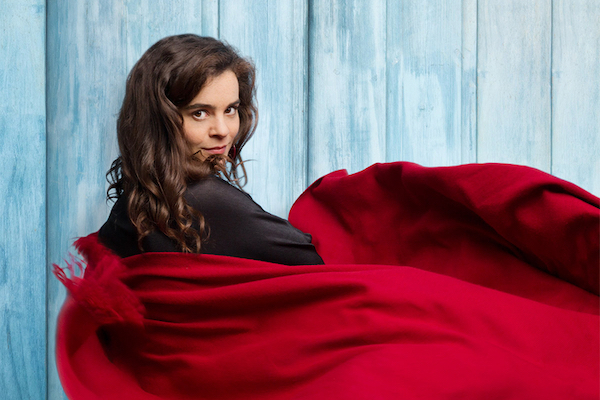 Noëmi Waysfeld
singt, spielt Violoncello und glänzt auch auf der Theaterbühne – und das nicht nur im Rahmen ihres Studiums am Conservatoire Superieur d'Art Dramatique.
Doch es ist die Musik, die sie 2008 mit der Gründung ihres Quartetts Blik zum Dreh- und Angelpunkt ihres Schaffens macht. In dieser Formation beginnt sie ihre Reise in die Vergangenheit. Die Suche nach unentdeckten Facetten der traditionellen jüdischen Musik bringt sie zurück zu ihren eigenen jiddischen und russischen Wurzeln und zu deren Sprachen.
Die Verbindung dieser zwei Kulturen manifestiert sich für Waysfeld in einem ganz besonderen Werk: "Songs Of The Siberian Prisoners of Today" der jüdischen Russin Dina Vierny. Diese hatte im Moskauer Untergrund Lieder der Gulag-Gefangenen aus der Stalin-Ära kennen gelernt, die sie 1975 auf einer berühmten Schallplatte veröffentlichte. Die russische Folklore erzählt dort in wunderschöner Sprache von Humor, Verzweiflung und Gewalt, aber auch von der Möglichkeit, der Gefangenschaft durch die Sehnsucht zu entfliehen. Ebendieses Liedgut hat Noemi Waysfeld 2012 "in einem atemberaubenden schöpferischen Akt" (www.hagalil.com) für ihr Debüt-Album "Kalyma" adaptiert. In Verbindung mit jiddischen Chansons, die von ganz ähnlichen Lebenserfahrungen erzählen, schafft sie ein Meisterwerk fern von allen Klischees, das von Schmerz, Angst, Heimweh, aber auch Frieden und Hoffnung singt. Sie vereint "Jazzattitüde mit Shtetl-Hinterhof, Orientalismen und Mediterranes mit dem Blues der sibirischen Steppen" (Mathias Bäume).
Wasyfeld's sanfter Alt ist die perfekte Besetzung für dieses Gefühlskino: "Mit ihrer ausdrucksstarken, samtigen Stimme transportiert sie sehr berührend die Wehmut der Musik, deren gelegentliche Chansonhaftigkeit ebenso wie eine manchmal aufblitzende Lustigkeit." (Mathias Bäume) Changierend zwischen Unschuld, Zärtlichkeit und Nostalgie wagt sie immer wieder den Sprung in die Spitzen des Überschwanges und der Ekstase; technisch gefallen die wendigen Phrasierungen und faszinierende Bühnensouveränität.
Unterstützt wird sie dabei von ihrem kongenialen Trio Blik, bestehend aus Akkordeonist Thierry Bretonnet, Florent Labodiniere an der Gitarre und Bassist Antoine Rozenbaum. Auch hier ist ein facettenreiches Spektrum an Musikstilen vereint. Von der Musette, über italienische Folklore bis zu Roma-Traditionen, arabischen Klängen und immer wieder dem Jazz "wetteifern die Musiker wagemutig in diesen Liedern, die zum Tanzen und Weinen bringen, Lieder, die geformt sind von der Seele des Sklaven, vom Jazz, von der mediterranen Sphäre und der jiddisch-russischen Folklore." (Lylo)
2015 schließlich knüpfte sie an den Erfolg ihrer ersten CD an: Für ihr Album "Alfama" hat sie legendäre Fados, den portugiesischen Blues, ins Jiddische übertragen. Für Waysfeld teilen diese beiden Musikstile dieselbe Sehnsucht, Melancholie und innere Zerrissenheit. Emotionen spielen das dominierende Element, aber stets mit einer mitfühlenden und fesselnden Leichtigkeit.

Booklet for Schubert: Eine Winterreise - un voyage d'hiver