---
Album info
Album including Album cover
1

De junge Wetfru

03:31

2

Wo die Nordseewellen

04:21

3

Hartleed

03:26

4

Leave Her Johnny

02:45

5

De Hamborger Veermaster

05:29

6

Öwer de stillen Straten

03:00

7

Abendfreden

05:04

8

Weegenlied

02:44

9

Die Moorsoldaten (prisoners' song from concentration camp Börgermoor)

04:59

10

Min Jehann

03:26

11

Dat du min Leevsten büst

03:58

12

Uun' e Doorung

04:14

Total Runtime

46:57
Info for Deeper Standards

Musical soulmates organist Daniel Stickan and saxophonist Uwe Steinmetz follow their German Grammy-nominated album 'Where Roots Grow' with 'Deeper Standards', in which they continue their 14-year artistic journey by exploring the language and songs of their grandparents, who spoke and sang in Plattdeutsch (Low Saxon), an ancient West Germanic dialect.
This historic language, which inspired many poets and folk singers, serves also as a living heritage, an identity-shaping culture of a 1500-year-old connection between Nordic countries, including England and Scotland.
For this homage to their childhood roots, both artists felt inspired by a sense of stillness, simplicity and quietness. They chose historic instruments that stimulate an especially intimate interplay and creative expression from their inner limitations: a German harmonium meets an alto saxophone from 1881 by Adolphe Sax, and the first electronic wind instrument, the Lyricon I.
Steinmetz and Stickan present on 'Deeper Standards' instrumental versions of folk songs about the lives and hopes of farmers, sailors, craftsmen, and the distinct landscape between woodland and marshland, bogland and the open sea. For them, these new interpretations unveil a treasure chest of timeless, sincere and deeper truths about everyday life, particularly meaningful in our increasingly fragmented and globalised world.
Uwe Steinmetz, saxophone, lyricon
Daniel Stickan, harmonium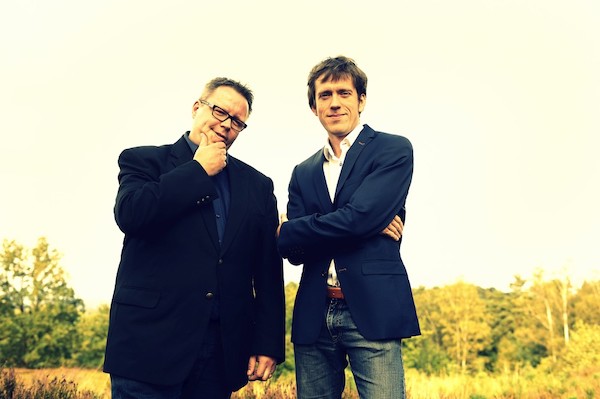 Uwe Steinmetz
was born in Bremervörde, a town in northern Germany, in 1975. His musical influences came mainly from the teachers he studied and performed with during his school years in Berlin, Bern, Madras and Boston as a scholarship winner of the German Academic Scholarship Foundation: John Surman, John Ruocco, The Art Ensemble of Chicago, Bob Mintzer, Michael Brecker, David Liebman, George Russell, Jerry Bergonzi and Cecil McBee among many others. He has performed his own music on four continents and in more than thirty countries and has received national and international awards for his artistic work, including the a double price as a soloist and band leader at the European Jazz Competition in Spain in 2001. He has released 16 CDs with his own music and has appeared on numerous jazz CDs as a solist.
Mr. Steinmetz's compositions include works for choir, organ and chamber ensembles, string quartet and jazz orchestra. Since 2002 he has worked with the London-based Fitzwilliam String Quartet, who premiered three of his works. In his compositional work he often deals with biblical or theological themes and has appeared on panels, in books and television documentaries about improvised music, church music and theology. His latest premiered works included commissions for a cantata for 3000 singers and Eric Ericsons Kammerkor from Stockholm and an oratorio based on Milton's Paradise lost. As an educator, he has been giving Master Classes in many countries and is currently an associate professor for Saxophone and Improvisation at the Conservatory of Rostock at the Baltic Sea. Since 2015 he holds a research position at the German Liturgical Institute at the University of Leipzig for contemporary music and protestant worship.
As a Christian he seeks to increase the awareness that music and other art forms can help people discover a deeper, healing and reconciling truth in an increasingly fragmented society and participates as an artist in projects that foster and encourage intercultural dialogue and support civil peace-building efforts.

This album contains no booklet.