---
Album info
Album including Album cover Booklet (PDF)
Johann Sebastian Bach (1685 - 1750): Sonata in C Minor BWV 1017:

1

Bach: Sonata in C Minor BWV 1017: I. Largo (Siciliano)

04:32

2

Bach: Sonata in C Minor BWV 1017: II. Allegro

04:39

3

Bach: Sonata in C Minor BWV 1017: III. Adagio

03:32

4

Bach: Sonata in C Minor BWV 1017: IV. Allegro

04:50

Sonata in F Minor BWV 1018:

5

Bach: Sonata in F Minor BWV 1018: I. [no indication]

06:18

6

Bach: Sonata in F Minor BWV 1018: II. Allegro

04:34

7

Bach: Sonata in F Minor BWV 1018: III. Adagio

03:33

8

Bach: Sonata in F Minor BWV 1018: IV. Vivace

02:34

Sonata in G Major BWV 1019:

9

Bach: Sonata in G Major BWV 1019: I. Allegro II

03:49

10

Bach: Sonata in G Major BWV 1019: II. Largo

01:31

11

Bach: Sonata in G Major BWV 1019: III. Allegro (Cembalo solo)

04:59

12

Bach: Sonata in G Major BWV 1019: IV. Adagio

03:04

13

Bach: Sonata in G Major BWV 1019: V. Allegro

03:39

14

Bach: Sonata in G Major BWV 1019: I. Corrente (Cembalo solo)

05:22

15

Bach: Sonata in G Major BWV 1019: II. Tempo di Gavotta

02:15

16

Bach: Sonata in G Major BWV 1019: III. Adagio

02:00

17

Bach: Sonata in G Major BWV 1019: IV. Adagio e cantabile

05:47

Total Runtime

01:06:58
Info for Johann Sebastian Bach: The Sonatas for Violin and Cembalo Obbligato Vol. 2

Fabio Bonizzoni: Performing the complete sonatas for violin and harpsichord is like embarking on a long hike; heavy, difficult, sometimes dangerous. Playing them is not an activity for lazy people: you need to enjoy making an effort. As in the mountains on difficult terrain, every step needs concentration, good balance, the ability to sense danger, to foresee the unstable stone. The complete cycle is like a long hike; one that leaves your legs tired and maybe painful the next day but at the same time one that enriches your eyes and soul with the beauty of ever-changing landscapes. It is like starting from a valley on soft grass and starting to ascend slowly, step by step, reaching the woods, seeing the type of trees changing. Eventually the forest is left behind and we are again on the grass, but more sparse now, and the first rocks are looming closer and closer. The snow is not far away either… There is not a moment or a view that is not memorable, that will not leave a significant imprint in our memory; a gem, a hidden flower, an unexpected harmony, a daring counterpoint, a melancholic melody. And as one does not need to be a geologist or a botanist to be moved by the beauties of the mountains, similarly one does not need to be a musician to listen passionately to these sonatas.
Ryo Terakado, violin
Fabio Bonizzoni, harpsichord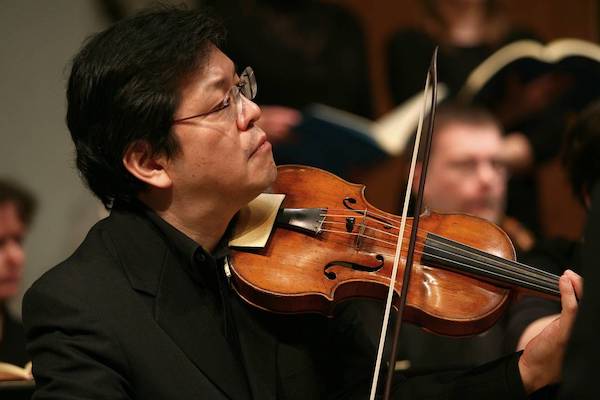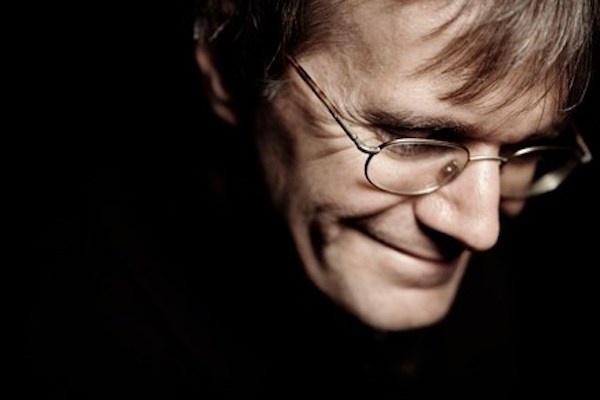 Ryo Terakado
The Bolivian-born Japanese violinist and conductor, Ryo Terakado, started to play violin at the age of 4. He won the 2nd prize in the All Japan Youth Musical Competition when he was 14 years old. He studied violin, chamber music and conducting at the Toho Gakuen School of Music. In 1983, he won the 3rd prize in the All Japan Music Competition. At the time when graduating at the Toho Gakuen, he was invited as a concertmaster of The Tokyo Philharmonic Orchestra, where he served for 2 years.
Ryo Terakado's interest in Baroque music already started before: When he was 19, he started to play Baroque violin by himself. Some years later, he founded a Baroque ensemble Concert Spirituel together with Masahiro Arita (flute) and Hidemi Suzuki (cello). In 1985, he came to the Netherlands to study the Baroque violin at the Royal Conservatoire in The Hague under guidance of Sigiswald Kuijken.
Since 1987, Ryo Terakado played with many Baroque orchestras in Europe and Japan as a concertmaster: Les Arts Florissants, La Chapelle Royale, Collegium Vocale Gent, Tokyo Bach Mozart Orchestra etc. Presently he is the concertmaster of La Petite Bande and Bach Collegium Japan. He plays regularly concertos by i.e. J.S. Bach, Antonio Vivaldi, W.A. Mozart with the above-mentioned orchestras.
Fabio Bonizzoni
one of the leading Italian harpsichordists and organists of his generation, graduated in organ, organ composition and harpsichord at the Royal Conservatorium in The Hague in Ton Koopman's class.
After having played for several years with some of the most important orchestras specializing in early music (Amsterdam Baroque, Le Concert des Nations, Europa Galante), from 2004 he exclusively devotes himself to his activities as soloist and director, in particular of his own orchestra "La Risonanza".
Furthermore, he is harpsichord professor at the Royal Conservatory of The Hague (Holland) and in Italy at the Conservatory of Novara; he is founder and president of the "Associazione Hendel", a society devoted to the studies of Handel's music in Italy.
As a soloist he has been recording for many years for the Spanish label Glossa. His discography includes works by Claudio Merulo, Giovanni Salvatore, Giovanni Picchi, Francesco Geminiani, Bernardo Storace, Domenico Scarlatti and Johann Sebastian Bach (Goldberg Variations and the Art of Fugue). His last release as a soloist is devoted to the two books of toccatas by Girolamo Frescobaldi.
In 2010 he has completed with La Risonanza the project of recording the complete Italian Cantatas with instruments by G.F. Handel: this project has been defined by Gramophone magazine the most important of the decade, and 3 of the 7 CDs have been awarded the prestigious Handel Stanley Sadie Prize. The last disc issued, « Apollo e Dafne », is winner of a Gramphone Award in 2011.
His activity is also enriched by some commitments as guest conductor; in particular in April 2011 he conducted the orchestra of Teatro alla Scala in Milano in the new ballet "L'altro Casanova".

Booklet for Johann Sebastian Bach: The Sonatas for Violin and Cembalo Obbligato Vol. 2