---
Album info
Album including Album cover Booklet (PDF)
William Byrd (1543 - 1623): Praise our Lord all ye Gentiles:

1

Byrd: Praise our Lord all ye Gentiles

02:47

If Women Could be Fair:

2

Byrd: If Women Could be Fair

03:42

Thomas Weelkes (1576 - 1623): Say Dear, When Will Your Frowning Leave:

3

Weelkes: Say Dear, When Will Your Frowning Leave

02:47

Like Two Proud Armies:

4

Weelkes: Like Two Proud Armies

01:42

Pavan No. 3:

5

Weelkes: Pavan No. 3

02:42

Thule, the Period of Cosmography:

6

Weelkes: Thule, the Period of Cosmography

04:12

What Joy so True:

7

Weelkes: What Joy so True

04:51

In Nomine a4:

8

Weelkes: In Nomine a4

01:33

William Byrd: Ye Sacred Muses (1):

9

Byrd: Ye Sacred Muses (1)

03:18

James MacMillan (b. 1959): Ye Sacred Muses (2):

10

MacMillan: Ye Sacred Muses (2)

07:04

Thomas Weelkes: In Nomine a5 (1):

11

Weelkes: In Nomine a5 (1)

02:49

Hark all ye Lovely Saints Above:

12

Weelkes: Hark all ye Lovely Saints Above

03:06

Death Hath Deprived Me:

13

Weelkes: Death Hath Deprived Me

02:23

Roderick Williams (b. 1965): Death, be not Proud:

14

Williams: Death, be not Proud

07:46

Thomas Weelkes: In Nomine a5 (2)

15

Weelkes: In Nomine a5 (2)

03:02

William Byrd: Who Made Thee Hob:

16

Byrd: Who Made Thee Hob

01:34

This Sweet and Merry Month of May:

17

Byrd: This Sweet and Merry Month of May

02:11

Browning (the Leaves Be Green):

18

Byrd: Browning (the Leaves Be Green)

04:41

Alack, When I Look Back:

19

Byrd: Alack, When I Look Back

05:34

O Lord Make thy Servant Elizabeth:

20

Byrd: O Lord Make thy Servant Elizabeth

03:09

Total Runtime

01:10:53
Info for Tom & Will – Weelkes & Byrd: 400 Years

400 years ago, in 1623, England lost two of its greatest composers: William Byrd and Thomas Weelkes. In a pro- gramme marking this double anniversary, The King's Singers and Fretwork turn their focus to the bold personalities of these two men, Will and Tom. Featuring well-known gems by the two composers, alongside works which had never been recorded before and which are rarely heard live, Tom and Will unlocks some of the humanity behind these two giants of Elizabethan music. Presented in The King's Singers' unique style, this programme is filled with beauty, drama and storytelling.
As part of this project, The King's Singers and Fretwork have commissioned two new works for their joint forces, by two of Britain's great living composers: Sir James MacMillan and Roderick Williams. These works only feature in the version performed by The King's Singers and Fretwork, but represent a commitment to keeping the spirit of Byrd and Weelkes alive in today's musical landscape.
The King's Singers & Fretwork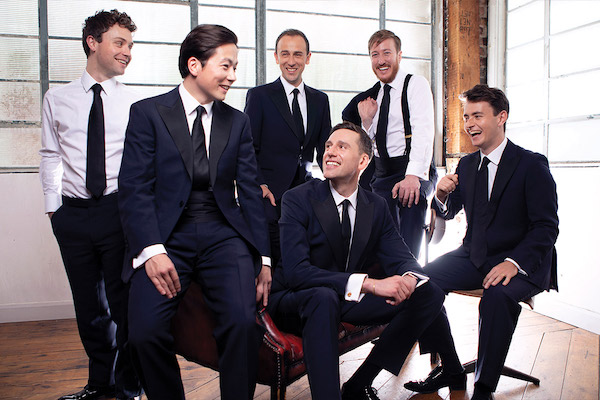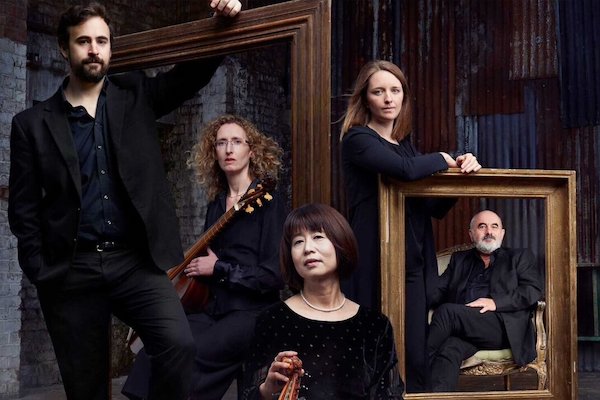 The King's Singers
have represented the gold standard in a cappella singing on the world's greatest stages for over fifty years. They are renowned for their connection and engagement with their audiences, their unrivalled technique, versatility and skill in performance, and for their consummate musicianship, drawing both on the group's rich heritage and pioneering spirit to create an extraordinary wealth of original works and unique collaborations.
What has always distinguished the group is their comfort in an unprecedented range of styles and genres, pushing the boundaries of their repertoire, while at the same time honouring their origins in the British choral tradition. They are known and loved around the world, appearing regularly in major cities, festivals and venues across Europe, North America, Asia and Australasia, including Carnegie Hall, Elbphilharmonie Hamburg, Leipzig Gewandhaus, Tonhalle Zurich, Concertgebouw Amsterdam, Helsinki Music Centre, Sydney Opera House, Tokyo Opera City and the National Centre for the Performing Arts, Beijing. They also work with orchestras, recently including a specially commissioned work by Sir James MacMillan with the Royal Scottish National Orchestra at the Edinburgh International Festival.
The King's Singers' extensive discography has led to numerous awards, including two Grammy Awards, an Emmy Award, and a place in Gramophone magazine's inaugural Hall of Fame. As part of their 50th anniversary celebrations in 2018, the group undertook a series of major tours worldwide, supporting the release of a Grammy Award nominated anniversary album GOLD, which featured important works in the group's history and new commissions by Bob Chilcott, John Rutter and Nico Muhly.
This commitment to creating new repertoire has always been central to the group, with over 200 commissioned works by many leading composers of the 20th and 21st Centuries, including John Tavener, Judith Bingham, Eric Whitacre, György Ligeti, Luciano Berio, Krzysztof Penderecki and Toru Takemitsu. These join a unique body of close-harmony and a cappella arrangements, including those by King's Singers past and present. Many of their commissioned works and arrangements are available in their own signature series with Hal Leonard, selling over two million copies worldwide. Early collaborations with brass bands helped to inform the distinct 'King's Singers sound' and key to the group's success has been their ability to evolve and innovate over many years – and through 28 individual members – while always retaining this special sound and musical integrity.
They also lead educational workshops and residential courses across the world and online, working with groups and individuals on their techniques and approaches to ensemble singing. In 2018, they founded The King's Singers Global Foundation to provide a platform for the creation of new music across multiple disciplines, coach a new generation of performers and provide musical opportunities to people of all backgrounds.
The King's Singers were formed in 1968, when six recent choral scholars from King's College, Cambridge gave a concert at London's Queen Elizabeth Hall. By chance, the group consisted of two counter-tenors, a tenor, two baritones and a bass, and the group has maintained this formation ever since that debut.
Fretwork
In 2021, Fretwork celebrated 35 years of performing music old and new, and looks forward to a challenging and exciting future as the world's leading consort of viols.
In these last three and a half decades, they have explored the core repertory of great English consort music, from Taverner to Purcell, and made classic recordings against which others are judged. Their series of discs for Virgin Classics included CDs devoted to William Lawes, Henry Purcell, William Byrd, Matthew Locke, John Dowland and Orlando Gibbons; while their more recent work for Harmonia Mundi USA has produced three discs of J.S.Bach — The Art of Fugue, Alio Modo and The Goldberg Variations — which have been exuberantly praised; and discs of the earliest instrumental music (Petrucci); Sir John Tavener's The Hidden Face; Thomas Tomkins; Alexander Agricola & Fabrice Fitch; Ludwig Senfl with Charles Daniels and two collaborations with the choir of Magdalen College, Oxford. Their recording of concert songs by William Byrd with Emma Kirkby has received particular praise.
In addition to this, Fretwork have become known as pioneers of contemporary music for viols, having commissioned over 40 new works. The list of composers is like the role call of the most prominent writers of our time: George Benjamin, Michael Nyman, Sir John Tavener, Gavin Bryars, Elvis Costello, Nico Muhly, John Woolrich, Orlando Gough, Sally Beamish, Tan Dun, Barry Guy, Thea Musgrave - to name but a few.
The group now frequently presents programmes consisting entirely of contemporary music, though most audiences find that the creative tension of juxtaposing old and new leads to a thrilling experience.
Another major area of interest is J. S. Bach. Initially, they performed and recorded 'The Art of Fugue' to rapturous notices; and more recently they have arranged many of his keyboard works, including 'The Well Tempered Clavier' and the 'Clavierübung', recently released on the HMU label under the title 'Alio Modo'. Their arrangement of the Goldberg Variations was released in November 2011.
In 2001 they created something entirely new in the consort repertory: with the aid of the Contemporary Music Network they constructed a performance involving two dancers, choreographer Ian Spink, lighting, Michael Chance and music by Gibbons, Dun, Gough, Nyman, Woolrich and Keeling. This extraordinary event was toured around the cathedrals of Britain to great wonderment and applause.
2007 saw them visiting Russia (twice), Spain, France & Ireland, with visits to the Edinburgh International Festival, the Lufthansa, Spitalfields, and Aldeburgh Festivals. They also took part in a Festival of Evensong at five Cambridge Colleges — King's, Trinity, St. John's, Gonville & Caius and Sidney Sussex — as part of a residency at Sidney Sussex College, which included teaching and recording a CD of Tomkins. Another recording, of Gibbons, Tomkins and Weelkes with King's College Choir, directed by Stephen Cleobury, has recently appeared on EMI.

Booklet for Tom & Will – Weelkes & Byrd: 400 Years