---
Album info
Album including Album cover
1

Aka man

04:43

2

Fin du monde

09:18

3

Kind of punaise

07:21

4

Atmos

04:29

5

No limit

05:58

6

Faisan tail

10:34

Total Runtime

42:23
Info for VeryDub

First album for this band rooted in electro-jazz and imagined by Baptiste Dubreuil, French keyboardist and composer. The compositions are rich and varied, carefully crafted. A very imagined writing, almost cinematographic, sometimes cataclysmic, sometimes dreamlike. VeryDub takes us on a journey into textured and contrasting worlds where categories and barriers are shattered. A music that shakes, moves, transports and shakes up. A sound that wakes you up and makes you want to get up.
It was the meeting of Mathieu Pion and Baptiste Dubreuil that led to the launch of the VeryDub project. At first, the project consisted in gathering around Baptiste Dubreuil musicians of more or less similar styles, to "sequester" them a few days in a recording studio, and to see what could come out of their meetings.
Studio recording sessions took place in small groups (as a duo or trio, then as a drum-bass-keyboard-DJ quartet) with the aim of creating a dialogue between the instrumentalists. A dozen musicians took part in these recordings, either during sessions with Baptiste Dubreuil, or to superimpose tracks on what had already been recorded.
The improvised quartet recordings give a real sensation of novelty, and the group sound is pleasantly surprising... one thinks of Miles Davis' recordings in the 70s, for the freedom felt, the sonic openness, the improvisation mode and the trance.
The extension of the genre is possible...
The open impros on hip-hop grooves, the soaring keyboard sequences, the electro sounds, the trance of the rhythmics and the samples of DJ Need... all this creates an opening, a bridge between two eras. These recording sessions resulted in the production of a record that will be released on a download platform at the time of the creation concert.
Baptiste Dubreuil, Fender Rhodes, Prophet, Moog Voyager
David Sevestre, tenor saxophone
DJ Need, turntables, electronics
Nicolas Larmignat, drums, electronics
Stéphane Decolly, bass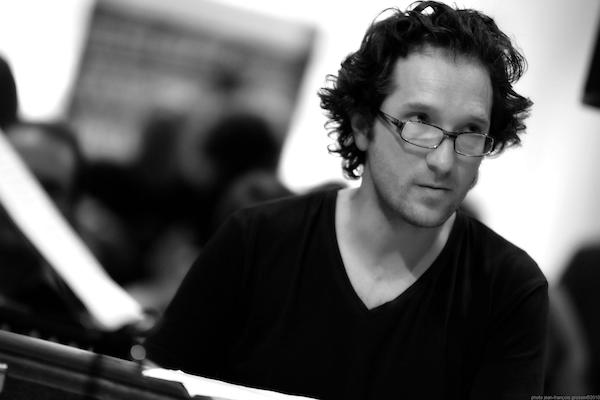 Baptiste Dubreuil
The driving force behind the Very Dub (creation 2019) and Baptiste Dubreuil Trio (creation 2021) projects, and the artistic director of the Serres Chaudes company, Baptiste Dubreuil moves between contemporary jazz, creative French songs, classical arrangements and writing for the theatre.
After training in classical piano with Isabelle Fresne, then in jazz (Bojan Zulfikarpasic, Gueorgui, Kornazov); he trained with Denis Badault, Aka Moon and Steve Coleman...
he works alongside musicians with whom he forms different groups:

- leader of the Dub Trio (N. Larmignat - N. Mahieux)

- leader of the Dub Quartet (B. Hurault, S. Decolly, C. Boudesocque).
He writes for the Lavollé Dubreuil Larmignat Trio (record "le symptôme" revelation JazzMan in 2012).
He is the keyboardist of " ZOOT " and " ZOULT ", groups from Tours.
He collaborates with Claude Tchamitchian and the Grand Lousadzak, Jacques Mahieux, Sébastien Boisseau, Olivier Carole, Sylvain Rifflet and others.
He arranges the music for the shows :

- "Les Suivants" on Jacques Brel with Valérian Renault (record "les Suivants jouent Brel")

- IN EdiTH" about Edith Piaf with Aimé Leballeur

- "Reprise Renaud" with Hugo Zermati
Creator of sound worlds for the theatre, he collaborates with Sophie Baudeuf (Le jus de peine), Alain Hatton (suivants) and Coraline Cauchi for the accompaniment of readings and the creation of music and live performance for the show "Bleue" (creation 2020).
In the context of cine-concert, he created the music for the film "Doctor Jekyll and Mr Hyde" by John Barrymore with Bertrand Hurault (drums) and Pascal Maupeu (bass), and for the film "Métropolis" by Fritz Lang with Bertrand Hurault (drums) and Nicolas Le Moullec (bass).
He has also been teaching jazz and contemporary music at the Saran music school since 2007 and at the MJC Olivet - Moulin de la vapeur since 2000.

This album contains no booklet.