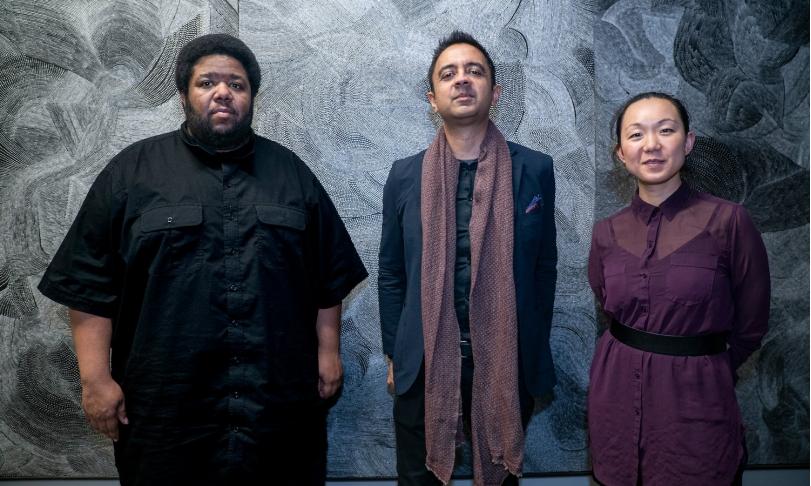 Uneasy is a very special album among the numerous special and particularly successful albums of the ECM label. As a trio, Vijay Iyer, piano, Linda May Han Oh. Double Bass and Tyshawn Sorey Double Bass have only recently joined forces. What makes Uneasy special is its convincingly free-form jazz as much as the highly democratic setup of the trio, which forgoes the conventional primaries position of the pianist in favor of equal bass and drums, the two trio members who traditionally play a subordinate role as the rhythm section in the triad. This unusual equality carries within it the germ of a new kind of trio gestalt, which is taken up by the three musicians on Uneasy and realized in a way that goes beyond the purely experimental of the new course.
Recorded in the fall of 2019 at Octave Audio Studio, Vermont (New York) before the onset of the worldwide rampant pandemic, the album reflects contemporary history with the tracks "The Children of Flint" and "Combat Breathing". While the "Children" is dedicated to the children of that working-class town in Michigan who were victims of an environmental scandal involving contaminated water, "Combat Breathing" takes aim at racism and police violence. This piece, which references the Black Lives Matter movement, materializes in an introductory blues theme triggered by the piano, circling in on itself, emotionally uplifting and getting to the heart of this piece's socio-political theme. Another example of the integration of contemporary events is the title track "Uneasy", with which the trio takes aim at the turbulence of the past decade, and which was written by the pianist already ten years ago.
As a contrast, there is the Cole Porter piece "Night and Day", which has already been recorded by Frank Sinatra, Ella Fitzgerald and Erroll Garner, Rod Stewart, but also Diana Krall, in part several times, and which is reinvented by this trio strongly rhythmized as a robust statement. Geri Allen's "Drummer's Song" is skillfully staged, combining African folk tradition with imaginative post-bop via groove, and elaborating the tricky structure of the original.
Relaxation and sensuality exude the pieces going back to the pianist: "Touba", "Augury" as an emotionally strong solo piano piece, and "Entrustment" with which Uneasy comes to an end. Appropriately for a closing piece, this one exudes the aura of a hymn and is an example of highly delicate piano playing with brightly shining overtones and silvery glissandi.
The Süddeutsche Zeitung's review of Uneasy quite rightly said of the trio's musicians, "If they stay together, they could lay something like a claim to the throne to the trio with Keith Jarrett, Gary Peacock and Jack DeJohnette, which defined the gold standard for this formation from the early eighties until its breakup in 2014."
Vijay Iyer, piano
Linda May Han Oh, double bass
Tyshawn Sorey, drums