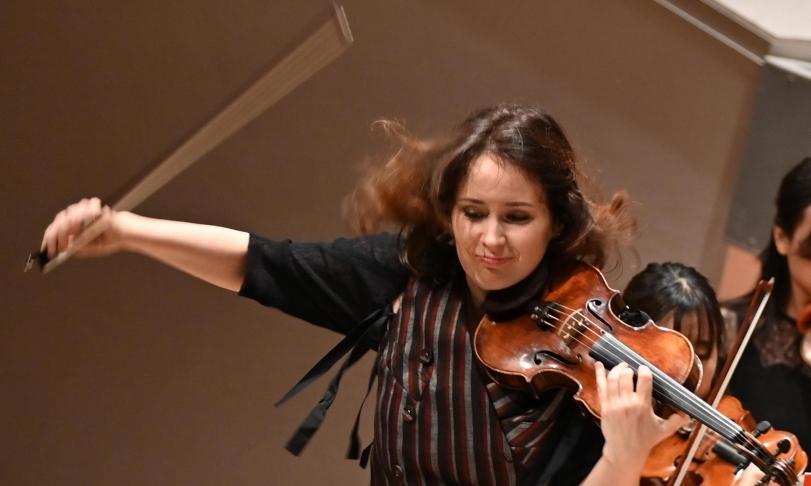 The Moldovan-Austrian-Swiss violinist Patricia Kopatchinskaja, who always performs barefoot and is emotionally unrestrained on stage, dedicates Le monde selon George Antheil to the Bad Boy of Music, as the US composer and pianist George Antheil liked to call himself. In addition to works by Antheil, the album includes works by his later compatriots Morton Feldman and John Cage, as well as the classic Ludwig van Beethoven, whom he adored almost idolatrously and whose works he always played in the first part of his concerts before moving on to his own music, all of which in a sense define the world of the American original composer. Her quest for discovery has led and continues to lead Patricia Kopatchinskaja from Renaissance music to contemporary creations. She has also recently expanded her repertoire to include vocal roles, such as in Ligeti's Mysteries of the Macabre and Schoenberg's Pierrot Lunaire, which she has performed with musicians from the Berlin Philharmonic, among others. Finally, she has recently scored Kurt Schwitters' Dadaist Ursonate ("Ursonate"). Her quest for discovery has now also led her to George Antheil, who for a long time was more of an insider's tip, but recently has been attracting increasing interest among younger interpreters in particular. His work is a scintillating event and he himself is a no less scintillating personality, who virtually inhaled the jazz of the twenties, which saw him as a music student in Berlin, and integrated it into his percussive, dissonant and strongly rhythmic compositions in a highly individual reading. During his time in Europe, Antheil took advantage of jazz-era Paris as an accepted member of the avant-garde, visiting the Pleyel piano factory with Igor Stravinsky, among others, to perform his Les Noces on the piano.
For Le monde selon George Antheil, Patricia Kopatchinskaja has teamed up with the young Finnish pianist Joon Ahonen, who is a member of the Klangforum Wien, one of the leading ensembles for contemporary music, and a founding member of the Rödberg Trio, which specializes in classical and romantic repertoire on period instruments. George Antheil is featured on the album with his extensive four-movement Violin Sonata No. 1 from 1923, juxtaposed with Beethoven's equally extensive four-movement Violin Sonata No. 7, John Cage's Nocturne for Violin and Piano (1947), and two works by Morton Feldman, Piece for Violin and Piano (1950) and Extensions 1 for Violin and Piano (1951).
With the Feldman pieces, the Kopatchinskaja/Ahonen duo immerses us in a magical world, whose abundance of colors and shades, the two gently suspend. As a contrast, the Antheil Sonata, the outer movements of which are striking for their percussive, repetitive, machine-gun-like music, and the inner movements of which feature Arabic elements, those Antheil had experienced on a trip to Tunis. Kopatchinskaja and Ahonen celebrate the sonata's inner movements with delicate lyricism and the two outer movements with the explosiveness appropriate to them. Antheil would have enjoyed this interpretation. He would also have given his unqualified approval to the two artists' take on Beethoven's violin sonata, which is presented with an abundance of color and emotional expression, and which always sounds dangerous with Kopatchinskaja's piercing, whispering and croaking tone.
The listener has just four minutes to immerse himself in the sound world of John Cage's Nocturne. Kopatchinskaja and Ahonen shape this miniature with enchanting precision and at the same time inner freedom, thus creating a captivating nocturnal landscape before the listener's inner eye.
The mixture of different compositions by various composers on Le monde selon George Antheil together with the first-class interpretations of the two artists result in a highly attractive album that one simply must own.
Patricia Kopatchinskaja, violin
Joonas Ahonen, piano