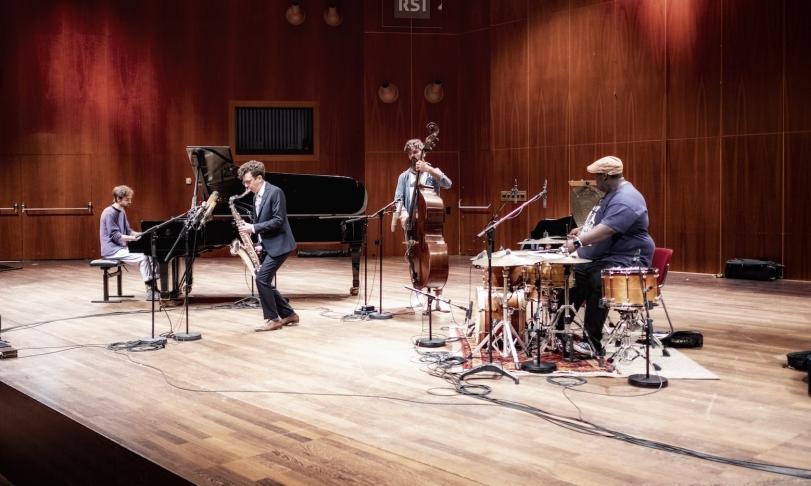 "Brevity is the soul of wit", to quote from Shakespeare's Hamlet. Rarely is this saying as true as in the case of the second ECM album Isabella by Israeli saxophonist and composer Oded Tzur, which plays for just a little more than 35 minutes. Together with his quartet partners Nitai Hershkovits, piano, Petros Klampanis, bass, and Johnathan Blake, drums, Tzur has achieved a truly great feat. It is admittedly true that one should not begin a review of an album with the result. In the case of Isabella, however, this is exceptional allowed, after having listened to the album several times in a row, without even making a note of what is heard due to sheer enthusiasm. Unusual events sometimes do indeed require unusual measures, something Shakespear might have known as well, but without directly addressing this in his works.
Already the first album Here Be Dragons released on ECM with the same quartet line-up caused one or the other critic to sing its praises. Isabella does not simply continue to knit the successful pattern of Here Be Dragans, but treads new paths as far as the compositions are concerned, which here are conceived with restrained, fine elegance and are executed in a fittingly introverted yet energetic manner. Even if jazz is not reinvented on this album, how could it be, it emerges full of passion irrepressibly alive, naturally flowing, as if reinvented. Responsible for this are the imaginative, coherent compositions of Oded Tzur, which turn out to be a synthesis of raga and jazz, and which are put into practice by his quartet in an intensely innovative, coherent and imaginative way. Inspired by classical music, Tzur's playing on Isabella is breathy, sometimes bordering on the inaudible.
There is something deeply meditative about this masterfully realized introverted pace that speaks directly to the listener's soul far from superficial new age pandering, especially in "The Lion Turtle," "Noam" and "Love Song For the Rainy Season."
The first track on the album, "Invocation," explores tonality at full dynamic. Notwithstanding, this composition manages to build emotion in the process, preparing the listener for the emotionally dense pieces that follow. The title piece proves to be the essence of the album's imaginative, deeply emotionally felt compositions. As Oded Tzur puts it, "There once was a woman, whose name was Isabela, and she was like a song. They used to say the world is sound, the world is sound, but few have ears that strong. How can a person be a song, you ask, and I, have only my best bet. This world is made of sound, she hears it all you see, and I love her for that".
The album Isabella does not contain a note too much, but also not too little, rather it represents a unique concentrate of some of the very best jazz ideas, which more than justifies its relatively short running time, especially since everyone is free to listen to it as many times as you want.
Oded Tzur, tenor saxophone
Petros Klampanis, double bass
Nitai Hershkovits, piano
Johnathan Blake, drums