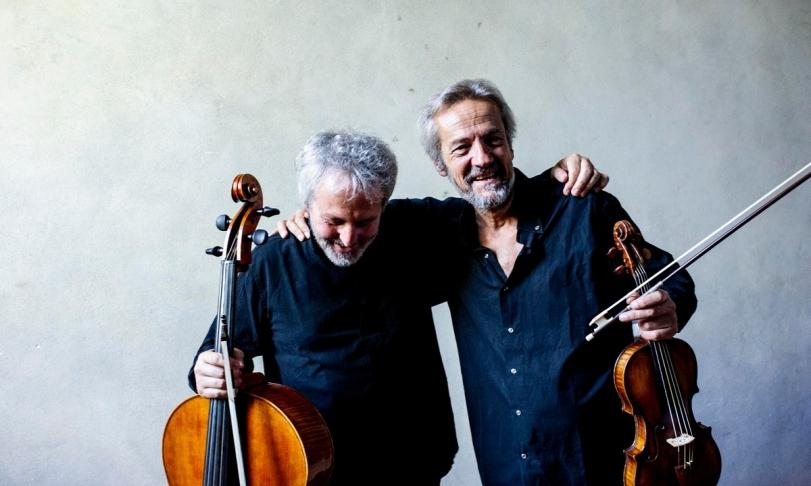 Anyone who thinks that rock is not happening in classical music is mistaken. The new album with the Italian specialists of historical performance practice Giuliano Carmignola and Mario Brunello can serve as powerful proof. The way in which the old masters Bach and Vivaldi not only are played ingeniously and vividly on the basis of violin concertos, but how the wildness on historical instruments, where it is appropriate, is lived out to the full at the highest instrumental level is simply stunning. This style of playing is entirely at the account of the violinist Carmignola and the cellist Brunello, both of whom are slowly but surely getting on in years, for whom however musical revolution, enriched with southern verve, is still in their bones. And, of course, to the congenially tuned ensemble Accademia dell'Annunciata, based near Milan.
Although the Bach and Vivaldi concertos recorded here were originally written for two violins, they have been replaced on this album by an instrumentation of one violin in combination with a cello, more precisely a violoncello piccolo, which enjoyed great popularity in the 17th and 18th centuries and which takes over the second violin part set an octave lower on the album Sonar in ottava (nomen est omen). What at first glance seems to be an arbitrary arrangement was common practice in the time when the violin double concerti were first written, when it was by no means unusual to replace string instruments with woodwinds and vice versa.
Speaking of the violoncello piccolo, or cello piccolo for short: as the name suggests, this string instrument is a small version of the cello, which shares the tuning and even largely the playing technique with the violin, but on the other hand shines with the depth and resonant capacity of an "adult" cello. Mario Brunello is an outstanding specialist for this small cello, with which he has recorded on numerous albums of the composers Bach, Vivaldi and Tartini with great success. The sound of the cello piccolo, which oscillates between violin and cello, is sung out by Mario Brunello with apparent lightness, expressiveness and always highly virtuosic, this special sound being mixed with the colorful, dynamic and no less virtuosic playing of Giuliano Carmignola's violin, who is rightly considered one of the very best violinists associated with historical performance practice.
The Baroque rock concert, brilliantly staged and brilliantly interpreted by Giuliano Carmignola and Mario Brunello together with the Accademia dell'Annunciata, captured on Sonar in ottava, was recorded at the Convento dell'Annunciata, Abbiategrasso, the seat of the ensemble of the same name, whose obviously excellent acoustics provide a worthy ambience for this extremely successful production.
Giuliano Carmignola, violin
Mario Brunello, cello
Accademia dell'Annunciata
Riccardo Doni, direction