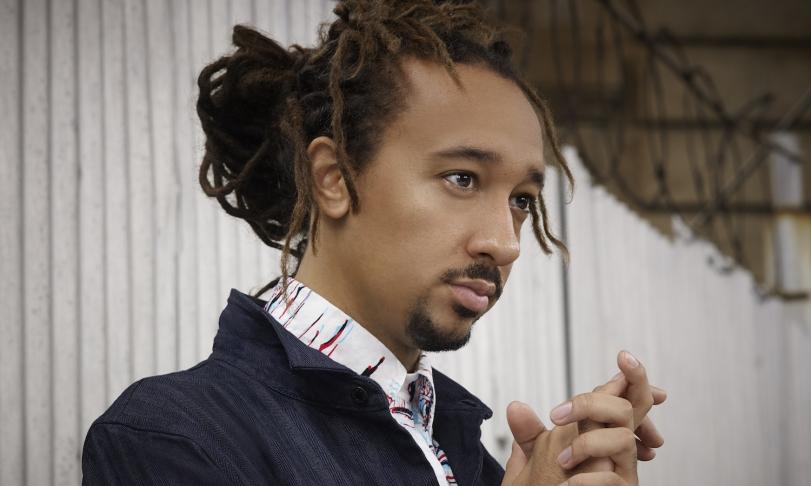 Following his live-recorded first album, Happening: Live at the Village Vanguard, pianist and composer Gerald Clayton has entered the studio for his second album, Bells On Sand, with his father John Clayton on bass, longtime friend drummer Justin Brown and saxophonist Charles Lloyd. These high-level instrumentalists are joined for two tracks by Portuguese singer MARO. While the debut album is characterized by a lively pace motivated by the live atmosphere at the Village Vanguard Jazz Club, Bells On Sound comes across as quiet and increasingly introspective from track to track. The small lineups up to solo appearances by the pianist are very much in keeping with the unagitatedly calm pace of the album, which was again released on the Blue Note label and whose cover is clearly structured and, in keeping with the album title, shows bells rising from the sandy ground into the sunny sky guided by ghostly hands. Gerald Clayton explains: "Each musician on the record represents a different aspect of the axis of time and its shifting sands," says the acclaimed pianist-composer. My father and Charles Lloyd, who has been a mentor figure to me, reflect new permutations of my past, and the lineage of elders who have shaped my development; Justin Brown, being my contemporary and musical brother, represents my present; and MARO represents the future - she is part of the next generation, and points to a brand new collaboration."
The pianist's style is characterized by complex chord harmonies, delicate arpeggios, and a quietly evolving poetic feeling that at times recalls the work of Chick Corea. It is a very personal sound that is strongly influenced by his musical roots, which go back to his father as well as his uncle, alto saxophonist and flutist Jeff Clayton. Four original compositions and three cover tracks can be found on the album. The pianist's affinity with the music of classical composer Federico Mompou, whose pieces "Elegia" and "Damunt de tu Només les Flors" he impressively interprets on Bells On Sand without interfering with the originals, provides a very special flair: "Mompou's music is laid out so masterfully, so economical in the spread of his voicings, that it feels a bit unnecessary to add anything original to it. My attempts at composing melodies over his harmonies, for instance, felt underwhelming. I'd inevitably return to what he'd written."
The track "That Roy," dedicated to recently deceased trumpeter Roy Hargrove, and the track "Rip" are co-written by Gerald Clayton and Justin Brown. Regarding "Rip" and his co-member Brown, Gerald Clayton elaborates: "The melody is just this shape swimming around, stuck in one place. It never really breaks free. Justin understood the truth and tension of that concept - I didn't really have to give him any direction. He just gets it." "There Is Music Where You're Going My Friends" is a hymn to love and hope in which Clayton remembers his beloved uncle. The longest track on Bells On Sand, at eight minutes, is Clayton's duet with Charles Lloyd in the poignant ballad "Invocation for Peace," penned by Clayton. This duet impressively demonstrates the degree of agreement two musicians can come to when they make music together in different formations over many years.
Released relatively early in the year, Bells On Sand definitely has the potential to be one of the best jazz albums of 2022.
Gerald Clayton, piano, organ (on track 5) Fender Rhodes (on track 5), vibraphone (on tracks 5, 6)
John Clayton, bass (on tracks 1, 2, 3)
Justin Brown, drums (on tracks 1, 3, 5, 6)
MARO, vocals (on tracks 3, 7)
Charles Lloyd, saxophone (on track 9)