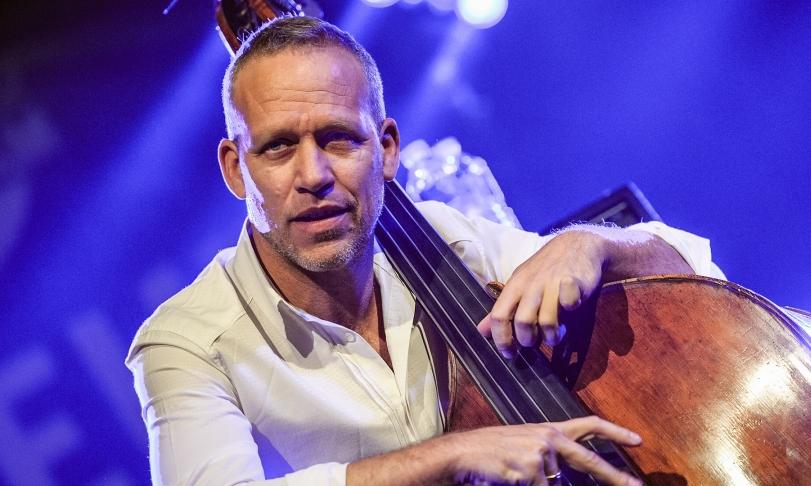 The albums of Israeli jazz bassist Avishai Cohen, who is also active as a singer, bandleader, composer and arranger, are marked by a remarkable curiosity to explore new musical ground with each project. So it's no wonder that his latest album Arvoles has nothing in common with the highly successful last album "1970", not to mention the previous thirteen albums, the first Adama of which was released in 1998. Arvoles is based on elements of classical music, bebop and hardbop, swing and hip hop, enriched with Afro-Caribbean rhythms. The 49-year-old Avishai Cohen expressed himself to Arvoles as follows: "This time I wanted to draw my attention to something new. I see 'Arvoles' as new music that reflects my world of the last few years. It reflects, if you like, another characteristic of my personality. When you listen to the last and the new album one after the other, you get a pretty good sense of who I am as a guy, husband and father".
Born and raised in Israel, Avishai Cohen discovered jazz at the age of 14. In 1992. The 22-year-old, who was already active as a bassist at the time, moved to New York, where he initially made his way as a packer and construction worker. Later he attended the New School for Jazz and Contemporary Music. After appearances with Paquito D'Rivera, Joshua Redman, Wynton Marsalis and Roy Hargrove, world-class pianist Chick Corea brought him to his newly formed acoustic sextet Origin. During this time, Avishai Cohen also played with Ravi Coltrane and Leon Parker. In 1997 he was awarded a record contract and recorded his first album Adama. He has also worked with Seamus Blake, Steve Davis, Claudia Acuña, Herbie Hancock, Amos Hoffman, Bobby McFerrin and Danilo Pérez. After his Chick Corea period, he founded the Avishai Cohen Trio with drummer Mark Guiliana and Israeli pianist Shai Maestro. Cohen finally returned to Israel.
The trio, which can be heard on Arvoles, includes Avishai Cohen, bass, Elchin Shirinov, piano and Noam David, drums and features in six of the new songs Björn Samuelsson, trombone and Anders Hagberg, flute. Of the new songs on Arvoles, eight are relatively new instrumental compositions created in recent years and one is a legacy song. Although they were written at different times and in different places, the songs harmonize so well as if they were telling a single story. Avishai Cohen: "The basic idea behind the recordings for the new album was to tell more through less. It takes a lot of experience to achieve that goal, though."
And Avishai Cohen, together with his trio, some of which have been extended to form a quintet, has undoubtedly achieved this goal with a highly individual, exciting musical language that leaves nothing to be desired in terms of instrumental colourfulness and rhythmic refinement. In combination with an excellent sound, Arvoles is highly recommended for every jazz fan to download.
Avishai Cohen, double bass
Elchin Shirinov, piano
Noam David, drums
Björn Samuelsson, trombone (tracks 1,4,6,9,10)
Anders Hagberg, flute (tracks 1,4,6,9.10)