---
Duo Seigle with guest Noëmi Waysfeld
---
Biography Duo Seigle with guest Noëmi Waysfeld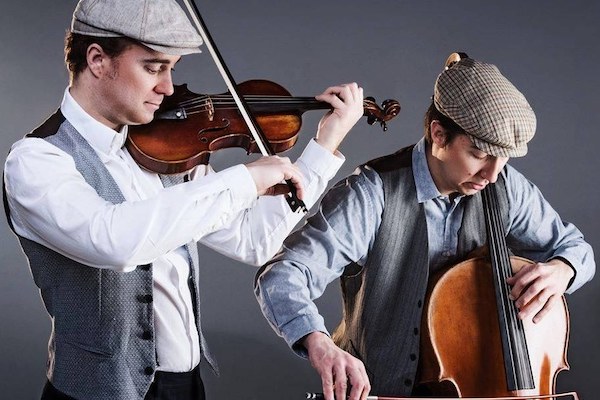 Duo Seigle
Raised in a family of talented musicians, the two brothers Michaël and Nicolas Seigle have been playing and performing as a duo for now several years.
In 2009, they released a double album dedicated to musics with a folk inspiration including composers such as Bartók, Cassadó or Piazzolla accompanied by the pianist Grégory Ballesteros in partnership with the Rhône-Alpes Bank and the Hanlet/Steinway & Sons.
Michaël and Nicolas's repertoire is currently oriented towards Eastern Europe composers and their desire is, in the long run, to investigate deeper into the French music repertoire since the beginning of the 20th century up to nowadays. They also contemplated starting up a collaboration with composers with a view to developing the violin/cello repertoire.
Michaël Seigle
started studying the violin at the Lyon's conservatory in Sylvie Damais and Claire Bernard's classes. He then worked with Eduard Wulfson before taking part in 2003 to the international masterclasses in the Rachmaninov Conservatoire in Paris there he worked with Stéphane Tran Ngoc, Pavel Vernikov, Kristof Barati, Israël Chorberg…
In 2009 he integrated the Ecole Normale de Musique in Paris-Alfred Cortot with support of the prestigious Zaleski Foundation. He was admitted into Devy Erlih's class, with whom he built up a privileged relationship and who had a profound influence on his musical universe and development, helping him discover modern composers from France such as André Jolivet whose closest disciple was indeed Devy Erlih and from Eastern Europe too, Erlih's being of eastern Europe descent.
In 2011 Michaël was awarded his Concertist Diploma in violin as well as chamber music unanimously, he is then required to play Félix Mendelssohn's Concerto in E minor and The Poem from Ernest Chausson led by the young French conductor : Romain Dumas. In February 2013 he released a new album devoted to French music accompanied by the pianist Augustin Voegele in partnership with Assophie Association (Passavant Label Music).
Michaël also taught at the Décaphone music school in the outskirt of Lyon from 2005 until 2012.
Nicolas Seigle
followed a highly successful musical course in Lyon, first in the city's Conservatory (CRR) in Augustin Lefebre's class (winning a First Prize in the Perfection Class granted unanimously), then in the Superior National Conservatory of Music and Dance in Yvan Chiffoleau and Patrick Gabard's class. (First named, degree obtained with first class honours), two years later he obtained his Degree of Instrumental Performer in the same class.
Semi-finalist in the international A.Bonucci Competition in 2006, Nicolas is the regular guest of festivals and orchestras.
His regular meetings with other artists such as the viola player Zoltan Tóth or the conductors Pascal Verrot (under which baton he played in 2008 Concerto 1rst from Dmitri Chostakovitch) and Kirill Petrenko ( with whom he had the opportunity of playing several times in the National Opera in Lyon), played and are still playing a tremendous contribution to his approach to music and his personal artistic path. Literature also contributes to nourishing his poetic and sensitive imagination. « Marqueur de Paroles » from Patrick Chamoiseau or Luis Sepúlveda are but a few of his favourite writers.
His creative spirit led him to setting up different artistic events and to compose for the cello : he thus created a cadence for Concerton°2 in D Major from Joseph Haydn which he recently interpreted with the « Ensemble 7ème Sens » (conducted by J.-P. Dubor).