---
Riccardo Chailly & Filarmonica della Scala
---
Biography Riccardo Chailly & Filarmonica della Scala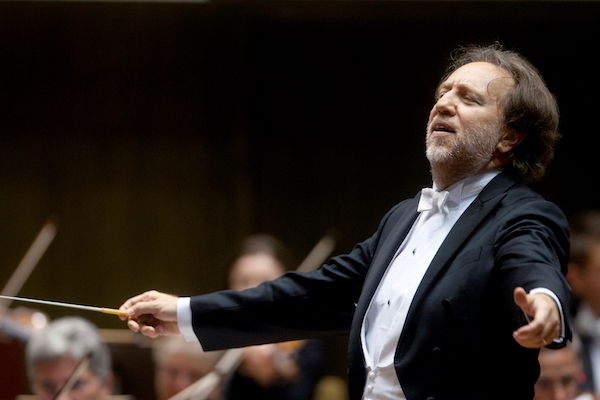 Filarmonica della Scala
was first founded by Claudio Abbado and the musicians of La Scala Opera House in 1982 with the objective of developing a symphonic repertoire in order to add a further dimension to La Scala's great operatic tradition. From January 2015 Riccardo Chailly takes up the position of principal conductor at La Scala for two years, and becomes its next music director in January 2017.
Important milestones in recent years have included the Orchestra's debut in the United States with Riccardo Chailly and in China with Myung-Whun Chung, respectively in 2007 and in 2008, the year that marked its return to the Musikverein in Vienna under Daniele Gatti. In 2009 the Filarmonica gave its first concert at the Berlin Philharmonie under Daniel Barenboim, and came back to Paris with Pierre Boulez and Maurizio Pollini. 2010 concerts included a return trip to Asia with Semyon Bychkov for the Shanghai Expo and in Berlin under the baton of Diego Matheuz. In 2011 Filarmonica has been conducted on tour by Semyon Bychkov, Riccardo Chailly, Daniel Harding, Gianandrea Noseda and Georges Prêtre. In March 2015 Filarmonica Orchestra will play at the Royal Concertgebouw, the Amsterdam concert hall, and, in June, was in Sarajevo for a deeply symbolic concert: an interdenominational peace celebration marking 20 years since the end of the Bosnian conflict.
The Orchestra has also been able to develop fruitful collaborative relations with some of the greatest conductors of the time: Georges Prêtre, Lorin Maazel and Wolfgang Sawallisch, for example, worked with the Orchestra in its first concert seasons and then became honorary member together with Valery Gergiev. Over the years came other important contributions, from directors such as Leonard Bernstein, Semyon Bychkov, Myung-Whun Chung, James Conlon, Gustavo Dudamel, Peter Eötvös, Christoph Eschenbach, John Eliot Gardiner, Valery Gergiev, Philippe Jordan, Zubin Mehta, Gianandrea Noseda, Seiji Ozawa, Antonio Pappano, Gennadij Rozdestvenskij, Esa-Pekka Salonen, Giuseppe Sinopoli, Yuri Temirkanov and Franz Welser–Möst. From 2006 the Filarmonica has intensified its relations with Daniel Barenboim, Daniel Harding, Daniele Gatti, Valery Gergiev and Riccardo Chailly.
The activities of the Filarmonica della Scala are not subsidised by public funds. It does however receive support from UniCredit, the Orchestra's main institutional partner.
Riccardo Chailly
was born into a musical family in Milan. He studied at the conservatories in Milan and Perugia and received specialized training in conducting from Franco Ferrara at his Siena summer courses. At the age of 20, Chailly became assistant conductor to Claudio Abbado at Milan's La Scala. He made his opera debut there in 1978 and was soon in great demand at the world's leading opera houses and concert halls.
From 1982 to 1989 Chailly was principal conductor of the Berlin Radio Symphony Orches­tra, and from 1986 to 1993 held the post of music director at the Teatro Comunale, Bologna. He was appointed chief conductor of the Royal Concertgebouw Orchestra of Amsterdam in 1986 and became its conductor emeritus in 2002. From 1999 to 2005, he was music director of the Orchestra Sinfonica di Milano Giuseppe Verdi. He became chief conductor of the Gewandhaus Orchestra in September 2005 and general music director at the Leipzig Opera. In June 2013 the city of Leipzig extended his contract with the Gewandhaus Orchestra to 2020. Chailly's deep-rooted connections to La Scala were reinforced in December 2013 when the company announced his appointment as its next music director. He will assume the post in January 2017 for an initial period of five years; meanwhile, he is set to become principal conductor at La Scala for a two-year term in January 2015.
Highlights of Chailly's recent Gewandhaus seasons include hosting and participating in Leipzig's monumental International Mahler Festival as well as leading the orchestra on tours throughout Europe and the UK and to the USA, China, Japan and South Korea. Under his leadership the Gewandhaus Orchestra has also performed at the Salzburg, Lucerne, Helsinki and Grafenegg festivals, given concerts at the Bonn Beethovenfest and the BBC Proms and performed at the Vatican. In 2013 Chailly appeared as guest conductor with, among others, the Filarmonica della Scala, Bavarian Radio Symphony Orchestra and Berliner Philharmoniker. His guest engagements in 2014 include performances with the Wiener Philharmoniker.
Riccardo Chailly has been an exclusive Decca artist for over three decades. His recorded repertoire ranges from the music of Bach and the great classical symphonic and operatic works to contemporary compositions. Many of the conductor's recordings have been crowned with prestigious awards. His Gewandhaus discography includes the Brahms Piano Concertos with Nelson Freire, Violin Concertos by Mendelssohn and Bruch with Janine Jansen, Schumann's Symphonies (in their orchestral revision by Mahler) and Mendelssohn Discoveries. In 2010 Decca released three albums of Bach masterworks recorded at the Leipzig Gewandhaus: the Brandenburg Concertos, the St Matthew Passion and the Christmas Oratorio; the composer's complete Keyboard Concertos were issued the following year.
Two other 2011 releases also attracted critical acclaim: an album of Gershwin's works with pianist Stefano Bollani and Beethoven's nine symphonies with the Gewandhaus Orchestra. In 2013 Chailly and the Filarmonica della Scala marked the bicentenary of Verdi's birth with an album of the composer's Overtures and Preludes. His recordings of the complete Brahms Symphonies and the Violin Concerto with the Gewandhaus Orchestra and Leonidas Kavakos were hailed for their gravity, insight and expressive power. "Chailly treats the symphonies to the same brush-down he gave Beethoven two years ago, and the result is equally invigorating," observed London's Financial Times.
Chailly's latest recording highlights the Gewandhaus Orchestra's historic connections to the music of Felix Mendelssohn. The new album, set for release in May 2014, comprises the composer's Piano Concertos Nos. 1 & 2 and incidental music to A Midsummer Night's Dream.