---
Iryna Kyshliaruk & Yun-Ho Chen
---
Biography Iryna Kyshliaruk & Yun-Ho Chen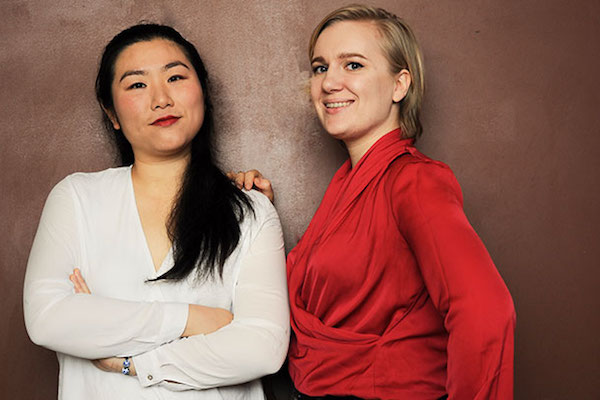 Iryna Kyshliaruk
The Ukrainian soprano Iryna Kyshliaruk started her music studies as a cellist and singer in Kiev at the Children's Academy of Art. After her studies with Prof. Maria Stefiuk at the National Tchaikovsky Academy of Music she continue her artistic development at Paris National Conservatory with Glenn Chambers, François Le Roux, Stephan Genz and Elène Golgevit.
She participated in master-classes with Montserrat Caballe, Margret Honig, Regina Werner. Her operatic debut took place at the stage of Kiev Opera Studio with the role of Amour in Gluck's "Orpheo". She will perform Gerhard Stäbler's "Spatial Ayres" with a chamber ensemble as well as the Operetta concert in HMT Leipzig. Along with her Ukrainian colleagues she promotes Ukrainian classical music by regularly giving charity concerts in various concert halls of Paris. Iryna performed during the Chopin Project premiere in Paris and is among the cast of the Project DVD.
Yun-Ho Chen
Born in Taiwan in 1990, Yun-Ho Chen was accepted in 2008 at the Paris Conservatoire in the class of Théodore Paraschivesco and Laurent Cabasso. Prize-winner at the Isidor Bajić Memorial Competition (Serbia), Claude Bonneton Competition (Sète, France), Grand Prix Claude Kahn (Paris), Thailand International Piano Competition (Bangkok) and 'Città di Barletta' (Italy), Yun-Ho has appeared with several orchestras including the TNUA Orchestra, Taipei Symphony Orchestra and National Symphony Orchestra of Taiwan. Moreover, she regularly gives recitals in Taipei, Changhua City and Tainan. In France, she has been invited to several festivals including 'Bon Anniversaire, Monsieur Chopin' in Châteauroux (2010), 'Chopin à Paris', which takes place in the Bagatelle gardens, 'Voyage d'hiver' in Aurillac, and 'Piano à Lyon', as well as in the framework of the Giverny Chamber Music Festival.
In addition to her activity as a soloist, she forms a piano duo and piano 4 hands with Delphine Armand, which has led her to perform in major Parisian venues (Théâtre du Châtelet, Musée d'Orsay, Les Invalides, Auditorium Saint-Germain), and at the Chamber Music Session in Kiev. The duo thus won the First Grand Prize and the prize for best interpretation of a French work at the 'Forum Musical de Normandie' in 2008; a third prize and special prize at the Grieg Competition in Oslo in 2011; then, in 2014, second prize at the International Music Tournament (TIM).
Since 2007 Yun-Ho is one of the young musicians supported by the Minister of Culture of Taiwan. After earning her master's degree in piano in June 2013 in the class of Roger Muraro and chamber music in the class of Claire Désert, she is currently pursuing her training at the Conservatoire in the vocal conducting class of Erika Guiomar and Nathalie Dang and doing advanced study in piano with Fang-Yi Lee.