---
Ensemble Des Equilibres, Agnès Pyka, Laurent Wagschal
---
Biography Ensemble Des Equilibres, Agnès Pyka, Laurent Wagschal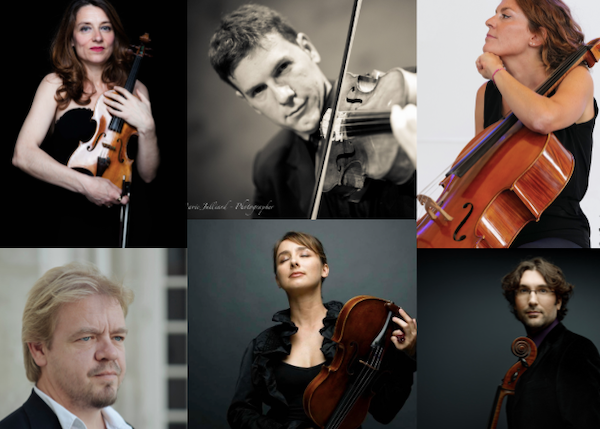 Ensemble Des Equilibres
Taking new paths, breaking away from labels, seeing music as an exchange – from the day it was founded, it is the ambition of the Des Équilibres Ensemble to engage their audience in a true conversation. Initially founded in 2006 by violinist Agnès Pyka, the ensemble is a gathering of musicians with different backgrounds. However, despite their differences, they are united by a common desire to create a dialogue between aesthetics and various art forms.
Des Équilibres has always followed its calling as pioneer, blazing a trail through virgin territory, yet without abandoning tradition. The ensemble tackles every aspect of chamber music, from the classical era to contemporary pieces, but is especially passionate about rare or unreleased works of the 20thcentury. Also interested in contemporary music, Des Équilibres commissioned, in 2018, three works inspired by Brahms' violin sonatas from three French composers (Philippe Hersant, Nicolas Bacri and Graciane Finzi). The result, Brahms Today, was performed in 2019 at the "Ferme du Buisson" theatre.
In 2019/20 the ensemble renewed its partnership with the Ferme du Buisson as well as with other national stages for the creation of the large multidisciplinary project Transfigured Night, including visual art, music and video. Hence, the broad spectrum of the Ensemble's repertoire continues to expand. This also reflects their flexibility: depending on the program, they perform all possible combinations from duo to octet.
The interplay between convergence and contradiction is the driving force in creating a program that brims with enriching encounters. For example, in 2008, Des Équilibres collaborated with choreographer Michèle Anne De Mey on music composed by her brother, Thierry De Mey. In 2009 they joined forces with Shiro Daïmon and François Rossé to create «Mukae», a dialogue between Western tradition and the Japanese art of improvisation. They also explored the classical Algerian music of Nour-Eddine Saoudi in "Regards Croisés sur l'Algérie" in 2013. This was followed by a collaboration with jazz pianist and composer Ray Lema on "Still Point", from 2014 to 2015. Joining up with Turkish pianist Fazil Say, Des Équilibres took part in the opening concert of Marseille-Provence 2013. Throughout 2018, the Ensemble shared the stage with the Atar Trio in a journey through contemporary Israeli music.
Although the "Musiqu'en Cité(s)" festival in Marseilleis is considered to be the home of the Ensemble, the musicians never stopped travelling: Cambodia and Myanmar in 2013, followed by journeys to Germany, Hungary, Canada, Russia, Turkey, Albania, Algeria and Morocco. In 2018, a series of concerts brought the Ensemble to Israel, Italy, Spain and Malta.
Their taste for discovery is illustrated by a discography that is anything but repetitive. In 2011, Des Équilibres became the first to record Sándor Veress' string quartets (released by Hungaroton Records and rated four stars by the magazine Classica). In 2013, they collaborated with the Talich Quartet's first violinist to record Bartók's 44 Duos for Two Violins (Indésens Records). Then in 2017, they released the album, "Des Cordes Marines", with recordings of string trios by Jean Cras, Albert Roussel and Joseph-Ermend Bonnal (Arion Music). Recently, in 2018, Agnès Pyka and Laurent Wagschal recorded three sonatas for violin and piano by Mieczyslaw Weinberg. This would be the first part of a series that was completed with a second album (Arion Music) in 2019 in collaboration with pianist Dimitri Vassilakis. 2020 will bring us the opportunity to record the brand new compositions by Philippe Hersant, Nicolas Bacri and Graciane Finzi, even as the sonatas from Brahms by which they are inspired.