---
Vladyslava Luchenko & Christia Yuliya Hudziy
---
Biography Vladyslava Luchenko & Christia Yuliya Hudziy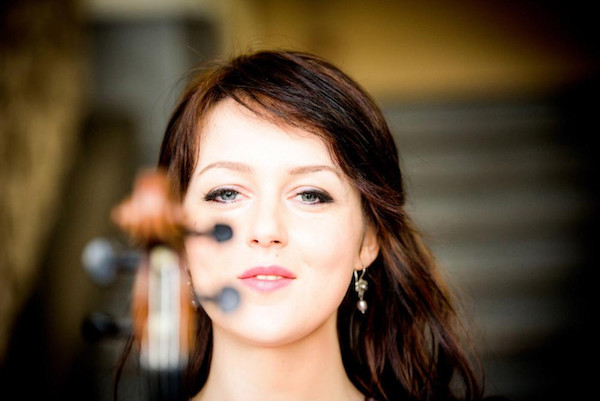 Vladyslava Luchenko
Music is far more than merely providing entertainment. I see a musician's purpose as being a guide to peoples most sacred, hidden subconscious; Their own true heart. Through our intention, we can transmute wisdom and healing directly. Understanding music as a profound healing tool, a bridge to higher dimensions and a universal source of life became crucial in my work...»
As a child of just three, growing up in Kiev, Ukraine, Vladyslava Luchenko already knew that she would become a violinist. A natural connection with the instrument allowed her to make remarkable progress both in technical and interpretative skills.
Her early years were those of a prodigy. Supported by several international foundations, and her teachers O. Buludian and Y. Riwniak, she made her debut solo appearance in the Kiev Philharmonic at the age of 11 with European tours and triumphs at international competitions (her first big win at age 10).
From the time that she joined Zakhar Bron's highly esteemed violin class in Zurich in 2006, Vladyslava began her ascent to her Annus Mirabilis in 2010. In this year she won several prestigious prizes including the Rahn Music Prize, T. Varga and D. Oistrakh competitions. She was then given the opportunity to perform as a soloist with the Lucerne Symphony Orchestra in the Zurich Tonhalle, Verbier Festival, and other numerous solo and chamber music engagements.
She continued her education in Berlin with S. Picard until entering the Queen Elisabeth Music Chapel in Belgium in 2014, under the supervision of Augustin Dumay. These were fruitful and intense years with hundreds of performances, international tours and festivals as well as her first recordings for Outher Music Label. Supported by the Borgerhoff Foundation she was able to dedicate herself to crystallising her musical ability and her role of an artist in general.
In 2018, she took up a position as a concertmaster in the Theater Orchester Biel Solothurn in Switzerland and started collaboration with Claves Records. Vladyslava performs a Francesco Gobetti violin of 1710, on loan from a private collection.
Christia Hudziy
from Lviv, Ukraine, knew her musical direction from the start, though she could have little idea where it would take her. Her young studies in her home town at the Special Music School paved the way for a series of early successes in Ukraine, including a first prize for the Alfred Roussel scholarship, first prize, aged 10, at the Leopold Bellan competition (advanced level), and, at 14, being the laureate of the Ukrainian New Talent competition in Kiev, which enabled her to obtain a presidential scholarship.
In 1999, her association with France began when she was selected to play in the Cortot Hall in Paris and took part in the first "Art de l'enfance" festival. She embarked on her training at the Conservatoire National Supérieur de Musique de Paris, where her studies were supported by the Lili and Nadia Boulanger foundation. There followed years marked by success in several piano competitions: first medal at the Brest international piano competition (2002); first prize at the Mérignac international competition and at the piano competition of Saint-Nom-La-Bretèche (2003); first prize at the Giovani Talenti-Pia Tebaldini piano competition in Italy (2004); and first prize at the Conservatoire National Supérieur de Musique de Paris (2004). Still in France, she later entered the advanced level of the Conservatoire National Supérieur de Musique de Lyon and, in this period, in 2008, won the Yamaha international scholarship and was a finalist of the Concertgebouw chamber music competition in Amsterdam.
The next move, also in 2008, was to Belgium, where she remains based to this day. The move was made to perfect her skills at the Queen Elisabeth Music Chapel, under the guidance of two world-renowned pianists, first Abdel Rahman El Bacha, then Maria João Pires. Though her formal studies there ended in 2013, she maintains a strong association with the Music Chapel.
Though a successful solo concert pianist, Christia's musical heart lies in collaborative projects, and most of her considerable energy is currently thrown into her work as a partner and accompanist for some of the brightest talents on the current scene, be it on the live stage or in the recoding studio.