---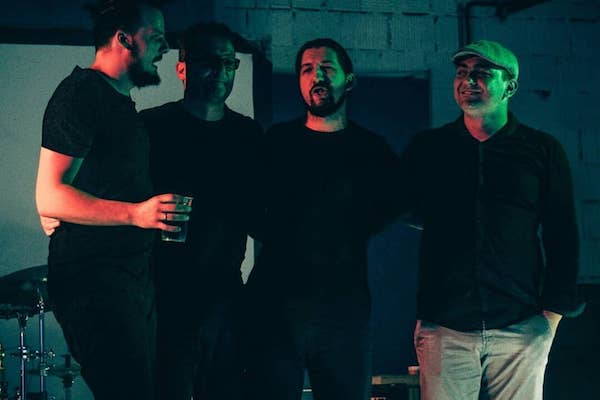 Srđan Mijalković
An experienced jazz player, he played in "Mašta Bašta" group and "Collision". Studied a clarinet in the Belgrade Faculty of Music Arts. He is also a regular member of a Serbian Military Orchestra.
Aleksandar Hristić
Member of a Belgrade improvisational band"Buran", a regular player in monthly "Improve" sessions in Belgrade. Also involved in movie arts as a graduated student of Danube Movie Academy.
Vanja Todorović
Coming from a few KUD – "Cultural Art Society" folklore music ensembles with a big international experience. Studied with Vladimir Novičić – a renowned Serbian bass player. Studied Belgrade Faculty of Dramatic Arts, Film and Television direction.
Igor Mišković
Graduated in Belgrade Academy of Fine Arts, classical music department. Studied with Radomir Mihajlović – Točak, a famous Serbian rock/jazz guitar player. A member of Berklee Umbria 2011 group. Also playing in Soul Jazz band "Dirty Mind" in Belgrade.
Building up a music concept:
Musical inspiration for the band came from the annual Belgrade Jazz Festival concerts that gathered some of the finest jazz groups. Mostly concerts of Wayne Shorter Quartet, Esbjörn Svensson, Dave Holland Quintet, Dave Liebman, Enrico Rava, Joachim Kuhn, Charles Lloyd… Free improvisation postulates were used as a basic music idea for the bands sound, as opposed to a typical blues or bop sound of a group. Also, a jazz quartet combo had been decided as a form of expressing this idea.
The band was slowly built with a few months of preparation in the free improvisation rehearsals. Music dynamics were the first quality that was built. Also, trying out different kinds of sounds on each instrument was something that was being crucial to the bands quality.
Soon, the band reached an organic state of communication that was ideal for working on an original compositions. In the rehearsals of the new material, a lot of art cinematography was discussed, mostly European art directors as: Michelangelo Antonioni (ITA), Andrey Tarkovski (RUS), Živko Nikolić (YU), Alain Resnais (FRA),…
It became evident that the music had a great connection to these movies. And some of it was composed with the movies in mind. For that reason, introducing a VJ projections of movie sequences was considered a great match to the live playing of the band.
Future plans for the band are recording of a CD and touring the jazz festivals across the Europe.